Men, Feet, and Chrysanthemums
August 6, 2010
The light is too bright, the water is too hot, and the pain is much too wrenching to be for my own good. Quietly, I watch Mama twist my feet to make me the most beautiful girl in the Middle Kingdom. My feet are soaked in scalding water, herbs, and blood, and meticulously scrubbed until they are the same ripe hue as the sky at sunset. A thick, rough bandage is wound around my foot and jerked upwards, and after minutes of agonizingly sharp sensations that rip my mouth open and make me scream, I open my eyes to find Mama prodding insensitively at my already thrice-broken feet, which still hurt atrociously. Mama shakes her head at my intolerance for pain. She was never like this.

"Don't you want to get married?" Mama demands. "Don't you want men to want you?" She frowns at me, tapping my feet mercilessly. I wince. "Don't you want to show off your feet at the palace?" I hear her unasked question: "Don't you want to be beautiful?

My feet, gnarled and broken, answer with a twitch that clearly means "no." My disobedient head nods. This is why they are on opposite sides of m body.

Mama smiles approvingly and continues to bind my feet in the strips of cloth that never seem to run out. Kneeling on a pillow, she firmly ties the knots that she watched her own Mama tie. She cannot walk normally, and in a few months, I will not be able to either. The arch of my foot still aches from being snapped again. The bones of my feet have been folded and stretched, tapered and rounded until each foot measures four inches in length. Both of my feet are much bigger than Mama's three inches, though. Poor Mama: her daughter is an ugly sixteen year-old failure.

I feel a pat on my bandaged feet. Mama stands stiffly, and the first part of my beautification is done. I slip my feet into shoes that squeeze too tight, try to stand, and grimace. Walking around the garden will burn today. When my own weight bears down on my bandaged feet, it crushes them into the right shape, makes them beautiful. This is what our walk around the garden is supposed to help with. It hurts, but it is for future enjoyment, they say. You won't feel the pain if you think of your beauty, they say. They obviously need to try this themselves.


Every day, when I protest, Mama tells me that I need to make my feet smaller because my Lotus Feet are admired in the Middle Kingdom. I am beautiful because of my feet. Pointed and painful they might be, but they also show elegance and discipline. When I perfect my Lotus Gait, I will walk alluringly with tiny steps, and sway from side to side. Men will love me. I will attract them like bees to a chrysanthemum. What is a little pain for a lot of beauty?

I hear the Manchu ladies are not allowed to bind their feet. I hear that because they are not allowed, they built special shoes just so they can also walk with a lovely Lotus Gait, like the rich Chinese ladies, like me and Mama. But even though they walk beautifully, they are fake beauties with big, hideous lumps of flesh that are supposed to be feet. Not everyone will have beautiful feet; not everyone will be a chrysanthemum.

But I will. I have, attached to the ends of my legs, a privileged pair of beautiful feet.

Thinking my secret thoughts, I let out a brittle laugh, but not loud enough to let Mama scold me for immodesty. Beautiful? Privileged? Me?

I think Beauty is a pain in the neck. Or, rather, a pain in the foot. A sharp, biting pain in the foot. I never want to see it again.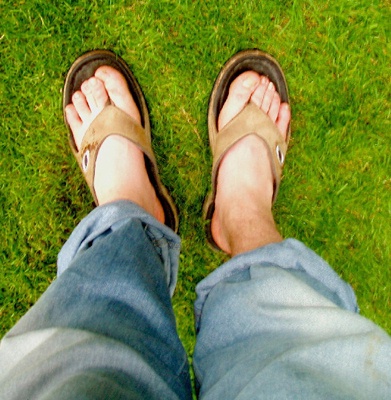 © Caitlin E., Sammamish, WA