No Need to Say Goodbye: Part 1
March 4, 2010
Adrien nestled in my arms, gurgling softly in his sleep. My breath spilled across the glass window. Outside, at the little white wicket gate, Mama clung to Papa's hand, crying softly. Papa murmured something in her ear, and began to turn towards the road. Mama frantically grabbed at his elbow with one hand while still cradling her swollen stomach. She pulled on his elbow, imploring him to walk back to the house and away from the dusty road. He forced himself to look away; he gently unclasped her hand at his elbow, never looking at her tear stained face. Papa slowly raised his hat onto his head, stood straight, and marched down the road.

Mama cried bitterly for many days after, but never said a word. She duly carried out all the chores as she had before Papa left, but she never again sang with the larks at the kitchen window, nor did she tell me and little Adrien stories of great Frankish kings of old. She just sat, staring listlessly out into space as she chopped the tomatoes or toweled the bowls. She always held her head high though, even through her severe bouts of depression and pain from her unborn child. Our neighbor's second son, Henri, helped us harvest the last of the fields because I was still too young to help and because Papa was off to war.

And then one day, after Papa had been gone for about a month, Mama was sitting quietly in the little chair at the table folding towels, and then she looked at the floor and screamed.
"Stephen! Run to Henri's house, get his mother!" I stared at her, shocked at her outburst after a month of silence.
She took one of the towels she had been folding and bent over to wipe a pool of water on the floor.
She looked up. "Stephen! Go!" She cried desperately.
My legs leaped into motion. I sprinted out the back door, and tripped over the threshold. I regained my balance and flew off into trees beneath the evening sky. The sun was slowly sinking behind the horizon. The dark crept upon me as I ran through the fields and orchards. Stars began to twinkle in the sky as I neared Madame Simon's house. Twigs and branches reached out to grad me. I heard night dwelling creatures moaning in the distance and something rustling through the leaves. I pushed my legs faster. Ahead I saw candles waving at me through the windows of the Simon family's house. I collapsed on the step and pounded on the door. Henri opened the door, surprised at seeing me heaving on his doorstep after the sunset.
"What are you –"
"Mama's water broke, she's going to have the baby," I interrupted between gasps.
He dashed up the stairs to his mother's room. I kept myself from shouting at them to hurry as I heard them rummaging around upstairs. Henri emerged from behind the corner with Madame Simon right behind him; she stepped as fast as she could down the stairs, her little bonnet slightly askew. She clasped a little floral patterned bag with one hand and hastily tucked back stray curls with the other.
"Close you mouth boy, go be useful and heat up some water," Madame Simon commanded as she pushed past me and into the night.

I sat outside Mama's bedroom with Adrien in my arms. Mama cried and screamed and gasped all through the night, while I sat outside the door, keeping vigil as my eyes reddened. I hugged my little brother to me; his angel soft hair stirred under my breath, his little fingers curled against the cold. All of the blankets had been taken into Mama's room for the birth, leaving me and Adrien in the cold.

The soft cheeks of the sky blushed pink and orange when Madame Simon stepped out of Mama's room. Her face was drained; the lines around her eyes seemed to have deepened through the course of the night. I scrambled into a tired stand before her. She merely looked into my eyes and nodded, then quietly opened the door. I rushed inside. My mother murmured quietly in the corner, swaying and weeping as she fingered the tiny cross in her hands. The mute cradle explained all. Its depressing silence hung in the air, so thick it was almost palpable. Rays of the early morning sun slanted across the room, creating lines of light and pockets of darkness. Mama huddled in a dark alcove near the cradle. I crept over to moaning figure in the shadows. My hand hovered over her thin, sharp shoulder. Would my touch startle her?
"Mama," I whispered, "Mama"
Once golden hair shifted under my breath; it now seemed a muddy color, encased in a thin sheen of sweat, a remnant of her tumultuous night.
"Oh Mama don't cry, please don't cry," I pleaded as I reached out my arms to hug her.
She didn't even notice. She just kept rocking and mumbling and praying beneath my warm embrace.


Later that day I asked Madame Simon what the child had been.
She said a girl.
Mama had always wanted a girl.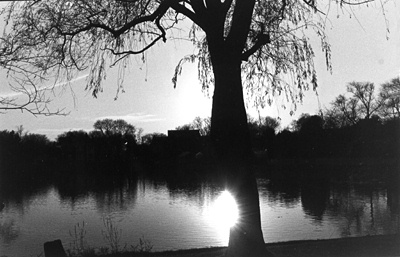 © Chuck K., Marblehead, MA