Love on Flight 93
March 24, 2010
"Anthony!" I said into the phone. "I've been so worried about you and I couldn't call. You'll never believe what-"


"Julianne, I'm going to die," he said, interrupting me.


My heart dropped. "What?"


"Babe, the plane I'm on is being hijacked. They've already killed the pilots and another passenger."


"Oh my god," I said. "Your plane too?"


"Yes," he answered. "Wait, my plane too?"


"Yeah," I said. "The twin towers were hit by hijacked planes."


He exhaled loudly. "Jeez." He paused for a moment and I heard some loud bangs in the background.


"Anthony, what is going on?"


"They're trying to break down the cockpit door," he said. I heard a crash and some yells.


"Holy crap, they're in the cockpit. They made it in."


Tears formed in my eyes. "You're not going to die."


"Babe, I can't promise you that. All I can promise is that you need to know how much I love you. And if I do die today, I want you to find someone else. Don't worry, I'll watch from heaven and make sure the person is good. And I also want you to tell everyone else I love them."


"You have a wedding this Saturday," I said. "You're supposed to wait for me by the altar."


"I know," he said. "Julianne, I love you so-" he stopped in mid-sentence.


"Anthony?"


"Holy s***, we're going down! We're going down!"


I was speechless.


He spoke fast. "Julianne, I love you. I love you so much."


The tears streamed down my face. "I love you too."


"Tell everyone I love-," he stopped and I heard a blood-curdling screech through the receiver.


And then the phone cut off.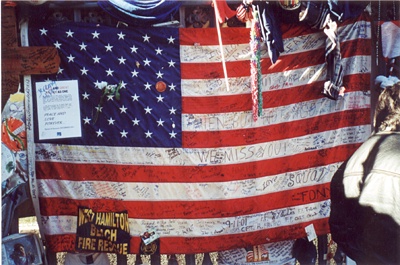 © Ashley F., New City, NY