Sweet Wine
November 21, 2009
I stared at Angel as she modeled her new white dress before my eyes. It almost brought tears to my eyes at how beautiful she looked. Her long brown hair dancing to the mid of her back in waves. Her face glowing with youth and excitement. I smiled at her and she ran over to me, causing the white dress to twirl by her knees.
"Grandma, what do you think?" she asked with her brown eyes not focused in this world, but in a world much greater than this. I took her hand in mine. I can't believe that this hand was once the small hand I held for the first time 17 years ago.
"You look beautiful, Angel." She smiled and looked down at my hand. I let go and looked her over again. I wish I could hold on to her just a little longer, but I knew I had to let her go, let her make her own mistakes and her own memories. "Now go, you don't wanna keep that boy waiting." A huge grin spread on her face as I told her this.
"I love you Grandma." I loved those words more than any words ever heard by my ears all my life.
"I love you more than you know. Just promise me you'll be safe." She nodded, causing her hair to get in her eyes. I laughed. "Go on." The last thing I saw was her running into his arms outside the window. I let my breathe escape my lips in a long sigh. My beautiful granddaughter had grown to be a beautiful little lady, just like her mother before her. Just like her mother she would have her first love. I watched as the wind made the leaves fly in the wind. It was summer again, my favorite season. The field was just as it all the years before at this time. Beautiful. I thought back to what I seem to thinking about more and more. Maybe it was because Angel reminds me of myself at 17. I thought back to someone that always made me smile. Oh that Cody. He was my first and sweetest love. Our love was so innocent and experimental. I looked out n the field and saw the story unravel before my eyes.
***
"Natalie! Where'd you get off to?" he yelled into the air. I giggled but tried to stay quiet behind the tree. My face was flushed and my heart beat fast. He started to walk in my direction. Finally he was standing right by where I was hiding. I jumped out and leaped onto his back. He fell to the ground in a big thump. I fell with him, landing in the tall grasses next to him. He chuckled and turned to me. "Why your just a little pest aren't you?" I smiled.
"Cody, I'm not a pest," I said while giggling. He moved closer to me and my face went flushed. I wasn't used to him getting this close. We were next door neighbors and grew up together. Now that we were 17, we were at that point where we were more than friends, but not "together".
"Says who, little lady?" He was an inch away from my face. I wanted nothing more to kiss him, my mind was clouded by the thought. I barely even heard what'd he said.
"Cody, how many girls have you kissed?" He turned a little red. I wasn't sure if from embarrassment or from being thrown off by the sudden subject change.
"Why?" he asked. I just shrugged. I was wishing I had not asked. I bit my lip and looked down at my hands. I heard his deep chuckle. It made goose bumps raise on my arms. I didn't look up. "You're so beautiful when you blush Natalie." I looked up into his brown eyes as he looked into my green ones. In that moment he leaned in and kissed me. It was the sweetest of all the kisses I'd ever had. I'd kisses other boys, but none of them felt like this. He pulled back and smiled. "That make it 4." I looked at him confused.
"4 what?"
"4 girls that I've kissed." I thought that'd it be more. He was a handsome boy. I smiled, I couldn't stop. He stood up and ran off. "I bet I can make it to the fence over by Ole' Casey before you!" he yelled. I blinked in shock and watched him run off down the hill before I got what was going on. As soon as I did I scrambled to my feet and ran after him. I was a fast runner, but Cody was just to far ahead for me to catch up. I got to the fence by Ole' Casey. Cody was petting the horse.
"You got a head start," I complained. He shrugged and stretched Ole' Casey behind the ears, she tabbed me with her wet nose, which made me laugh.
"She says that you look stunning in that there dress." I blushed. I'd spent an hour trying on dresses before coming out this morning.
"Really now Ole' Casey? And your mane is looking lovely today." I laughed and he joined in. The laughing faded and was replaced by a pause of silence
"You know what else she says?" he said in a quieter voice. I looked up at him. "She says that she's never met a girl as smart and beautiful as you and that any fellow would be lucky to even get a chance with you." He moved closer to me. I did the same.
"Tell her that I don't want just any old fellow, I have one in mind. He's my best friend, but I'm always wishing for more." We were standing about a couple inches away. I felt his breathing.
"Natalie, I have to tell you something." I looked at the horse and back to him.
"You sure Ole' Casey don't wanna tell me?" He chuckled but never looked away from me. I was so nervous I could hardly stand.
"No, this is all mine." I nodded for him to continue. He took a deep breathe. "I know we're best friend, but lately I've been thinking that I--I may love you. I want you to be mine, Natalie." It was so quiet we only heard the crickets singing.
"I think I love you too," I said, my voice shaking. He looked up at me and smiled and I did the same. He filled in the space between us and took in in a tight hug, picking me up from the ground that spinning me around. He set me down and I laughed.
"So Natalie, will you be mine?" he asked. I blushed.
"Of course I will," I said. He took both my hands in his and leaned in to kiss me again. This one was longer and filled with more happiness and beauty than I thought anything in the world could be.
***
The sun was gone and the field was not able to be seen anymore. The thought of Cody brought tears to my eyes. We were high school sweethearts and lasted three beautiful years. He went off to war after our second year, but we held strong with letters, that was till I got a letter, the last letter not from him. Telling me I would never get letters from him again. I spend a year with a broken heart. He was everything, he was my best friend, my first love and lover. That didn't die with him. I still have dreams were he comes to me. Where I relive days and nights we had together. I would always wake in a smile or in tears. Of course life went on, I meet other men and married. Had five beautiful children and now seven grandchildren. The oldest being Angel. Still, I never forgot Cody and I think he never forgot me. He's still remembering our days just as I do wherever he is now. When souls meet and are a perfect match there is no way in spreading them. I know this, for I have tried. Oh, the beauty of love, it never loses it's taste over the years just like the sweetest wine.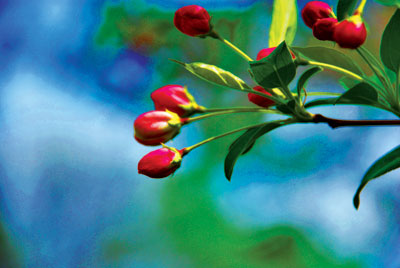 © Hannah B., Princeton, IL