Evils of a Sick Mind
June 4, 2009
I am a criminal. Specifically, I am a murderer. And I like to be left alone.

For this reason I keep very little company. There are only two individuals I have been unable to rid myself of, and I harbor a deep hatred for them both. Each is aware of my dislike of the other, but blissfully oblivious to my loathing of them personally. This, strangely, only intensifies my distain.

How is it, one might ask, that I have been unable to shake these two leeches from the flesh of my life? How is it that a dark and introverted character such as myself should attract these two dunces, these imbeciles who haven't an inkling of the life I lead?

I have no answer or excuse for these questions, except perhaps discretion. People who deny and publicly ridicule their companions draw attention to themselves. Those who keep their heads down and endure the agonizing tedium are left well enough alone. Painful though it may be, I choose to conform to the latter – homicidal individuals fair best in the shadows.

That isn't to say that I haven't yet planned the demise of both hindrances. Long ago I decided that the portly one with the wet, gawking eyes shall die by asphyxiation, though to list the time and place and exact manner in which the event is intended to take place would be less than to my advantage. The loudmouthed one with a voice reminiscent of a shrieking kettle is to die in whatever way will most quickly rid the world of her unrelenting desire to be heard…

But I digress. These … acquaintances of mine are quite harmless, burdensome though they are. It is the darker aspects of a stormy night that truly trouble me, and until I have laid to rest my apprehensions I doubt I shall sleep very soundly.

These fears of mine were first awakened at the twilight hours of some day not yet very far past. I will admit that I have a certain dependency on a particular substance which I shall not name, though I can guarantee that it is nothing one can acquire easily.

On the night in question my reserve of this substance had run dry, and I was beginning to feel uneasy. The uneasiness soon evolved into paranoia, accompanied by an acute tetchiness as well as a splitting headache and dizzy spells. As I was in the company of my burdensome acquaintances I endured these sensations for as long as I could, but gave in as an earthquake shook my mind with nearly enough force to crack it in two. I jumped up and, cringing away from the large one's sticky hands which reached out to engulf me, I dove for the door.

Released into the cooler yet slightly more stagnant air of the inner city, I stumbled down the deserted sidewalks, searching…

Outside a shabby storefront I found someone who looked promising. Approaching his decrepit form, cadaverous in the eerie light of nighttime streetlamps, I knelt and whispered in his ear. After a pause he nodded and got to his feet in a surprisingly fluid movement. He motioned silently for me to follow him, then started off down the street without looking back.

I followed him for a very long time, dizzy from deprivation and sweating in a heat I knew to be felt by me alone. Finally he stopped, and I nearly fell over my feet in surprise. He pointed to a streetlamp, motioning that I should wait beneath it. I felt wary, anxious that standing directly beneath a bright lamp in the dead of night would be unnecessarily ostentatious. I was unwilling to defy my escort, however, and obeyed without more than a moment's hesitation.

By the time I had reached the light and turned, the man's emaciated figure had already vanished. The feverish heat from before had progressed into a clammy chill that gripped my heart and stung my fingertips. I was abruptly overtaken by a wave of sickness and my stomach lurched, causing me to bend behind a nearby shrub to retch. I did not wish anyone hidden in the shadows to witness my shame, and stood as quickly as possible, my sweat-dampened face hardening as I quietly dared the beasts of the night to show themselves and mock me. I did not for an instant question my sanity.

Some time later, I heard the scraping of shoes against raw cement and told myself it was the return of my companion. Relief washed over me. These last few hours I had felt far too alive, too volatile. The substance I craved lent me the coolness I needed, to carry out the deeds I am depended upon to perform. Times like these reminded me that it was too much a façade, that perhaps inside I was far weaker than the most helpless of infants.

Those were the thoughts that kept me wakeful far into the dark hours of night.

Yet again, however, I digress. The approaching footsteps were not those of the wasted man I knew, but of a large, solid figure who towered over me while I shivered and tried desperately to retain my dignity. The figure approached, shaping itself into a tall, sturdy man who wore the calm expression of one who knows too much and is not afraid of the knowledge.

I recklessly stared him in the face, despite his intimidating demeanor. I challenged him to look down upon me, just as I challenged myself to be scared.

Holding my gaze, he extracted his hand from a pocket in his overcoat and held it out to me. I reached out to take what he held, and was horrified when our fingers touched and he felt the tremble of my hands. I prayed that he attributed it to my deprivation. I would not be ashamed in his presence.

Glancing once again at his countenance, I detected no trace of spite, rather a note of consideration.

"Are you the one rumored to possess exceptional ability in the art of assassination?" His voice was low and even, revealing nothing.

I nodded, choosing my words carefully as I spoke. "Though at this particular moment it seems my hand would be less than accurate with a blade. Have you need of my services?"

His expression told of appraisal. "Perhaps."

I waited, the beaded sweat on my forehead now colder than ice. It cleared my mind enough for me to understand that I was no longer considered pathetically inferior.

At length he said, "I know of you, far more than you would probably find desirable. And now I know of your weakness. It may come to pass that I call upon you for a favor… If you will oblige."

It was not a threat. Statements, and no more.

I nodded shortly and, rather than waiting for dismissal as the agreeable canine, turned on my heel and abandoned the cold brilliance of that lonely streetlamp.


It was some time before I heard from the man of that night. I had, in fact, temporarily forgotten the incident when I entered my apartment one evening to discover him standing casually in my bedroom, engrossed in my personal journal.

I decided that it would not be unjust of me to seize the opportunity before me and demonstrate my stealth. Creeping up behind him, I grabbed him in a stranglehold while he still remained unaware of my presence. Although he was admittedly much larger than I, I had caught him off guard and kicked his knees out from under him before he had time to properly react.

He did not struggle, he did not surrender. He remained rigid until I had released him, then stood once more and turned to face me.

"Your reputation is well deserved," he said shortly. His vexation pleased me.

"I appreciate your sentiments," I said coolly. I would not have him remember me as the figure of before, weak and jonesing for a fix. "What is it you've come here for?"

"A favor, of course." His voice acknowledged my authority. "I've a certain… associate I would greatly like to be rid of."

"That shouldn't be a problem. Do you have information?"

He handed me a folder, which I flipped open.

"In return for your help I may be able to assist you with your plight concerning your supposed friends."

A malicious grin slowly spread across my face. I relished in the evil feeling that washed through my body and the tinge of horror that accompanied it. "I'd like that."

"Very well."

He departed, and I glanced down at the papers I held. There was a picture of a grey-haired man lying on top, a malevolent expression upon his face that seemed to indicate extreme self-absorption.
At once, I hated this man I beheld. Perhaps it was because I knew him to be the enemy of one I now took to be an ally. Nevertheless, there was no doubt in my mind that he deserved the fate I was meant to inflict upon him.

Leafing through the rest of the documents, I discovered that there was more than sufficient information provided to ensure that my assignment was carried out smoothly. I learned that the man in question spent a vast majority of his time at a particular pub in the shiftier part of the city, plotting fallacies alongside devious comrades with similar expressions of evil intent. After a short time of planning and preparation, I set out for the bar he occupied.

I detected him immediately upon my arrival. He sat at a card table enshrouded in a noxious soot, which emitted from a tray containing several lit cigars. I took a seat on the other side of the room, endeavoring to appear as nothing more than a depressed loner seeking to forget the woes of life. Clutching a glass, I pretended to stare into its depths as I observed my prey. He laughed too loudly with a spiteful air at something mentioned by a hard-faced colleague, then made a loathsome gesture at a passing waitress. I grimaced.

At length the hated man stood, making a loud and obviously drunken declaration that he intended to depart. Bidding his associates farewell, he departed through a nearby door and I stealthily slipped after him.

The door lead to a small, badly lit hallway that smelled of something sour. I saw my target blundering ahead of me and quickly caught up, tripping him with one fluid movement as he made his unsteady way down the corridor. He hit the floor with a grunt and I pounced, gripping his arms behind his back and holding a cloth to his face to smother him. Struggles weakened by intoxication lessened to submission as he fell unconscious.

With some difficulty I dragged the body out of a side door that I already knew to be an exit. In a dingy alleyway I bound his hands and feet, gagged him, and covered his eyes. Adrenaline rushed through my veins as I spread a plastic cover on the ground, hoping to catch most of the blood soon to be spilled.

When my preparations were complete I sat cross-legged on the ground next to my victim, retrieving a knife from the bag I carried with me. I slashed his arm to wake him up, my stomach writhing with both anticipation and a sort of sick pleasure as I watched the blood well. He moaned in pain as he slowly regained awareness. I held him by the throat and whispered a warning, threatening him not to make a sound lest he desired a death more painful than the condemnation he already faced. He whimpered once, but quieted immediately as I held the knife's tip to his cheek.

Generally speaking, I prefer to terrify my victims before I take their lives. I honestly don't know why, for it fills me with the ghastly sensation of utter psychological madness and pure soullessness. This, and a quiet, fearful bewilderment at my own dementia. I whisper soft, taunting reminders of dark days in their pasts and describe the hell they are destined for as crazed voices in my own head murmur of a desire for bloodshed.

However, my employer had not told me of this man's wrongs, and therefore I had nothing to goad him with. Instead, after some thought, I asked him why he thought he deserved to die. I slashed him again when he responded with feigned bafflement. I repeated the question, but received the same reply and so dealt the resulting blow.

This went on for quite awhile, until I found that the blood no longer interested me and I decided it was time to conclude the murder. With one deft movement I slit his throat, scrutinizing his face with a macabre fascination as the life left his body alongside the air of a last breath. I took the body out of town. Disposing of it neatly, I knew I would have impunity.



The next night I returned to my apartment to once again discover the man of my darkest night already inside, with no indication of how he had gained entrance.

"You've finished the job?" He sounded ironically casual.

"Yes."

"Excellent."

I had no answer and so merely stood, feeling uncomfortable and trying not to let it show. He seemed to be waiting for something, growing amused as it became more and more obvious that I didn't understand what.

Finally, when the silence had stretched so far it seemed it would tear, he said, "Don't you expect anything in return?"

I kept my face a mask of stone, hiding astonishment. "Consider it repayment for a recent favor."

"But you fail to understand. I want to help you. Do you recall that I previously implied a willingness to assist you in the assassination of your irksome acquaintances?"

"Of course. But I wasn't aware that you fully intended to keep your word."

"And why shouldn't I?"

I paused. Then, callously, "because of the natural human tendency to tell others what they want to hear, regardless of whether or not it is true."

He looked thoughtful. "You harbor a deep distrust for the human race."

I almost laughed. "But isn't it fitting for my line of work?"

He nodded again, still considering. "True enough. In any case, I am more than willing to accompany you in completing the demise of your associates. Though I wonder, why is it you so crave their expirations?"

I kept my voice even. "I want to be left alone. These vile degenerates suffocate me with their dependence and I cannot stand their ignorance regarding the harshness of the world. They speak and complain of things so trivial I wish to cut the tongues from their mouths even as my ears are assaulted with the meaningless blather. Their self-absorption and enthrallment in the obscure wear my patience threadbare, and the vexation is intolerable. Though you may suspect I overreact, and I will not deny that this is likely correct to some degree, your judgment does not sway my determination to be the end of these individuals."

"And you feel no pity?"

"Have I not mentioned the austerity of the world we live in? Though I admire anyone who could endure its troubles for a lifetime and come out as innocent and pure as in the beginning, I am far from able to follow in their footsteps."

"Then the world has hardened you?" He uttered this with a faint note of pity.

This angered me. "Really, you must jest - I am a murderer! Of course the world has hardened me! That is, assuming I wasn't dead inside to begin with, for I hardly see how else I could take such a sick delight in my work. Are you suggesting that the world has not calloused you at all, that you are as sensitive to the suffering of other beings as you were in childhood? Blasphemy! How is it, then, that mere hours ago I killed a man by your demand?"

His eyes flashed, and he did not speak for many minutes. I refused to allow myself to contemplate apology.

"You misunderstand," he said at length. "I am intrigued, and nothing more."

I expressed no inkling of regret.

"Now," he said, "Do you desire my services or not?"

I replied smoothly. "If you consider them worth my time."

He ignored my scathe. "Shall I kill them myself, or do you prefer that the deaths be by your hand alone?"

"The latter. Though I perceive a flaw in our design – a total lack of communication between the executioners is unlikely to result in a neat operation, do you not agree?"

He paused. "You are correct. However I cannot afford to give you any information concerning myself or my residual whereabouts, for I am perhaps more notorious than you realize. Fortunately I know a great deal about you. Perhaps – would you object to acquiring a second shadow for the days ahead? When opportunity presents itself we shall strike, rather than plotting out a murder that may backfire nonetheless."

Once again anger rose in my stomach. "Are you seriously proposing that you stalk me for an indefinite period of time while I go about my business pretending ignorance? And besides the absurdity of that alone, I find it necessary to inform you that I find your implications of extensive knowledge concerning my person highly disconcerting. How is it, exactly, that you are so well educated on the subject of me? At very least prove yourself!"

He regarded me wordlessly for a few moments. "I wish not to disclose my understanding of you, nor how I obtained the information. The only honesty I can provide you with is that I am unsure why I so profusely hinted at my knowledge."

"I can sincerely state that I find that reply less than satisfying," I said tartly.

"Than sated you shall not be!" He was amused.

I scowled. "In any case, preposterous though it is, I accept your proposal. Though I wish to be aware of you while you are following me, regardless of whether or not you choose make your presence known to others. And you must not remain hidden while we are in the confines of this apartment. Agreed?"

"Of course."

With that, he left. It was only after his departure that I truly understood that I had given a near stranger with seemingly infinite knowledge of my person permission to stalk me indefinitely. I suppose my only defense can be that awareness of one's pursuer is preferable to ignorance.



In the days that followed I found it no less than impossible to feel at ease. With every flickering shadow I shivered, reminded of he who hid and whose sole focus was myself. It was uncomfortable to say the least.

On what might have been the fourth day of walking on pins and needles, I was visited by my larger associate. His bulging figure squeezed itself through the doorway, breathing hard when the feat was accomplished. Sweaty, fat-fingered hands immediately reached out toward me in a manner that suggested an embrace. I swiftly avoided the gesture and stiffly asked of my visitor his reason for calling. He regarded me with bulging, wet eyes that didn't blink often enough and declared that he had merely been dropping in for a friendly visit. He continued to stare despite the silence that now filled the air, provoking an irritated fury in me. Turning on my heel, I asked if he desired a drink. However, instead of a reply, I heard a dull thunk, quickly followed by a much louder thud like that of a fallen body. I turned and saw my accomplice standing over the hated enemy, whose unconsciousness had apparently resulted from a violent blow to the head. Coming closer, I saw blood trickle from his ear onto the floor.

"Effective stealth, but you could have managed a less sloppy method of subduing him."

"Ha! You're statements are hypocritical. Did you not execute the murder I myself designated you quite more bloodily?"

I was dumbfounded. "Frankly, your knowledge disturbs me. However, we forget the matter at hand. Since you have so finely incapacitated our companion, have you any plans as to the disposal of the remains once the deed is done?"

"My ultimate design for riddance had been quite similar to that which you yourself employed for the homicide previously mentioned." He smirked.

"Your references are less than entertaining," I spat. "Now, if you will stand back, or preferably vacate the premises altogether, I would finally kill my associate."

He continued to grin. "As you wish."

After he had vanished into an adjacent room, I gagged and bound my victim. I did not obscure his vision. When I was adequately prepared, I woke him with the jab of a knife.

His bulging eyes, the same that had so often offended me in the past years, snapped open at once. They turned fearful instantly, and I smiled a horrible grimace in reply. As he tried to plead through his gag I raked the knife's edge against his cheek.

"No more words!" I hissed furiously. "Does your fractional intellect possess the capacity to comprehend the torture your meaningless blather has again and again inflicted upon me these past years? The torment your tedious comments and complaints has brought upon me? I cannot even begin to recall the number times I wished to slit your throat for no cause other than exasperation!"

The froglike eyes gaped at me, imploring, silently begging for mercy. I roared madly with hatred and closed my own eyes against their stare, clutching my head.

Recovering myself, I abruptly sat straight and still again, meeting his gaze with one of pure evil. Calmly, far too calmly I said, "I shall be plagued by your gawking never again, for you will be availed of the means to inflict it." With these words I lunged suddenly, and, amidst a horrific array of muffled shrieking, I cut out his eyes.

The deed done, I laughed maniacally over his screams of protest. "No longer, no longer! No longer can you attempt to penetrate my being for you can no longer see!"

Caught now in a fit of lunacy, I seized him around the throat and began choking him. As he flailed uselessly, I bent and growled in his ear, "And now I am free from your incessant prattle. Now die, and know that the world will be a brighter place for your passing."

His protests quieted. His heart ceased beating. I sat back, shaking for… for what? Thrill? Revulsion? I do not know.

I heard my accomplice enter the room. I expected him to make a second quip at the methods I employed, but I heard nothing. Instead, "His stare plagues you no more?"

"Never again. Though, reflecting on my… episode, I perhaps exceeded necessity to make my point."

"Not entirely. Theatrical, to be sure, and quite appalling to say the least, though I've no doubt he deserved it to some extent." He said this very casually, as though discussing the weather.

"Indeed he did. And to be perfectly clear, I feel no regret."

He nodded once, and we began the process of disposing of the body. It was more gruesome than need be, as a result of the detached eyes, but by no means difficult. We would have impunity once more.


Time continued to pass and I nearly became accustomed to the prickling feeling of being watched. To amuse myself I made it a game, spontaneously performing ridiculous stunts or crying aloud at inappropriate instances, then listening to see if I could hear a stifled snicker at my impetuousness.

At last the day came that would bear the final unspeakable act. It was a windy morning when I heard someone insistently rapping upon my door, and there was no doubt in my mind as to who it was. I opened the door to discover the remaining of my two associates standing at the entrance, arms crossed and foot tapping impatiently. The more quarrelsome and obstinate of the two, she pushed past me without waiting for an invitation to cross the threshold, regarding me loftily once entry had been gained. Immediately the cursed words began to spew from her mouth, tedious descriptions of the most recent inconveniences she had been made to endure. I did not wait, but seized upon her at once. I noticed movement in the corner of my eye and saw my pursuer step from the shadows to properly render the victim unconscious before I unintentionally throttled her to death and subsequently ruined the fun. With a blow to the head she turned limp, and I ruthlessly threw her to the ground.

"Scum!" I spat.

We bound and gagged her as the tradition seemed to have become, taking no care with her limp figure as we did so. I felt giddy with anticipation. Malicious voices boiled up inside my head, whispering, hungering for blood, blood, blood…

At last we were finished. "Shall I leave you be?" asked my comrade.

I considered this. "Unless there is something you wish to contribute beforehand."

A wicked grin contorted his face. "I do happen to have a suggestion, if you're willing to listen."

My stomach churned with black tar as I laughed darkly. "Why should I oppose? Do what you will, so long as you do not take her life!"

He nodded and produced from his pocket a handful of shiny new thumbtacks. "It would seem to me that the lady presently at our mercy is overly pleased with the sound of her own voice. I would seek to correct this fault by forcing her to ingest these, which may… limit her eagerness to verbalize."

To my own surprise, I felt hysterically jubilant laughter spilling from my mouth. "It's brilliant! But, my cohort, how do you ever expect to succeed?"

"Sew her mouth shut."

The laughter ceased, leaving only thoughtful quiet. "Yes… That would work, wouldn't it?"

Without further delay, my ally knelt beside the unconscious figure. He opened her mouth and tipped in the sharp tacks, carefully closing it again so that the objects did not prick her awake. From another pocket he produced a threaded needle, holding it out toward me questioningly. I took it with a slight nod of assent… and began to stitch.

I worked quickly, but our captive awoke before the third puncture all the same. Providentially, by the time she realized her circumstances the lips were sealed, though insecurely, and to rip them apart would have been nothing short of agony. For this reason she did not scream, but whimpered loudly enough to anger my accomplice and cause him to bang her head off the floor until she silenced. I continued to sew.

When the job was done I sat back, gazing with satisfaction at the bloodied face before me.

"My friend, do you not have any words for my companion and myself before we seal your fate? No? But I am so intrigued by the possibilities of what your final contemplations may be! Are you lamenting the friendship that has revealed itself to be nothing more than a hatred so pure as the ashes of burned souls? Oh, I've so coveted this day! But, I implore you, speak!"

I delivered a blow to the jaw, feeling the sharp tips of metal pierce the skin beneath my knuckles. The woman whimpered and her eyes became wet, wide with fear.

"My friend, for what do you weep? I yearn to console you. Do my eyes deceive me, or do I perceive fright in yours? I cannot fathom what scares you so. Lord, but if only you'd say!"

I aimed another fist at her mouth, ignoring bruises that bloomed across white knuckles as I struck out again and again.

"Hated witch! Never again plague me with your useless prattle!"

With that I took her neck in a grip of death, watching as her red-soaked lips turned blue. My fingernails sunk into tender skin, leaving half-moon depressions that welled with blood to stain my fingertips. I did not allow the soul to leave her with a last breathe. Instead I strangled it within her, leaving it to die and rot for eternity entombed inside the corpse. Else, that is what I imagined the outcome to be as I reveled in the aftermath of the deed.

At once I realized my ally was standing quietly over me, watching. Tiredly, I said, "My friend - if I can consider you as such - your silence haunts me. I desire to know the thoughts you entertain as you stand over me and the corpse of one whose life I have ruthlessly taken. Do you think of me as lesser than yourself? Do you fear my indisputable madness? Do you, perhaps, plot my own fatality?"

He regarded me quietly. "I do not fear you. I do not seek to judge you."

"Yet you do so in any case, as it is the mere nature of humans. Reveal that which renders you so oft silent, I implore you!"

His next words were sharp. "If you really must know, I consider you an ill mind. You are weak, driven to unspeakable acts by an obsessive fixation with irksome traits of insignificant individuals. I have no sympathy for the likes of you, though neither do I harbor disgust. I am merely silent because I wish to understand, to the best of my abilities, the so utter dementia of you."

I smiled weakly at his outburst. "How can you ever hope to understand that which you can hardly comprehend? You've not heard the thoughts that resound so loudly within my mind, thoughts of bloodshed and paranoia, meaning and morality, hatred and desperation. Perhaps I grow to become melodramatic, but I do not even understand me, and I often wonder if I am alone in my confusion."

"I quite doubt that you are entirely solitary. However, I do believe it may only be you who feels bewilderment so utterly complete."

Nodding contemplatively, I absentmindedly stroked the forearm of the fast cooling corpse before me. I recoiled when I realized the grotesqueness of the action.

"Perhaps I can find consolation in death."

"Perhaps you will find nothing more than the ghosts of those you so despised in the afterlife awaiting you."

"What choice do I have?"

"All… and none."

"Then my fate is decided." My eyes glazed over as I stared at nothing. "It shall be by blood, the only beautiful thing…" My mind was strangely blank with tranquility at the idea of suicide. From the recesses of my cloak I retrieved a tarnished pocket knife, and presently made to slash the sharp metal against my wrist. At the last moment my companion stopped me, taking the hand wielding the weapon in a grasp of steel.

"Would you truly accept your downfall with such calm?" He said this quietly.

I sighed. "What joy has life brought me thus far? I can expect a future no better than the past. Being has brought me nothing but sorrow, and I deem surrender the simplest cure for the sickness of my mind that you yourself have recognized."

His grip did not loosen. "And you feel there is nothing you need to accomplish, nothing that would make you feel your life was in some minute way significant?"

"Should I?"

"Yes."

"Then that is only another effect of the disease that plagues me. For no, while there is much I would have reversed, there is nothing I will regret not having achieved."

Finally, sighing in defeat, he released me. I did not, however, immediately move to seal my fate. "For what reason do you try to persuade me not to give myself over to the destroyer?"

"There is no cause but my conscience and the absurdity of the needless death of a skilled assassin." With this he made as if to depart, but I called after him.

"Then will you remain? I do not ask of you to bear witness… But I feel perhaps my passing would be eased by your presence. Feel not obligated, I merely think it not such a task for you who have already seen so much, and to die alone seems… sad." I laughed softly at the irony.

He turned, slowly. For a moment I thought I saw a pained expression on his countenance, though he composed himself before I could be certain.

"I will do as you wish."

Again I raised the knife that would end me, and as I did so I saw him turn away. I did not allow myself to ponder this. Instead I grated the blade against my wrist without hesitation or indeed any emotion at all. The wound left behind was deep, letting forth a torrent of blood which trickled down my arm to drip wetly on the hardwood floor. I made to gash my other wrist, but was hindered by the wound I already bore. Improvising, I took the blade's handle between my teeth and thus inflicted the second cut. It spilled blood, staining pale white skin, and finally with this blood came the battalion of thoughts I had been so curiously lacking up until now. For what? Why? Where am I destined for? What has driven me to this absolution? Is there no other way? Can't I be fixed? The panicked thoughts swarmed around my head like so many agitated wasps. I tried to swat them away, now nearly delirious with blood loss, and felt the floor come up beneath my back. The questions dissolved into one fluid, desperate internal screech for help, for salvation, and a shadow overtook my vision. Something grasped my arm. Something pressed softly to my lips. Something dripped onto my face and merged with tears I had not previously been aware of. Something was whispered in my ear, sounding cold and strangely far away. Why is he so far away?

"It was my ultimate duty to bring about your undoing, though I now regret it with the wretched misery of one who has plotted the demise of their beloved. For it is this you have become to me."

The sticky, hot blackness became absolute. I barely comprehended the words, my intellect slowed by a sluggish exhaustion. When I at last understood I tried to revive myself, tried to claw out of the deep well I found myself so rapidly descending into. But it was all in vain. I had not even time to ask myself of my reaction, for my soul was too soon released into oblivion.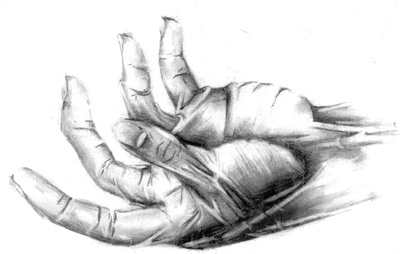 © Yisrawayl G., Philadelphia, PA