Blurred path to potential
June 9, 2017
Every day on the hour, the route is made to my garage. Batting gloves on, bat in hand. Setting up specific and key points spread throughout the plate. Up and away, low and inside, high inside, down in the dirt. Going at life with a two strike approach, getting nowhere. This day to day grind seeking improvement with not even a spark. My hits in the garage could make college, but on the field I struggle to make the ball move. I get pointers from my coach, advice from the team, nothing changes. Its as if my stats are a claw machine that's just eating my dollars with no chance to win.
I seek out my mother and have a come to our senses talk. I explain the ups and downs, left and rights. In my head i'm a hitting machine but when it's time to execute, its an utter failure. My mind greater than any coaches on the field but my stats slowly diminish game to game, at bat to at bat. We decide to try hitting lessons, 6 days out of the week, only for the reason that my success has shined from time to time and we know what i'm capable of.
I begin my lessons and what they tell me is already in my mind. It's almost as if my hitting coach is an echo of my inner self. I do as he says, yet everything is already implemented into my swing. I leave him baffled as to why I can't succeed on the diamond. Although these lessons are still just repetition, I continue to go. Knowing i'm putting in the work. This goes on for weeks, almost every day making it to the facility. Hearing the same exact things. Losing hope game to game.



At this point I'm lost. All I do is work, no spark. Strictly just going and going for the chance to succeed. But I know something now. This isn't exterior. This isn't my swing. It's in my mind. All this time, all the work i've put in. Just to realize what's blurring my true potential is a
mental barrier. All I did was hop right over it. I've come too far to let it stop me. The last ten games of the season were the best ten games of my life. All with the quote in my mind "Baseball is an almost all mental game, the physical aspect is miniscule", says my hitting coach. My at bats were a spread to early every spot on the field. Now I know, sometimes in life you have to play smallball.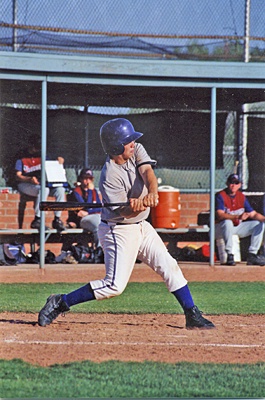 © Mark A., Phoenix, AZ