THE MIRROR
June 5, 2013
"I want to produce a movie." said the adamant Piyali as she sips her coffee accompanied by her colleague Sneha.

"Piyali, that is fantastic you want to produce a movie. Okay so tell me this that how will you manage for your resource? How will you allocate them?"

"I am not sure about it friend, probably I have got my experience as my only asset."

"You are too good Piyali. Count me in too in your courtesy. See how much I cooperate with you at work." boasted Sneha.

"Hmm….yes..yes." Piyali bursts into laughter.

"Ladies if you are done then the director is waiting for you. The set is ready." announced a spot boy.

"Yes, we are coming." Sneha said aloud.

Piyali and Sneha were the choreographers appointed for the shoot.


A month later Piyali was spotted in a reception.

"Madam, I have got an appointment with Mr. Maira. May I know my number?" inquired Piyali.

"Your good name please."

"Piyali Roy."

After going through the database, the receptionist said; "Yes ma'am, your name is registered. Your appointment number is twenty-two. You are requested to please wait in that cabin." notified the receptionist, gesturing towards left.

"Thank you" replied Piyali.

After half-an-hour a clerk entered the cabin and called for number twenty-two.

"Its me." answered Piyali.

"You are requested to please follow me to the chamber." said the clerk.

"Sure."

Wearing a red shirt and black tights, with goggles covering her eyes and attributed with a handbag, Piyali looked energetic, fresh and presentable. She knocked the door; "May I come in, sir?"

"Yes please." said Mr. Maira.

"Good morning Cabir. How are you?"

Cabir was shocked for a moment. Nobody calls him by his first name at the office. Now who is this? He looked up and he is surprised as well as happy. "Piyali Roy! What a surprise! I can't believe my eyes its you." he exclaimed.

"You need to believe what you see Cabir, it is me, genuinely." she leaned forward with excitement. They hugged each other exuberantly. Cabir instantly ordered his associate to get chocolate éclair for Piyali.

"I know you love chocolate éclair."

"Yeah." grinned Piyali.

"So, how are you? How is your work going on? I enjoyed working with you at Elite College." asked Cabir about her whereabouts.

"Cabir, I am doing good. I enjoyed your companionship too five years back. Actually I am here to discuss some work." said Piyali, smiling.

"Oh work, film-making and things?"

"Exactly"

"Your chocolate éclair, sir." a clerk entered. He presented it on the table.

"Here it is."

"Wow, tempting." exclaimed Piyali.

"Thank you" Cabir said to the clerk. The clerk leaves.

"Thank you Cabir."

"Pleasure Piyali. So what are you planning about the movie? Whay is it all about?" said Cabir, trying to grasp an outline of the project.

"Cabir it is well known to you that I am a die-hard fan of Ghazal Mullick, the legendary film artist. I want to produce a biopic movie on her life-her childhood, her schooling, her college life, her carrier struggle, her pinnacle of success, her spouse, children, grand children, her ailing health, return to silver screen-I want to just capture everything. You know…"

"Yes, yes, I know" interrupted Cabir in between. He was swayed by the project by now.

"And the deadline is 22nd December, 2014. I want to release this movie at this particular day only. Mullick ma'am would be seventy-five years of age at this day and I want to present this to her as her birthday gift." Piyali stops finally; inhaling some air.

"Okay so the girl is all packed for the launch. But before this you tell me that have you collected all sorts of documents required from different sources? Biopic movies are always controversial." warned Cabir.

"Nothing to worry, I am planning everything for over a year now. All roads are clear." announced Piyali confidently.

"Okay then, let us all get ready for the saddle."

As the time passed by, the production of the movie was in full swing. Ashi Bhatt played the role of Ghazal Mullick. Brahm Sinha was the director whereas Drisha Kalyani was the sound engineer appointed for the movie. Cabir and Piyali were the co-producers of the flick. Majestic sets, beautiful jewellery and commendable retro fashion were observed all over the studio. Realistic locations were chosen for the shoot to allow the movie look original. With the viewer's expectations reaching new heights by each passing day; the team left no stones unturned to win appraisals.

It is 1st November, 2014 now. The posters and the promos of the film released worldwide. It became popular and won applause by millions of Ghazal Mullick's fans.

Finally the day arrived. The shows were declared houseful. A special screening of the movie took place at Ghazal Mullick's house. She was delighted by the efforts put up by Piyali and her team. The movie was rated four-and-a-half stars by the critics.

"It is an original movie; a full family watch." reviewed a person coming out after watching the movie.

"Commendable job." reviewed the second person.

"Good work by the production, direction and music department. Ashi Bhatt fitted the bill very well." reviewed the third person.

"I never knew that any of my admirer would go to such lengths to produce movie based on my life. I loved how well the team collaborated, and the result is in front of all of us. I never felt that I was watching a movie; rather it felt that I was present in front of a mirror; reflecting me. Piyali is like my daughter. I would like to thank her for her birthday gift, so special to me, God bless her." Ghazal Mullick addressed the media, almost in tears.

When asked by Piyali about her reaction; she could hardly speak a word. She said; almost swallowing her words in ecstasy; "Mullick ma'am addressed me as her daughter, she made my life. She praised my two-and-a-half years of hard-word; that is my biggest achievement. My team was supportive, I would like to thank them all. Thank you people for loving my work, God bless you all."

Piyali's movie 'THE MIRROR' won the national award for the best movie of the year.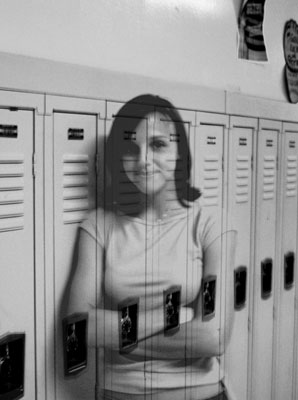 © Amy D., Troy, OH