Monsters of our Minds
May 5, 2013
Mmonsters of our Minds
It's interesting yet funny how people come up with these non -fiction stories. I mean just think of all the tales and legends about these creatures. There are werewolves, vampires and all kinds of unnatural beings. Most of the mmonsters have stories behind them of how or why they became the beast we believe they are. Most books and movies change up the story to make it more interesting and neat.
There are so many mmonsters that were created by people. There is the mummy, zombies, Frankenstein, vampires etc. More mmonsters than you can shake a stick at, but these interesting mutants have abilities like no other. People believe that a person can turn into a wolf like creature and kill people or die and come back to "life" and haunt people. It's amazing what writers come up with.
From what I know there hasn't been a mmonster that just pops up out of nowhere and kills people or takes over the world. Some of these myths have reasons why they became the state that they are in. It's always a terrible accident or a strange experiment that creates these beasts. Some have rituals that make a human change such as a werewolf.
The writers might also change up the story to make the book or movie more desirable. All of these mmonsters are not real and are only for entertainment. There is no such thing is mmonsters but aren't these stories interesting? Most of these movies and books are written or directed to make a profit and to entertain people. They can't just use the same thing the last writer used, so the create something new.
Mmonsters are interesting stories that people make. It's very entertaining and also unique in so many ways. The mmonsters themselves are so amazing and how they twist them into stories is just phenomenal. It is amazing what the human mind can come up with.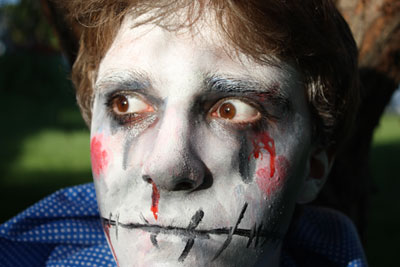 © Katherine C., Lansing, KS