My Only One
March 12, 2013
Jack was wondering around in the cold, trying to find a semi warm place to stay for the night. He had been looking for a job, just to support himself, but to no avail, no one was hiring at the moment. The poor boy shivered and sat down on the cold, hard cement of the sidewalk, leaning back against a building, the tears rolling down his face. Where was he to go? It was much to cold to sleep under a bridge that night and there were no fires going or any warmth to be found but in his light jacket and even then that wasn't enough.
A car pulled up, slow and endearing. He could hear the heaters on in the car and he just longed to be in it, just to...warm up, please, Mr. Driver? Just for a little while.
But he supposed that the driver only pulled up to the curve for they wanted to get into the building he sat before, it could be a store or a strip club or something. The passengerside door opened and Jack was carressed with the beautiful feeling of warmth. No one crawled out of the car, actually that side was empty, with just a familiar face leaning across, staring at him.
"I know you," he spoke softly, slowly to Jack. Jack stared at him, he knew the boy too.
"Yeah, and what of it," he said defensively, feeling the warmth through his clothes, "you gonna just laugh and leave like everyone else? It's to be expected, I've been abandonded by everyone that loved me," he mumbled, turning his head away from the other boy.
"Jack. Jack Barakat," the other boy said as if he hadn't heard a thing Jack had said, "you're Jack Barakat. Don't you remember me? We went to the same school, until your parents said you dropped out-"
"I didn't drop out!" Jack yelled, leaning off of the building now, his teeth clenched, has hands balled into fists. He was glaring daggers at the other boy. Poor thing, he didn't even know his name.
The other flinched lightly at his tone of voice, "I didn't say you did," he said lightly with a small, abrupt shake of his head, "I said your parent said that. I'm sorry if I struck a nerve," he looked back at Jack with wide friendly eyes, "I am Alex Gaskarth," he finally introduced.
Alex...Gaskarth? Yes! Jack remembered now! Nineth grade, him and Alex had a couple classes together and befriended each other. But nineth grade was over and there was no going back, ever
"I do know you," he said lightly, tuning his head to look at Alex, "so why'd you stop now, of all times?" Jack asked seriously, no hint of any joking that he once had.
"I knew I knew you," he stated simply with a shrug of his shoulders, "When your parents said you dropped out...it was weird. You didn't seem like the type to just quit. It's been hell, Jack," he shook his head, "school's been harder to bear now that my friend is gone," he said lightly, "why didn't you try to come back?"
"My parents don't pay for me anymore," see they went to a boarding school, admission fee and all that jazz, "I can't even get a job," he sighed and shook his head sadly, "there is nothing I can do," but before he was finished with his sentence, Alex pulled out his phone and called someone, speaking in hushed voices to the other line.
He smiled wide and hung up, but not before exclaiming a big, "Thanks Mom!" into the reciever. Alex turned to him, smile still fitted on his features, "hop in," he waved Jack up to his feet. Jack was so allured by the warmth of the car that he even forgot to ask what Alex was all about. He closed the door and snuggled into the warm seat, his eyes already drifting closed.
"It's been a...long while since I've...actually felt...heat," he murmured softly, inhaling deeply.
"Don't fall asleep, we're not home yet."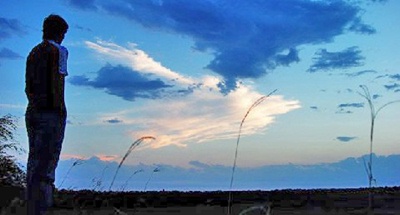 © Stefanie K., Katy, TX