Up, Down, Sideways, Diagonal
November 7, 2012
His name was Dominic Pan. And from the way my best friend Shari described him, he was tall. With red hair that was kind of long, and eyes as green as a cucumber. She thought it was funny how his last name was one of a famous child's.
But Shari was used to teasing about last names. She was sweet at heart, but didn't really know when to shut up. I was constantly rolling my violet eyes as she poked at my name. 'Mary Shoe' wasn't that bad. Her last name was Erickson. Like the holiday from spongebob.
" Mary." Shari shook me. I smiled towards her. It felt strange to smile. I wasn't actually smiling at her, because she was really about a foot to the left. But I was blind, so she let it slide off. " I was just saying he's cute, too. His hair has this little flippy thing in front of his right eye. How adorable is that."
She reached up and touched some of my light brown hair, covering my eye.
" Like that." I grinned, real this time. It was good to have a friend like her. " The teacher has us doing this slave work. How are we supposed to know when Lincoln was president?"
" During the Civil war. He was about to take his second term when he was assassinated." The teacher suddenly started to clap, and a red sunk deep into my face.
" Good job, Ms. Shoe." I heard a girl three to my right snicker. " I guess you actually read the section."
" Yep." I said slowly, my fear of being the center of attention closing in on me. Luckily another voice protruded from the front.
" He actually started his second term." A voice I didn't recognize said. " But only for about a month."
I creased my eyebrow and nodded, guessing that the new voice was Dominic.
" You just got corrected." Shari whispered. I elbowed her, a half grin on my face. " He's staring at you."
" Too bad I can't look back." I giggled. " He might help me with English, too."
" Quiet, Mary." The teacher said. I nodded, trying not to laugh as Shari giggled. " You two, Ms. Erickson."
I felt along the braille books stacked on my desk, finding my history book and pulling it out. I felt along the bumps until I found the correct page, and started to follow along with the class.
I never hated being blind, but I certainly wouldn't want to stay it if I could make the decision.

After class I grabbed onto Shari's arm. She was used to it. I had a cane in my backpack, but my best friend had offered to lead me around as long as I didn't crash her into stuff.
We were walking through the door when I heard more unfamiliar noises. Strong breathing, light footsteps, change in a backpack. Lots of change.
Suddenly the change ran into me, and Shari fell down. I reached as close to her as I could, and she grabbed my hand. Another hand steadied themselves against my shoulder.
" Sorry." A voice said in my ear. It sounded strange, like it was from a foreign land. Like Norway or something. " Hey you're the girl that got the Lincoln thing wrong."
Shari laughed before nudging her hand under my arm again.
" Yeah. I didn't read it that closely." Shari started walking, and I heard Dominic's footsteps catch up. ' I'm Mary, this is Shari."
" I'm Shari." I rolled my eyes, and even thought I couldn't see I knew he was watching them. " This is my stop."
It was strange for Shari to dump me, she usually took me all the way to English. Shari stepped in front of me and grabbed my hand, then placed it on Dominic's arm. I blushed deeply, and glared at her.
" Good idea, get the blind girl to lead around the new kid." Shari laughed and patted me on the shoulder. " I hate you."
" I hate you, too." I could hear the teasing in her voice. " See you next class. Nice to meet you Dominic."
" Nice to meet you, too." Shari left. I stood their for a very awkward second before leading Dominic forward. " So, where to?"
I smirked and nodded down the hall.
" Mrs. Rosa's is down the hall and to the left, first door on the right." Dominic probably nodded and then started walking. " Don't let me bump into anything."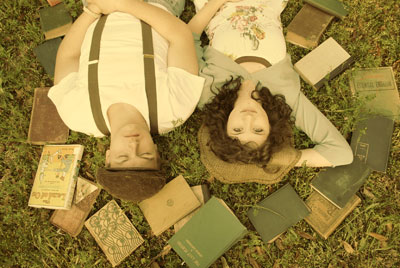 © Gabrielle A., Pensacola, FL