Green Vs. Blue
October 24, 2012
Green vs. Blue
It's October 20th, 2012 and the Michigan Wolverines will face their rivals the Michigan State Spartans at the Big House in Ann Arbor, Michigan. This game will be an all out battle for who is the big brother and who is the little brother. Some Spartans fans were loyal enough to travel to Ann Arbor and take the risk of going into enemy territory. A few people out of the group of Spartans fans were, Tom, Timothy, Lenny, and Daniel. They are all in their mid 20's, live in a dorm together and attend Michigan State University. Their all die hard fans that love the game of football, but sometimes they can become arrogant and get in fights with other groups of fans. Just like the week before they got in a argument with Iowa fans and even some punches were thrown in the direction of Lenny. This will be a testament to how loyal of fans they really are and only time will tell if they keep their cool or if they have violent confrontations.
The guys knew Michigans fans pretty well after Michigan fans came to Lansing last year. They were pretty respectful even though there were a few confrontations, they were still nice and calm. They wanted to give a good impression that State fans were good people even through all of the hard times that they have had in the past. The 4 guys got up early that Saturday morning and made their way out to Ann Arbor. They were eager to go and get the adventure of going to the Big House for the first time. On their way there they noticed many signs supporting Michigan football like signs that said "BEAT STATE!" and "SHOW THEM WHO THE BIG BROTHER IS!". This put a little fear into their hearts because they quickly started to find out how passionate Michigan fans really are.
When they first got to Ann Arbor they wanted to go out for lunch, so they decided that they would go to a local hot dog place that a lot people have talked about after visiting Ann Arbor. Right when they stepped out of the car they noticed how pretty Ann Arbor really was. The buildings were nice and eloquent, the air smelled fresh and was not polluted like previous cities they have been to. What they also saw was all blue and yellow M's everywhere. They were on hoodies, sweats, strollers, hate, gloves, signs, everywhere imaginable. Timothy said, "Hey, maybe we should take our State gear off" the guys all agreed because they just wanted to have a peaceful lunch.
They walked into the store and the atmosphere was loud. So many people were packed and crammed into such a small area but it still seemed like a fun place to be in because everyone was happy and talking to one another. The exquisite environment of the restaurant just made the 4 friends want to stay there. They asked for a seat for 4 and had to wait for 30 minutes. When they seated, they received placemats with the Michigan logo on it and they received a menu that had sandwiches named after former players. They all looked around the facility and saw all the unique and attracting photo's of players, autographs, and many more memorabilia. Timothy order the "Desmond Howard Heisman chilli dog", Lenny ordered the "Tom Brady bacon dog", Daniel ordered the "Chris Perry running dog", and Tom ordered the "Charles Woodson chowder dog".
They finished their food with great pleasure and satisfaction. Then they got the bill which cost 40 dollars. The guys thought for a once a year experience, it was well worth the money that they had to pay. Lenny updated his facebook saying, "Ann Arbor has some good hot dogs!!!!!". The game did not start for another 4 hours, so they decided to drive around Ann Arbor and go sightseeing to see the scenery around the fabulous city.
The game is starting in ten minutes and the guys found their seats. They had to sneak through some heckling fans because the 4 guys put their State gear back on. They forget to get food and beverages, so they played nose goes and Lenny lost, so he had to go all the way back and get everything. Lenny came back with an dumbfoundingly quantity of food and drinks. They all had to sit there for a couple of seconds and admire the amazing seats they had to such a good game. They were 10 rows back from midfield. They had to pay 6 weeks in advance for the tickets and now they see that it was well worth it. Those seats and this atmosphere reminded them why they love Saturday nights, why they love college football, why they love rivalry game and most of all why they love the Spartans.
Michigan won the coin toss and they elected to receive at the beginning of the 2nd half. Michigan kicked it and the adventurous thrill ride began. The First Quarter ended and Michigan was ahead 14-6. Fans were taunting the State fans most of the time, but it was all in good faith because they would all laugh at the end. Then it was Halftime and the Spartans defense shut down the Wolverines and the Michigan State was leading 20-14. The 4 guys could tell the alcohol was starting to affect others around them because they could smell alcohol everywhere and big Michigan fans started bumping and slouching when they were walking. Many of the Wolverine fans speech started to slur because of how drunk they were. Daniel started to laugh every time a Michigan fan would talk to him and that would only get him into a lot of trouble.
A Michigan fan, wearing a #21 jersey, said, "Hey, you guys go back to Lansing!". Daniel sarcastically stated, "It's actually East Lansing." The fan's face started to turn red with anger and Daniel started to regret what he said. Daniel was in ready position to fight, but the fan's face started to turn pale and then he fell and passed out. Daniel knew that he dodged a bullet there and would have to watch what he says for the rest of the night.
The 4 guys for the rest of the halftime watched, and heard, the band perform a Star Wars song and "We are the Champions" by Queen. The guys were impressed, especially with the size of the band because for some reason it looked smaller than Michigan State's band, but they were much louder than State's band. The food from the concessions stands were overpriced and tasted poor, but that is basically what every football game, or sporting games in general, are like. The food taste like cardboard and had no flavor to it. The soda tasted sour. The guys had to hold their noses and tilt their heads every time before they took a drink. The guys did not come to the game for food though, they came for a good football game and that is exactly what they would receive right as the 2nd half began.
Michigan State had to kick now and unfortunately for the Spartans, the Wolverines kick returner, returned the kick 98 yards for a touchdown and now the Wolverines were leading 21-20. The guys were so upset because they knew that if they would lose this game that would ruin the Spartans chance to go to the Big Ten Championship. At the end of the 3rd Quarter Michigan was leading 24-20. The guys knew that this was it. One more quarter to decide the whole fate of the Michigan State football season. Would it turn into a raging disaster or a game that be an everlasting remembrance of who the big brother really is? Only time could tell what the outcome of the game will be.
Halfway through the 4th quarter, State was winning 27-24 and they were marching down the field hoping to score another touchdown. They had to settle for a field goal and now the Spartans were ahead 30-24. There was only 2 minutes left, Denard Robinson and the Wolverines had to score a touchdown on this drive or State would win. The drive started on the Wolverines own 30 yard line. Denard ran the ball a couple times and Michigan shortly after ran out of timeouts. The Wolverines got onto the Spartans 7 yard line and it was 4th and goal. You could hear everyone in the stadium biting their nails or heavy breathing. Each team's season depended on this play. Denard threw an incomplete pass in the end zone. Michigan State won the game and won status as the big brother.
The 4 guys left quickly so there would be no violent confrontations. Thankfully, they got out safe and sound. After the guys got into the car Lenny said, "Well, I can't wait to see how Notre Dame fans will greet us next week". The guys all had a good laugh and went back to Michigan State.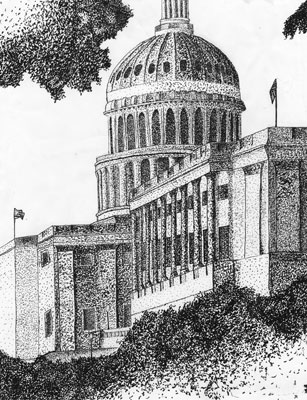 © Amy Joy S., Joelton, TN