Your Dream, My Reality
October 23, 2012
I opened my eyes to see the awful shine of a white hospital. I groaned and looked around. The lights glared in my eyes. I squinted, it was impossible to see anything. They must have taken out my contacts after I fell. Wow, I must have fallen hard. I haven't fallen like that in years. I felt around the small desk beside my bed for my glasses. After putting them on my surroundings clarified. My snowboard was propped up in the corner; it was split in two pieces. That was annoying it'd take me a while to buy another one of that quality. My board gear was in a pile beside the board and there was a chair sitting beside it with a very familiar jacket on it. Allie had been here already. Or was it already? I had no idea how long I had been lying in this hospital. There wasn't even a window to look out of. I sat up more and propped my pillows into a more comfortable position. Some footsteps echoed in the hall. "Hey!" I said. The footsteps came closer. A doctor walked into the room.
"Look who's awake."
I grinned and pushed my blond hair away from my eyes. "Hey doc, what's wrong with me?"
"Not much surprisingly, a broken arm and a severe concussion but pretty minor injuries for being caught up in an avalanche."
The scene started to come back to me a bit. I had been boarding down the unmarked trails when a rumble came from behind me. I started boarding like a maniac, just going for speed. But I got way too much speed and lost control. After that I don't remember.
"So doctor when do I get to leave?" I asked.
"You can leave tomorrow." He said.
"Tomorrow? I feel fine now!"
"Sorry James but you just woke up from 8 hours of unconsciousness. Not to mention you just had surgery done to your arm. It's necessary we monitor you until tomorrow."
I groaned. Suddenly there was a knock at the door. I looked up; there standing in all her perfect beauty was my girlfriend.
I still can't believe she's real. She is just so perfect in everyway. Her hair falls perfectly around her face at all time, her personality is the perfect match to mine. She's my dream girl.
"Hey sleeping beauty," Allie said. Her smile playfully dancing around her face like it always does when she's teasing me.
"Hey Allie," I said.
She sat down beside me on the bed. "How are you feeling?"
"Not bad," I said, "I've been worse." I chuckled weakly; both of us knew that I hadn't.
"Well I have something to cheer you up."
"You already did that."
She smiled down at me, her hair falling near my face. I could smell the delicious fragrance of her conditioner.
"Well thank you, but I think you might be just as happy to see this person."
I started getting excited. If it was who I thought it was then Allie was right, it would cheer me up even more. Then through the door strode the familiar figure of my Uncle Dom.
"Hello James, how are you?"
"Hi Uncle Dom! Why are you here?" I asked.
"You weren't looking good. I thought I should come and make sure you're O.K"
My Uncle Dom lives a long way away. I don't quite know where but he only shows up once every six months or so. So I assume he must live pretty far away. He looks even more like me than my actual dad does and the two of them don't get along so well. Neither does my mom and my uncle. My mom is great, her name is Mal and she is really lax with the rules.
"So Allie, why don't you get some sleep? You've been here as long as I have. I have some things to discuss with James."
"Yeah, no problem. I could use a sleep now that you mention it." She walked out the door blowing me a kiss from behind Uncle Dom's back.
Uncle Dom sat down on the bed. "James," he said, "There is something I need to tell you."
"Yeah, sure what is it?" I asked.
"Your life isn't real."

Was this some sort of sick joke? "Yeah. Ha ha Uncle Dom."

He looked at me with huge eyes full of sadness and a hint of guilt maybe? "I am so sorry; this wasn't how it was supposed to happen. I'm going to start from the beginning."

I sat, still not believing anything was really wrong. He was just acting weird and then he was going to pull out a new snowboard.

"You were born in reality. You had a loving mom and dad. But your mom and dad were experimenters. They loved to push themselves. They found this new piece of military software. It allowed them to go into the dreams of others. Control the dreams, take information from people's subconscious and of course, build whatever they wanted. Your parents were truly gifted. They found ways to go deeper and deeper into the dreams. A dream, within a dream, within a dream. Unfortunately they pushed too far. There was a misunderstanding about the technology and through a horrible series of events your mother killed herself."

I stopped him there. "What do you mean my mother killed herself?! My mom is at home, probably out for a jog before she comes to check on me!"

"No James. That is nothing but a projection of your mother. Your mom died when you were young. You were only six when she died"

I stared at him shell-shocked. "A projection?"

"Just let me finish, it will make more sense. Anyway several years after this you were in an accident. A horrible accident. I couldn't just let you die, James you are my son. My son, I could never let you just die. I got my team together, all skilled in putting people into dreams. We built this dream for you. You could survive in a coma. Live your whole life in this world. It would be so cleverly done that you would never notice a difference. The schooling would all be up to date. You would have friends. Everyone in this dream is a part of your subconscious so we never had to worry about you being unpopular. But now, now things have gone wrong. We have to take you out of this"

"But why? Why would you do this to me? Why give me a whole life when, when all you were going to do is take it away? Why wouldn't you live here with me?"

"I'm sorry, we thought you would be in a coma your whole life. But now, now you're waking up. I couldn't live here, you have a sister, I had responsibilities, if I could have, believe me I would have. It killed me to see the way you bonded with your fake father. I'll give you a moment." He walked out of the room. Allie walked in and sat on my bed.

"Listen James, Dom told me everything. You have to go back to reality. This world is collapsing. If you stay here your mind will go into Limbo. It's this horrible place, infinite subconscious."

"But Allie!" I was starting to cry now. She was my everything. She was all I could remember. In all my favourite memories, she would always be there. "I would kill you. You would be gone forever. You would live no where." The tears were streaming down my face.

"James, you have to do this, I'm not real!" She shook me, and then stopped. She looked at me hard. My heart was breaking. She gave me hug, her face buried in my shoulder. She was starting to cry too. "Oh God James, I know this is hard. I know, I know, but you have to! I am not real, I am your subconscious."

"No you're not!" I said. "You are Allie Monroe; you cheered me up on the phone after my grades dropped. You slapped me silly when I got drunk. You were the one who got me to start snowboarding. Allie you are my everything!"

"No James, you just think that. I am so sorry, I love you James. But I am you. I am some part of you."

I couldn't stand it anymore I jumped up. My broken arm jolted pain through me. I ran out of the hospital. This was my home, my home was crumbling. Pieces of the sky were falling. Buildings crumbled. The beautiful lighthouse was on fire. I stumbled over my own feet. Allie was in the door of the hospital crying behind me. I looked up. I could hear my uncle's, no my dad's, voice.

"James, James you have to get yourself out of this dream. Kill yourself! If you don't you will live in a horrible limbo, you have a chance to live again. Please James! I can't lose you!"

A gun lay in front of me. It was like it had just appeared there.

"Unc-Dad, infinite subconscious, that's all Limbo is right?"

"Yes, James, just kill yourself! This dream is collapsing!"

I remembered Allie's words, "I am not real, I am your subconscious." I looked at her crying. The street started to buckle, I fell onto my knees from the shock. The sky had turned grey and stormy. I screamed at the sky. I picked up the gun, I cocked the trigger, I looked at Allie and…

Screen goes black.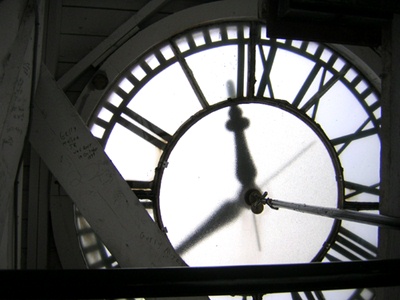 © Tatyana Z., Norwood, MA