The Headless Samurai
August 10, 2011
To stand

To sit

To breathe


Everything seems painful now. The grass in front of me has a strange red shade to it. The sky above me dances with clouds, and my ears hear a symphony of sounds like symbols clashing together. The orchestrator of this play is above it all, on the hill, looking out over his mighty master piece.

To die, is something only to be done once. There are the few exceptions of those who have been beyond, only to be sent back. But for the majority of those left to stand, we get but one chance.

I'll admit that I wasn't doing it glamorously. In fact I was becoming what I had said I'd never be. I had one spear piercing my armor. Stuck through the front, and protruding through the back. I bent over, wheezing with battered lungs while warm blood met the chilly autumn air. This was not the way to go. The rules of everything stated different.

It's not that in the moment of breathing my last breath I came to terms with death. I didn't decide that this was it, and now was my time to die.

No, I had died long ago. Years didn't matter, so I couldn't say the exact date. In all of reality it might have only been a day ago. But, I died on the day I became a samurai. Like a leaf, waiting to fall from the tree, I had died long before I hit the ground.

I took another ragged breath as fire hit my lungs. I was to complete my final task.

Slowly I stood, with my sword in my hand. An enemy only two paces away. Gripping hard I tore the spear out of me. Then with pain numbing my brain, and my legs running as best they could I went toward the enemy. He suddenly faced me as my yell hit his ears. For only a moment he looked worried. Then he stood his ground, and waited for my attack.

His wait wasn't long, and his aim was perfect. I was wearied by injury, but that was not to be the end of me. With one graceful swing from the enemy's sword I lost my head. It rolled away in the grass, but I was not done. My final action was swift and complete. My body continued forward and my sword hit true. The enemy was gone, and two more dead lay on the battle field.

I had lived by Hagakure.

I had kept the passion needed for the end.

I was the headless samurai.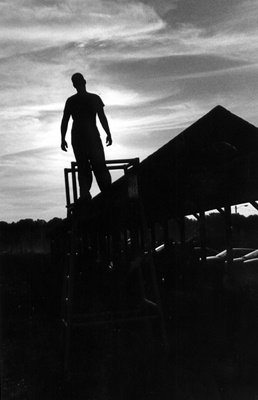 © Brianna L., Marblehead, MA