Luna Lovegood
March 31, 2011
It was cold now. Luna would be nine any day now and she was only vaguely excited. Mother was preparing her favorite foods and daddy was working on The Quibbler. However, poor Luna was left all alone to ponder. This was a routine for the Lovegoods, and Luna loved it, but she wish she had a friend. Ginny Weasley came over now and again, but they were not particularly fond of one another.

As usual the following week everyone came to her party. None of the children came for Loony Lovegood no, but for her fathers tails. Not anyone talked to her except her mother. Her mother was the only one who got her a meaningful present, though she tried to pass it off as daddy's as well. Mother always chooses the presents.

Ginny Weasley's present was the second best. Two licorice wands and an odd shaped trinket. Ginny reluctantly handed it to her. She noticed it was faded Christmas wrapping even though that wasn't for months. "Well I hope nargles haven't infested you!" she said dreamily to the mistletoe wrapping. Slowly the children handed Luna her presents, silly things they were. One child handed her radishes and said "Go make earrings Loony!" Luna didn't mind though.

Then mother left Luna to practice a birthday spell. Slowly all the children left, except Weasley, and Collin Creevey, the blonde boy who, had came to Luna's defense once, and only once stating "Momma says it's her fathers fault not hers!"

"Luna! Luna! Where is your mother? I need her to read this!" shouted Mr. Lovegood.

"Preparing a birthday spell. The party's over though. Creevey, Wesley care to check on her with me?" Luna asked her acquaintances. They muttered sure, and the three trotted to the work den where her mother was.

"Mother! Daddy wants to see you! Mother?" Luna called. A strange chill was in the air. Luna turned the corner to find her mothers body lying dead on the floor.

The atmosphere quickly changed. Luna, the one who was calm suddenly broke down in front of Ginny and Collin. Ginny, the one who came because her mother told her to comforted Luna like she was her mother.

"Collin go get Mr. Lovegood!" Ginny said soothingly. "There, there Luna come now, oh! I don't know how to comfort one when one's mother is dead!"

Things slowly got better for Luna. People understood never to mention her mother. Her father paid more attention to her. He blamed the whole death on himself saying he didn't pay enough attention. Children still called her Loony Lovegood. But she had two new friends. That made it all alright.

She took the suggestion to make radish earrings, and dedicated them to her mother. Two years later on her eleventh birthday Luna planned to go to Hogwarts. She would be one of the most well known witches ever.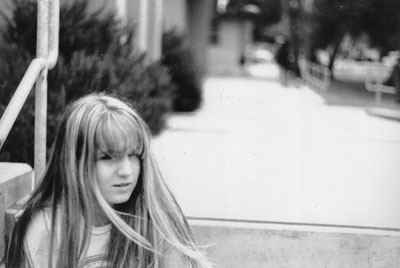 © Alyssa R., Pacific Grove, CA