Harry Potter Forever and Always
February 26, 2011
Rummaging through the almirah for her husband's favorite T-shirt, she messed up all the neat and well-maintained shelves of the almirah. She didn't get the t-shirt but found a yellow envelope instead. Not really opening it, she pulled that envelope out to read it later. The T-shirt must have gone for laundry, she decided and sighed.
After completing her household chores and writing a letter to Hugo, she settled herself on a sofa to read the contents of that envelope which was addressed to her, Hermione Ronald Weasley. She discovered a small rolling parchment along with a charm bracelet she was eyeing for quite a while at Hogsmeade. She unrolled the parchment and was totally engrossed in it for a few precious moments.
It read…
Dear Hermione,
Umm…hi! It is a first time I am going to communicate with you through an owl, post marriage. It's just that I am so sorry for screaming at you last evening. You know, George was bugging me so hard in the Weasley wizard wheezes. All those customers, their tantrums, and George's tricks to lure them…I was irritated. I didn't mean to hurt you by me words. My apologies for whatever I said that evening. I don't even remember what I said. You understand me, don't you love? I have never been so complete in my life. I can't imagine my world without you, seriously! You have been with me through all thick and thin. I had to fall for you, and why wouldn't I? You are my childhood friend, my philosopher, my guide, my wife, a proud mother of my children. You were there to stop us when Harry and I first misjudged Draco Malfoy and went to duel him without actually knowing battlefield tricks. You were there to console me when I was grieving for my sister, Ginny whilst she was trapped in that horrible chamber of secrets! You were there to protect me, to care for me when no one did. I needed you and I loved you since then from the very core of my heart. You are the very reason of my being. When everybody was talking about you and Harry, I just couldn't take it. H***, I couldn't see wit Viktor Krum. There was just no way that you could be in your happy land without me being in it, or so as I thought. All I say is, don't leave me as yet. I know I am silly and foolish and what not, but I am still yours. I promise not to grumble when you complaint about me to mom or Ginny, I won't make faces when you tell our Hogwarts experiences to Rose and Hugo. I will get you another pet like your beloved late Crook shanks, okay, forget that one! But just please! At least talk to me. you know I still don't know how to use your felly tone thing, so at least do reply to me owl.
I love you!
It's me…
Your Ron.






*******************

She had tears formed in the corner of her eyes, with the hint of smile on her smile on her intelligent face, the most beautiful combination in this universe. The letter was dated half a year back and it had never been posted. Careless, Aren't he? , she mused and had the answers herself. Yes, he is, but he is hers and she loved him. She had to return to him, for her love for him was so powerful that it pulled her towards him, like iron pins and magnets. She was the earth and he, her gravity! As soon as the bell rung, she swung open the door and hugged him and mumbled a weak ' I love you' which he was barely able to hear. She kissed him softly and then walked towards the kitchen.
"What? Is it our anniversary or something? Since when did you become so lovey-dovey?" Ron asked suspiciously and narrowed his eyes on her, unaware of just happened. Hermione, on the other hand, just twisted her lips into a smile and thought how lucky she was to have him.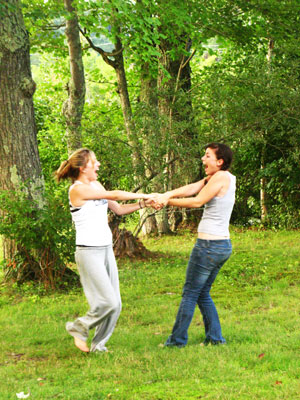 © Chantal C., Falls Church, VA