Setting Sun
August 25, 2010
Chicago, 1918

I could see it all now. My name on the enlistment papers: Edward Masen, Private in the U.S. Army. I would wear my uniform with pride and show it to Father. He would beam. And Mother….well, Mother would probably cry and say her baby shouldn't go off to that "horrid war." But I knew what I wanted. Mother's love for me was the only thing keeping me at home.

Every night she prayed for the "horrid war" in Europe to end. She prayed for the doughboys over seas and for their mothers back home. I saw the green eyes that mirrored mine glisten with tears. I knew she meant for me to hear those prayers.

It hurt me to know I was causing my mother pain. Elizabeth Masen was the closest person to me I had in the world. She would do anything for me. From the moment she brushed her bronze-highlighted hair till the time she said her prayers at night, her thoughts were with me. Not Edward Senior, her husband, but her son. Sometimes I wondered why she had married my father, but I knew I would never say anything. Whatever she was hiding was to painful to speak of.

I was not as close with my father as my mother. Father was a wealthy Chicago businessman, always working and always busy. His relationship with me was cool and aloof. He cared that I behaved and got excellent grades, which of course I did. If I was in trouble, he would be concerned but leave me to handle it. His son would turn out to be a fine young man. I believe Father was secretly proud I wanted to defend the United States in wartime, a fact he never mentioned to Mother. She never saw that secret smile he gave me, the smile I had yearned for from him all my life: the smile of approval.
***

"Edward! You'll be late for school!" Mother called up their stairs.

I ran down, holding my books in one hand and sheets of music in another. I had picked out my favorite Debussy piece to play for my piano teacher. "Mother," I said calmly, "I have plenty of time. I'll leave in just a minute."

"Did you—"

"Yes, I studied for my tests."

"And did you—"

"Yes, I ate breakfast."

"Don't forget—"

"To be on time for supper because Uncle Thomas is coming over. Oh, and tomorrow I'm taking Cora Daniels to the roller skating rink." I flashed my cocky grin at her.

She laughed lightly. "I swear you can read my mind sometimes, Edward." Her smile beamed at me. It was a special joke between us: often I knew exactly what she would say before she said it. I was like that with people.

Mother kissed me gently on the forehead and brushed my bronze hair away from my face. "Have fun at school, dearest. I love you." She felt my head concernedly. "You feel a bit warm. Are you sick? You know there's that awful flu epidemic. I hope you're not ill…"

"I'm fine, I promise. I love you, too, Mother." I ran out the door and gave her a final wave goodbye.

I had no idea how utterly wrong I was.
***
The morning went smoothly, but as noon rolled around things took a turn for the worse. My head began to throb and my throat felt parched. I stumbled through my piano lesson. Mr. Winston saw I was not well. He sent me home before our half-hour was up.
"Get well, Mr. Masen," he scolded. "We don't need another flu patient at the hospital." I nodded and wearily walked home. I was surprised to find myself dizzy and unsteady. I never faltered in my steps before.
I had only just creaked open the door when Mother's frantic voice pierced my skull. "Edward, it's your father. He came home early from work. He's very ill! I think it's the flu! Oh, Edward, why are you here? You should be at school! You look awful…" Her words spun around in my head until I could no longer keep them straight. I collapsed on a chair and put my head in my hands. My stomach churned.
"Edward…." Mother spoke the last word I heard.
***

A thousand cannons were going off in my head. My stomach roiled like a stormy day on Lake Michigan. I was hot, I was cold. I tossed and turned, unable to get comfortable. I could feel my temperature rising.

Mother's cool touch was the only thing that could sooth me. Her cool hands placed wet cloths on my forehead, only to have them heat up from the fever. She murmured to me in her soft, beautiful voice.

As time passed, I heard her voice get weaker. She coughed and sounded frail. I tried to talk to her, but could only mumble incoherently. A female voice talked to her, convinced her to in the bed next to mine. The room I was in smelled like illness and was always chaotic.

A man with a beautiful voice talked to me. "Do you know me, Edward?" the enchanted sound asked. "You're in a hospital. You caught the Spanish influenza. You're very sick. Your mother is here, beside you. She will help you when she feels a bit more rested."
I knew the velvet voice was lying. Mother was sick like me. We were part of the epidemic.
Time was an enigma. I did not know how much passed from one waking to the next. I heard one time that Mr. Masen was dead. It did not register that this was my father until much later. My father had died from the flu. Was I next?
The fever rose. I was delirious and talked all the time. I was vaguely aware of myself wondering if I would be well enough in nine months when my eighteenth birthday would come around. That was when I would sign up for war. I didn't want to ruin my chances with the weakness from the flu.
Soon I was out of my head. I was unconscious mostly, feeling the heat radiating from my skin. I heard the beautiful voice speak to my mother. The blazing sun had finally set, the darkness bringing relief to my endlessly aching had. "Save him!" my mother demanded. My mind swirled.
I heard a bed wheeled by a little later. Another body to the morgue. I would go soon, never able to defend my country on the battlefield.
I felt my body lifted onto a cart. I was being wheeled away. A voice spoke to me, soothing coolness to my hot skin. It was that same velvet voice from earlier. "My name is Carlisle," it said. "I am going to help you." I had no strength left to react.
He wheeled me into the silence of the morgue. There was nothing living there except him and me. At that point I was nearer to the corpses around us.
"Now listen, Edward. You are going to get well, though not in the way you expect. You have to trust me." I kept my eyes closed, too exhausted to say anything.
I felt Carlisle's cool, hard skin against me several times. What was he doing? Biting me? It felt so unnatural.
Then an agonizing fire scorched through my veins.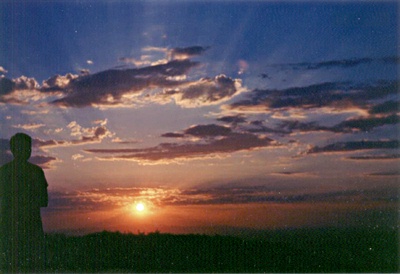 © Jovee B., Dededo, Guam