When Doves Cry
August 11, 2010
They do not love that do not show their love. The course
of true love never did run smooth. Love is a familiar. Love is a devil. There is no evil angel but Love.
-William Shakespeare

Romeo

Soft as pale white powder, sweet as a ripe orange from Florida, wet as dew on morning grass; sweet lips [so delicious that if I bit into them, I'm afraid juice would come out] greeted my tender lips with a seductive hello. The sensation reminded me of biting into a mature mango, its juices flowing gradually down my chin, my white shirt bejeweled with orange blotches, fireflies vibrant in the August heat and crickets filling the silence with their godly melody.
Gasp!
Damp linen intertwined with my leg [as if hair wrapped around a girl's finger when thinking about her lover with enticing eyes] while I ran to the bathroom. Light flooded into the spacious room, its warmth making me feel gay, safe, and secure. However, it was a melancholy happiness; the taste resembled a sour tart placed on the back of my tongue and left there to melt. Pale blue eyes belonging to a man I knew not of stared at me, him looking into my ailing heart longing for a woman, lusting for her freedom and I looking into the sea, frigid waves crashing like lightning to shore. She liked my eyes…she loved them, believed that they were better than her eyes, she said her eyes were a reflection of the deepest reaches in an underground cavern, a promise of nothing but bleakness and emptiness forever.
Juliet

Cherry tomato lips brushed against chocolate, Hershey bar skin. His hands gliding down my leg, eyes animated and like a trapeze artist, our bodies knotted so taut air did not have a chance of escaping. The state of affairs bared a resemblance to swimming in an ocean. He was the sea and I was the swimmer, he was the world over. We were divers, and this was my first. As we dove into the unknown, we sunk deeper and deeper beneath the water feeling like dancers moving to the rhythm of forbidden love.


Juliet

My memories of Clemencio Gambini run as far back as time. The odds were against us from the day our paths crossed in Franchino's Grocery to today. He was my Romeo and I his Juliet. It was ideal, our chemistry, it could not be contained in a glass and it overflowed onto the tablecloth and fell to the floor. Expectantly, his father came by and mopped it up. It was a true tragedy. Clemencio's father Lucci Gambini was a ruthless mob leader in New York City who felt unadulterated hate towards the black community. Although he had never met us, he hated my mother, my father, my baby sister and I. And once he found out, Romeo was given the gift of a black eye and I, racial slurs that tore my heart into minuscule pieces. My father hated Gambini as well and when he found out, he locked me in my "castle" and threw away the key. But on June 23rd, my prince came for me and we ran. We ran for many things, we ran for liberation, we ran for the thrill, and we ran as a declaration of our love. A month later, on July 15th, 1923 we were hiding in Goderich, Ontario from the police and came across Nuncio Gambini (Clemencio's younger brother) and my preceding nurse Abigail Light infatuated with one another. They promised to house us in exchange for keeping their love affair confidential. And we did just that until Clemencio caught Nuncio on the phone with their father, telling him of our location. My Romeo furious and livid grabbed the silver gun on the table and shot Nuncio point blank; the sound made Abigail and I rush to the bedroom where my love was standing in the pool of blood. Screaming and hysterical Abigail lunged at Clemencio with the gun he dropped and pointed it at him. Boom! Noise reminiscent of lightning echoed through the room and the sound of a corpse falling to the floorboards followed accordingly. I stepped over the carcass and embraced my one true; that was the start of our mass killings. The carnage and atrocities that transpired brought back the ire and resentment I felt after Lucci Gambini killed my family; the flavor in my orifice was as syrupy, sweet as honey yet bitter akin to vinegar. The inhumane, callous activities ceased a month ago once I discovered I was heavy with child. I also discovered Clemencio's exodus; everything was in place with the exception of the gun on the dresser that seized 32 civilians' lives. He left me…alone…to flounder in my calamity, to exist in my sorrow. But I have had enough, last night a revelation came to me; stairs leading to heaven appeared out of the clouds and light burnished upon I. The radiance was lukewarm and perceptible to my senses; I too seemed to be reflecting light like a mirror until a multihued apparition formed and my feet amiably left the ground. This dream, I shall make a reality.


And now I sit here in this cave, waiting for the occupant to return. The beautiful sun lays her head to bed as darkness stretches its arms towards the only being in the cave; the darkness acknowledges me with an alluring hello, coaxing me to descend into slumber. But to my avail the true prince of darkness materializes at the entrance, blocking my only escape. His intense sea green eyes are the only objects visible in the murk, its downy, glossy coat replicated the moon in all her glory. As the panther advanced on my relaxed outline, his muscles tensed and jaw opened. The creature's jaw opened to reveal large yellow canines; a grumble unconfined from the bottom of his throat threw me into bewilderment and before I knew it, the panther was in my fascia. It's petrifying breath kissed my stock-still lips. The End

Romeo

Amore dolce angelico, ma cherie have you thought my love for you was uneasy like that waves that crash to shore or the leaves upon branches rippling in the wind? Il mio amore non è lì offeso dove il sole canta la felicità di mattina ma lei è stupido. Qui sulla Terra, le colombe piangono. I wanted not your ring finger, not your hand but your soul in marriage. In holy matrimony.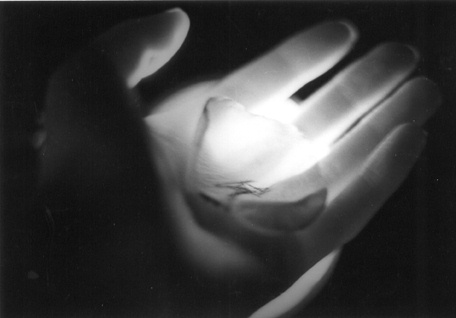 © Feichen Z., McLean, VA