Organization XIII: The Great War | Chapter Two: The Tour
July 23, 2010
We warped back into the castle and no one saw us enter.
"Where were you four?"
Or so I thought.
"We went to the bathroom..." Raxflo answered.
"No you didn't. I know you're hiding something, Naxlu." Liaxan yelled and pointed at me.
"I'm not hiding anything." I lied. I am a descent liar because I stare into their eyes, trying as hard as I could, not to give any sign telling her that I was.
"Just lay off of her, Liaxan. She doesn't have anything to hide." Kix defended me.
Wow...I didn't expect her to defend me at a time like this. She must really want to protect my secret and now, I can completely trust her. Now if only I can trust Sux to protect it too.
Liaxan started walking away.
"Yeah, that's right. Walk away, you slutty skank." Sux yelled at her.
Liaxan stopped and slowly turned around.
"What...did you just call me?" She asked as if she didn't hear her.
"She called you a slutty skank, I believe. Yeah, you ARE a slutty skank." I repeated. Now I know I can trust her too.
Liaxan started running to me...again.
"Why, you insignificant fool!!"
When she was about to tackle me, like all the other sluts do, she went right through me as if I were...a ghost.
"Wh-what is this?" I asked. My hands were faded and then returned to the solid state again.
This is your new power. There it is again, that voice.
"Who are you? Are you my mom?" I said in my mind.
I can only tell you this: I am a relative of yours, but I am one you didn't know about. I protect you from harm's way and lead you down the right path.
Okay...is this person going to reveal who she is? Because it's freaking me out right now that she isn't telling me who she is. Well she did tell me that I am related to her, but how exactly am I related to her?
"Alright...I'll play your game." I gave in. She won't tell me who she is for some odd reason. So, why waste time getting an answer out when it wouldn't work?
"But when WILL you reveal who you are?"
Soon.
"Soon?" When will "soon" be? Next week? Next month?
"Nax. Are you okay?" Kix asked me because I haven't moved since Liaxan fell.
"Huh? Yeah I'm okay. No damage done." I said. Although, I do recall my dad telling me that I can go through objects when the moon is full at night.
"And now you know my secret, Liaxan. I can go through objects when the moon is full." It was the best lie I could come up with...for now.
I gestured to Kix, Sux and Rax to not say a word about me lying to her while Liaxan was getting up.
"Yup. Now you know why she pulled us off to the side." Kix said with triumph when she really didn't know about my other power.
"I'm so going to tell Rixka what you did to me." Liaxan taunted.
"You...bitch!" I yelled.
She ran again towards me and fell once again.
I walked over to her and bent over.
"Did you forget already?" I giggled.
"Just wait until you're solid again." She groaned. "THEN I'll get you."
"Whatever you say."
She got up and ran to Rixka, who just came in from outside, to tell her to punish me...again.
"Naxlu! Did you tell her that you knew about your 'other power?'"
"Well let's just say I didn't at first, but then I remembered my dad saying that I can and I told her then."
"Well, in that case-"
Here we go...here comes the punishment.
"-Liaxan, you need to stop making stories up. Just leave her alone." Rixka said and smiled at me.
I was surprised she didn't yell at me this time. From the vibe I'm getting off of her, it feels like even though she was with Liaxan, she was really on my side...This is confusing...Why would she do that in the first place? Maybe to gain my trust? I don't know. I really shouldn't be worried about that now.
For my response, I smiled weakly. I didn't know what to do at that time.
One of the workers came in and whispered something into her ear.
"Everyone. The castle is finished! So, who would like to go-"
"ME!!" Liaxan interrupted.
"-first...okay. Come with me, then."
Liaxan squeaked with excitement.
She is so annoying...
Kix, Sux and Rax came circling me and by the look on their faces, they wanted to ask me something.
"So, did you have any visions on how the castle will look?" Kix asked.
"I don't get really recent visions, you know." I laughed. "I'm not a psychic. I can't predict things that fast."
"Well, in that case, what do you think it'll be like?" Sux asked.
"Like a castle?" I joked and we laughed together. "I'm kidding. It's probably going to look similar to the original, but whiter."
"That's what I think, too." Rax said. "What about you too?"
"Well, I don't really know." Kix laughed.
"Me either. My guess is as good as yours, Nax." Sux said.
"Well, now I can trust you two from before. Thanks for standing up for me. I really thought you guys would blow my secret for sure." I whispered.
"Well, you know what they say: don't judge a book-"
"-by its cover!" Kix and Sux said together.
"Thanks, you guys. I really appreciate it." I thanked.
"No problem!" They said in unison.
By the time we finished the conversation, the room was empty but the four of us.
"You girls are next." Rixka said.
"We're coming!" We shouted. We rushed over to her like no time flat.
"So, who will be first?" I asked.
"How about you and Raxflo?" She insisted.
"Sure. Let's go."
"Okay." Rixka made a warp hole appear in front of us when she held her arm straight out. "We'll enter through here and we'll be at the front gates."
We stepped forward into the warp hole and ended up in front of the new castle.
"Wow." Rax gasped. "It's huge!"
"Yeah, it's huge alright. It has the same height as the original."
We looked at the castle in awe. It WAS huge. It looked like it would touch the sky, but that's impossible since the workers were working on it. And, when I least expected it, we approached the castle.
"Welcome, my ladies, to The Second Castle That Never Was." A servant said while opening the door for us.
Wow, he called us ladies and not by our first names...It's like we were treated like royalty, but I guess that's the idea here.
We started walking in and even before we did, it looked beautiful. I just loved the pure white walls with pictures of us when we were smaller. It made me feel safe here and I knew we would be safe. The old-fashioned lanterns fit really well with the theme. I'm loving it already and I only seen the entrance. I wonder what the rest will be.
As I followed Rixka down the halls, I noticed that the doors we passed had numbers on them: one through fourteen. I guess the one I'm in is Number Seven because I rank Number Seven in the Organization.
"Here we are. Numbers Seven and Eleven." Rixka gestured to our dormitories. Mine was on the right as Rax's was on the left.
"So, that's why you wanted us to go together, because our dorms are across from each other." I said.
Rixka nodded and held out a hand to Xec's dorm.
"Have a look around, Raxflo. I believe you'll like it." Rixka told Rax.
Rax went in and was amazed at her dorm.
"Oh wow!! It's so beautiful! How did you know my favorite color was pink?" She asked.
"Uh, Rax? Your hair is pink." I pointed out.
"Oh yeah." She laughed. "My bad."
Her room was very well decorated. The pink walls were the same exact color as her hair and the floor was a shade darker. She had pink dressers, doors, and closets with different clothes that she likes. My room should be like that too...only minus the pink and add the blue. When Rax looked at her dresser, she saw a pink box. She opened it to find a journal that said on the inside-front cover, "I hope you love your new room, my dear. Love you, Dad." Now, that was really sweet of him to give his own daughter a journal. I hope my dad gave me something.
"Go ahead, Naxlu. Go check out your room." Rixka said.
"Okay." I said shaking.
Here we go. I reached for the handle, twisted it and opened the door.
My room was colored, as I expected, my hair color which is a sky blue looking color. My room looks somewhat similar to Rax's, only instead of a journal on my dresser, he gives me a...photo album?
I took that photo album to my bed and I looked at the pictures of me, my mom and dad, and...who is this? Is this my cousin? She looks a lot like me, but instead of short hair, she has long, blue hair. Could she be the voice in my head that's been talking to me? This could be a clue to who the voice was. I wonder why my dad didn't tell me before...Maybe he forgot? Knowing him, that's the reason.
"Hey, I want to show you something." Rax came in and went into my closet.
"What are you doing in my closet?"
"Come over here and watch."
I walked over and she flicked the light switch.
"That's what makes the closet light up, silly."
"But watch this."
She found a key pad on the right side of the closet.
"What's your nickname?" She asked.
"Nax?"
"No, your OTHER nickname. What your father is."
"Luna Diviner?"
She punched my nickname in and I heard somebody say, "Your true name?"
"Luna."
And a door opened up in the back.
"Wow. I didn't know about this."
"Here's the practice room!"
I slowly walked in to get a better view. I can't imagine this place being right behind my own closet. This is amazing!
"Your father's name, please?"
"Saix."
"Artificial moon downloading...complete."
A brilliant full moon was above me.
"Now, watch this." Rax came closer and ran her arm right through me.
"Wow! This is...INCREDIBLE! An artificial moon that can activate my power."
"And you can practice all you want here."
I was amazed about how it worked. What is this new technology? How did Rixka get this type of technology? It's so amazing!
"Plus Rixka showed me this while you were looking around your room. She told me how to operate the practice room."
"So, what do I practice with?" I asked curiously.
"Say, 'combat, ready, go!' and after you say 'combat,' some Nobodies appear in attack mode. When you say 'go,' they will start to attack. You'll know what to do when you fight. It's in your blood."
"My father's blood..." I just hope I do know how to fight. My dad wields the claymore, but how am I supposed to fight when all I have is the moon to make me phase through objects? Well Rax did say that I will know what to do when I fight. I guess I'll have to try.
"Combat."
The Dusks appeared as Rax said.
"Ready..." I hope I am.
"GO!"
They started charging towards me. I looked up to see if the moon was still up, but it wasn't. That means I can't phase.
Then, I shouted, "Diviner!" and held my hand out; a long rod of some sort appeared in front of my hand and I grabbed for it; I held it up and shouted, "By the forces of the moon, I banish thee to thine resting place on the darkest side of the moon!" In one flash, they vanished.
Is this my weapon Rax was talking about? The Diviner was beautiful; it had a pale yellow, crescent moon at the top shaped like a tilted "C" with a diamond at the bottom of the moon. The handle part was straight and had the color blue painted on it.
"This is incredible." I was shocked. "How did I know the words? And this Diviner doesn't even belong to me."
"Yes, it does." Rax said. "The Diviner's past owner was-"
I looked at a label at the bottom of the staff and it said, "Saix."
"My father, Saix. So that explains it."
"And the words you spoke were what your father used to call its name and use its attack."
I scuffed. My dad used a staff? I was expecting a cool sword, not a wimpy staff.
That staff will be your dad's downfall. Use it wisely, and practice often. And your dad didn't use it. He used it to encase me. It's my staff, not his.
"Who ARE you? At least give me your name, please!"
My name...is Diviner.
"Diviner?" I said out loud.
"Yeah, that's your staff's name."
"I knew that. It's just that I think there's a story behind this staff, more than I'll ever know. And it told me that my dad didn't wield it...she did."
"She?"
"The owner of the staff, Diviner."
Rax and I were in shock. Whoever this Diviner person is, is the same one who was talking to me earlier.
"What's your weapon?" I asked Rax.
"It's the Assassin. My weapon is a bow and arrow. Watch."
I stepped back just to be sure I wouldn't get hurt.
"Assassin!" She called out. Her hand was above her head and the bow and arrow appeared. It was also beautiful. The bow was a beautiful pink with a red rose on top. The arrow was pink as well. She lowered her Assassin to an aiming position and she relaxed it.
"Did Assassin ever talk to you?" I was curious because mine talked to me.
"As a matter of fact, it did earlier when I first used it."
"Did she say that your father bonded her to the Assassin and told you her name was Assassin?"
"Yeah, she did." She looked scared.
This is just too weird. I better get at least some sleep for tomorrow. I'm tired, and with what just happened, I might get some answers tomorrow.
"Well, I'm getting a bit tired. So, I'll see you tomorrow, Rax." I yawned.
"Yeah. I'll see you tomorrow." She exit my room, and I punched in my nickname again; the door closed and I went to bed.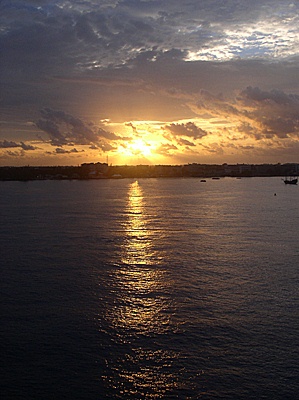 © Rebecca Y., Los Angeles, CA