Twilight Child, Chapter 1 - Only Me
May 26, 2010
Disclaimer

Just to make things clear…this is a disclaimer! None of this is all my doing, but most of the plot is. I got the characters from Stephenie Meyer, and a little of the plot, too. So yeah, basically everything but the plot/story line is Stephenie Meyer's, not mine. But I am not going to let Stephenie Meyer take credit for what I worked hard to think up! If it was her original idea then I give her full credit, but what's mine is mine. She wouldn't like me taking credit for what she came up with, and I feel the same way. The only thing that is the same about my series and hers is the characters and setting.
===================================


"Oh yeah?! What makes you assume that moving to Washington is going to help me fit in? I can't fit in! I'm not normal! I'm not some easy going human, not in the least! Why can't you just let me be, and leave the subject of my social life alone?!" I screeched from the inside of my new bedroom to the other side of the door where Renee was waiting for me to open the door. Well, tough luck Renee!
I was so irate that I had been seeing red for the past three hours. Nothing Renee could say would calm me down now, and Charlie knew better than to get in my path when I was this beside myself. He was the smarter of my adoptive parents. I didn't intend to get this upset, but how could I not? Renee always found a way to convince Charlie to move yet again every six months or so, with hopes that I'll make friends and become the social butterfly she has always dreamed I would be. Well, tough luck again Renee!
The truth of the matter was that I had never been enough for Renee, no matter how much I tried to please her. I knew why; I wasn't her own daughter. I was just some little girl who had nowhere to go when Renee's sister showed up on her doorstep in the middle of the night, practically begging Renee to take me in. It was Charlie who saved me from god- knows- what in the end. Being vampires Renee and Charlie had never been able to have children of their own, and even though Charlie had to practically beg too, he was able to convince Renee into keeping me. Charlie saw something in my eyes that Renee couldn't see that night, something that he would hate to give up. He told Renee that they could use me to replacement what they should have had, just wanting to keep me that badly.
Charlie had never felt like he was cheated out of parenthood as Renee always was. He just truly felt lucky to have me. Charlie always sees the good things in me, things that I couldn't even see. Thinking of Charlie had me eavesdropping on his mind downstairs, cowering in the laundry room. Why did I let her convince me to move? I told myself that this would happen, didn't I? Bells really doesn't deserve this, it is probably doing more harm than good. Bella isn't a normal kid, she never will be. What Bella is, is what makes her so special, even if Renee won't see it as I do.
Hearing Charlie think such nice things about me had my eyes filling with tears that instantly melted away my anger. He always knew just what to think, even if it was not planned out. Charlie had never been good with telling his feelings, but his thoughts always let me know. I suppose Renee had me in her best interest when she decided to move, but I only knew that from her thoughts. Why can't she just be thankful? I bet my daughter or son would thrive in social life, if they took after me that is. But not Bella, she has to be difficult. I guess she is better than nothing is though.
Better than nothing?! If she thinks I am "better than nothing", I'll show her what it will be like to have nothing. Maybe when I come back, if I come back, she'll think twice before thinking I'm better than nothing is. She'll probably be so lonely without another girl around to talk to, she'll start to say that I'm her everything! I doubt that last part, but I'm sure that she'll get lonely quick. I wasn't going to waste my time on her by writing a note; she probably wouldn't even care if I actually do run away. There's a thought.
I pushed my back off the door and ran straight for the nearest exit. Making myself silent, so neither Renee nor Charlie came up to check on me, I slipped the window open easily and jumped onto the balcony. The view of the forest surrounding the west side of the house was just what I wanted to see, nothing could make me happier than this moment.
I launched myself over the edge of the balcony. It felt good to fall, not worrying about anything else, to just fall and enjoy it. I quietly let my feet hit the cold ground beneath me, and I stopped for a moment to see if Renee and Charlie were suspicious.
From Renee I heard, Oh well. I can always start a batch of laundry tomorrow if need be, hopefully it won't. what should I do tomorrow while Charlie is at work, and Bella is at school? Maybe check out that new renovations store, this house could use a little of my touch! Yes, she at least was completely distracted. I had almost totally forgot that tonight would be Charlie's first night at Forks hospital. He was extremely anxious and excited, I would have to wish him luck sometime tonight- if I'm back before he leaves in a couple hours, he preferred the night shift.
Being a vampire, Charlie was hesitant to peruse a career in the medical field. Medicine had always been Charlie's passion, the one thing he never grew tired of. After much encouragement, I had been the one to convince him to follow his heart. Renee had been interested in nursing while she was human, but not enough to willingly risk the lives of others to make herself happy. Becoming a vampire had pretty much been the end of life for Renee, but she always managed to find little distractions to occupy her time.
I decided then that I'd only go out for and hour, I did have to get some sleep if I didn't want to look like a zombie tomorrow. I didn't want to rumors to start within the first day, or we would have to move for sure then. I was about to take off when I remembered that I still needed to look in on Charlie's thoughts. What should I wear for my first day on the job? I sound like a woman! Ahh..? Which slacks? Black, gray, or beige? Where is Renee when I need her? He was right; He did sound like a woman.
Once I had enough information to confirm that Renee and Charlie were clueless, I ran threw the rather large field that would lead me to the forest. The field was filled with nothing more than dead grass and dirt layered in frost, but it was beautiful all the same. I could just imagine the array of colors that would bloom in this very place come summer time; it must be quite a sight.
The only thing that could possibly be more enchanting than the field was the forest. Unlike the field, the forest had trees. Trees that were leafless, but stood tall and proud anyway. The ground was hard and cold; the air would sting my face as it whipped past me if I could feel it. I took in everything that I ran past. One would think that no one running at such and impossibly fast speed could absorb anything, but it was all so beautiful that I couldn't afford not to. For as long as I can remember-which is three hundred twenty two years- I has never seen a more beautiful forest.
After of only moments of running threw the magical scenery I was hit with possibly the foulest smell I would ever come across. It hit me like a brick wall, and I fell to the ground as if I had just collided with one. It had knocked the very breath out of me, causing me to inhale even more of the stench with each heavy breath I gasped for.
I had never personally come across this particular odor myself, but I had been told at least a million times what it would smell like.
"It will be the most foul smell you've ever smelt; It will burn your nostrils as if you were breathing in an open flame; You'll want to retreat away from this smell as quickly as you regain your sight, for it is no other than the scent of a vampire." My great, great, great grandmother told me that tale several times of her first lone encounter with a vampire. Well, she never saw a vampire with her own eyes, but you would think it had tried to kill her with the way she speaks of that day.
I continued to gasp for air and blink wildly from my spot on the ground. I couldn't smell anything but that wretched odor, and I was blinded on top of it. I tried to slow my breathing at least long enough to see. After several failed attempts, I was finally calm enough and all too slowly began to get my sense of sight back. My vision was blurred at first, but got stronger as I grew accustomed to the smell that had me pinned to the ground.
I looked around me as I slowly got to my feet, only to nearly fall flat on my back when I saw what was not even a full eight feet in front of me. His back was pinned to the nearest tree, not breathing and not moving; only scrutinizing my every movement. He had naturally tasseled reddish-brown hair, and the palest skin tone I had ever seen; I had never belied another could be as pale as myself, but I stood corrected. We both just stood there frozen, searching the others eyes wildly. His eyes where coal black, his features perfect if I ever saw it. I didn't have to be the teacher of Black Magic to know I was standing face to face with a vampire.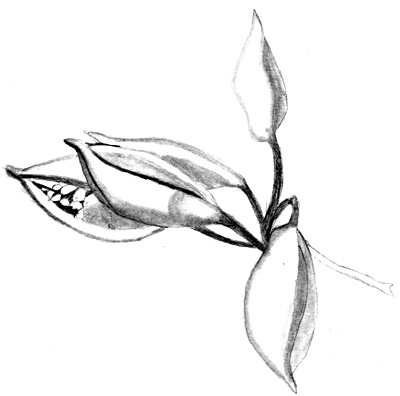 © Carlos C., Glendale, AZ