Part of my Mother's Eyes
April 14, 2009
The human looked at me with his deep blue eyes. They were too blue and too wet for me to handle; they were extinguishing the restless flames inside of me while tossing me into an ocean of utter helplessness. It was the ocean I thought I had left for good some years back. Yet here I was, drowning in my own past and desperately fighting the very same waves. Here I was, looking into that human's eyes. In that moment of speedy eternity, my mind replayed a melodic symphony of horrible events—the out-of-tune discords of a life from long ago.

"Take your sister outside, and don't come back in until I say," my mother choked. It was the last image of my mother I ever saw. It was an image that stayed with a person forever, tugging on their very soul like an upset child. Her violet eyes were glazed with tears. I remember thinking as I watched, mesmerized at the sight of liquid crystals slowly paving a dark road on my mother's cheek, that crying was much like the rainfall; it was the spirit's desperate attempt of soothing the parched heart. And through these subtle observations, my heart roared in a panicked way. My mother never cried. In fact, never had I seen any Martian cry—not even Ismaremme, my little sister, who tenderly stroked my mother's cheek before taking my hand to go to the cool, uninviting outdoors. I remained where I was, staring at my mother. My mind, however, had already left. By now it was searching every square millimeter of my memory, trying to figure out what was happening. A sharp pain waved through my head as I realized why my mother was crying, and why she was sending us away. I felt my eyes involuntarily widen.
"Peter's back," I managed to tell the air in my midst. My mother nodded while beaming us a deafening gaze, a gaze that showed all of her struggles and anxieties in its existence. And then the gaze found its way into her own heart, mingling with the love she had for us, and making a mixture of fear and love in the air as she exhaled.
A bittersweet taste lingered on my tongue, even as the crisp breeze threatened to douse it. Our big tree must have tasted the twisted aroma of my mother's gaze, because just then, it seemed to be offering its roots for protection. Isma and I settled near the roots of our giant tree. Here, Isma retreated to her slumber, while I went over everything silently. Peter, the blue-eyed human, was here, which meant that he would be looking for us. But he didn't know that the Martians had better technology than he did now. He hadn't been on Mars for five years. I doubted he even knew about the army of Martians being prepared to be sent to our very home. My mind raced, but it must have gotten tired, because before I knew it, I awoke to the sound of my mother's scream. There was only everlasting that shriek. It was the sound of her struggles finally being over, the sound of her end. Yet the scream seemed to have no end as it echoed in my empty mind. It was like a flame that couldn't be stopped. Over and over, I heard the scream—the shrill whistle of my mother's soul.
I never knew how long my mind remained saturated with my mother's end, but when I was again able to think, I knew I wasn't on Mars anymore. I was relieved to find that Isma was right beside me, sitting on a cot. My mind reminded me with a punch in the stomach that my mother had died, in order to save my sister and I. A lady in white pants, shirt, and shoes came in the room we were in and gave us food.
"They don't look at all normal," she spoke into a square device. "Are you sure these are the lost humans?" She looked at me with confusion, but then a voice assured her that Isma and I were humans. She left the room, and I realized I had to be a human, and my sister had to be as well. We didn't want additional trouble. Peter came in the room.
"Darlings," he said in his sweet yet empty voice, "your mother told you everything, right?" His blue eyes were too intensely focused on us, too watery, as always.
"Yes," I said in a bold voice. "and we can't stay with you." I looked at his expression, slowly melting into another shape. His eyes silently radiated disappointment and perhaps love, or so he used to say. All I knew was that he had left us for five years. And humans don't leave their children with their mother for five years when they care about them. It was bad enough that the Martian government was trying to find us in order to "eliminate an excess species". We had lived through enough looks of unworthiness. We didn't need any more.
"You never wanted to keep us anyway," I remarked. And he gave me that horrid look that drowns me every time I see it. With it, he tried to silently shout that he loved us, that he had nothing to do with the thoughts of the Martian government, and that he wanted to keep us, even if we were "half-human", as people labeled us back then. And all I did was return the noisy stare with burning rejection.
All of a sudden, my mind stopped playing the tangled memories of my previous life. Only silence filled the present as I recovered from my transition into reality. My heart stopped pounding recklessly. I finished brushing my teeth and rinsed off. As I looked up at the glinting mirror, my father's deep blue eyes stared back at me. This time, they were calm, relaxed, and burning pleasantly. I smiled, noticing again how half of the time, my eyes were also my mother's.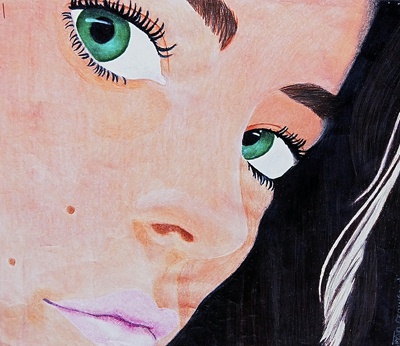 © Keenan C., Kannapolis, NC