The Host
May 1, 2018
   Standing out on the veranda, under the cold blanket of stars and nighttime, Nathan was alone. He often liked to come outside and act pensive when the guests were too dull or too drunk to hold his attention any longer. If he was still the Old Nathan he never would have left guests waiting; his mother hadn't raised him that way. There were a lot of things the Old Nathan wouldn't have left.
   Sometimes, when he thought of his old life, Nathan grew nostalgic. It didn't matter that he had been living in New York for five years; He could still smell the warm apple pies his grandma made and feel the crisp breeze that had beckoned him out of the door each morning. There was something about Kilern, Mississippi that would never leave Nathan no matter how hard he struggled against it. He liked to think his parents missed him. He liked to think they sat on the front poor after dinner and stared out into the darkness looking for him. Of course, his parents had been the ones who told him to leave. They couldn't live with his mistakes and Nathan supposed they shouldn't have had to. It didn't matter to them that he acted in self-defense; murder is an unforgivable sin.
   On occasion, Nathan would dream that his family would call him and beg him to come home. His mother would embrace him and cry and his father would give him a big pat on the back and tell him how good it was to have him back. They would be proud of him for his college education and his high-paying job. The dream always dissolved in the scent of homemade biscuits and an ethereal haze of laughter.
   Nathan sighed as his gaze drifted away from the sky. It was time to return to his guests.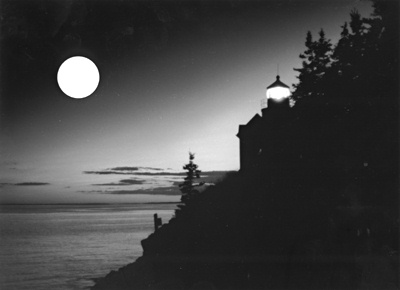 © Steve S., Marblehead, MA