My Journey
April 30, 2018
I used to be a part of a tree. A strong, healthy birch tree to be precise. I held fibers with the other wood every day. The forces of nature were not able to tear down the tree entirely, and the other wood and I were mostly able to live in peace. However, one day, a couple of humans with an interesting gadget came up to my home.
One male with a curly mustache asked a man in a business suit, "Should we cut it down?"
"Mmm...huh?" The man in the business suit was not paying attention. He was busy looking down on a rose gold rectangular prism emitting light.
"I said," the man with the curly mustache said in an exasperated tone, "Should we cut this down?"
The man in the business suit said indifferently, "Go ahead."
I cried out in pain as the sawing motions ripped apart each fiber with my friends, family, and neighbors until I was left alone.
A male with a bushy beard tossed me into a pile of branches, and all I could do was cower in fear. I could not reach out and hold someone's fiber. My connections were lost.
Another male in a red hat picked me up and threw me across, but this time, I landed with a loud clunk in a dark area. I tried yelling to hear a voice and have some company. Instead, all I could hear was mine bouncing against the lonely space. I tried lilting to lighten up the gloomy mood, but soon, silence filled my cellulose as the bleakness engulfed me.
Suddenly, there was a low growl, and I started to get excited.
'There's someone with me,' but I thought wrong.
The grumble was not a company. It caused rough shakings, and I was flung across back and forth like the tides of the wind. Then, there was silence. I thought the ride was over, but it was just the beginning.
When I saw a shining glow outside, I was unexpectedly thrown onto a moving belt, bringing me closer to a howling sound. As I got closer to the noise, it was from the gadgets guffawing at my state. I could not stop them as they etched into me, claiming that they were trying to improve my form. I tried to think of happy memories, but there were none that popped into my mind. Terror ran through my remaining fibers, spreading its icy chill across me. I closed my pores and let the fear overtake me as more machinery joined in.
When the sneers halted, I slowly opened my pores. I looked down at myself and noticed that my fibers were still in place. I was about to sigh in relief until I noticed the color white. I started to panic.
Instead of my pulchritudinous cylindrical shape, I was a flat piece of a drag rectangle with no trace of the special three-dimensional shape that I have shown with pride or even the pine scent that I relished.
Then, I noticed my surroundings. Instead, of a moving belt, I was placed in a package. I was about to yell for help when a cylindrical-shaped-gadget gave me one last smirk before ramming darkness into the box.
I woke up to a loud rip! A light started to brighten the area, and the blackness retreated to the corners of the space.
"Belle, I have more paper for you!"
A four-year-old girl came dashing to her mother while yelling for a pen. The girl roughly grabbed and slammed me onto a smooth surface. A cylindrical shape pressed hard on me and cackled as it spat out ink onto me. Pathetically, I could do nothing but sob as more ink spread across, sullying me. 
'Why was I letting myself live like this?' I thought, but things got worse.
The girl screamed, "No! This is not a drawing of stars. Mommy, give me another sheet of paper."
The girl ripped me in half and crushed me before I was thrown in the trash. I whimpered at the sudden shadow overtaking me. I tried to remember back when I was part of a strong tree, but I forgot who I was. All I could remember was this pitiful appearance of me: a crumpled, darkened piece of paper. I tried to wake myself out of this state, thinking that this was all a just a terrible nightmare.
Then, the jeers came back but this time, from the scribbles. They were taunting and laughing at how ugly, weak, and stupid I looked. I tried screaming to expel the jeers, but they kept coming. I had no strength to fight back, and I willingly let myself wilt into nonexistence.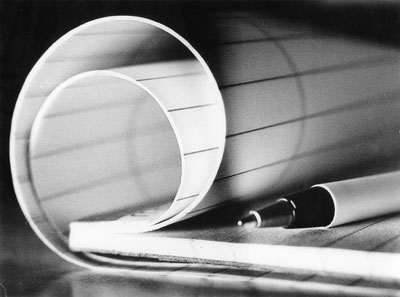 © Samantha M., Bethel, CT