"Chaser" ending rewritten
April 30, 2018
As Alan walked down Pell Street on that dark and gloomy day, he had nothing but excitement to see what the future had held for him. He thought about how much better his life was going to be now that he had the potion to get Diana's love. He fantasized about the dates he and Diana would go on and the family they would have together. He got home and went to bed with a big smile on his face because tomorrow would be the day he gives Diana the potion.
The next morning he took an extra 20 minutes to get ready and asked Diana if he could meet up with her at a park to talk. He bought a cup of coffee for her and poured the potion onto the coffee so she would drink it. As he walked to park he thought of what to say to her and how he should act. As he entered the park he saw Diana sitting at a bench wearing shorts and a white blouse. Instantly his heart started to beat faster and his palms were becoming sweaty. "Keep it together" he told himself as he got closer to her.
"Hey Diana," Alan said nervously.
"Hey Alan, why did you say you wanted to meet me here?"
"I just wanted to talk to you about something, but first here have this coffee. I bought it for you," Alan said handing over the cup.
"Thanks Alan you didn't have to do this," said Diana puzzled.
As Diana drank the coffee his face lit and he wanted to jump up in the air and scream.
"So Diana I've mean meaning to ask you a very important question…," Alan said.
"Important? What is it Alan?"
"Do you want to go out on a date with me?" As he said that Alan felt as if a huge weight was lifted of his shoulders.
Diana's face turned red.
"Alan….. I have a boyfriend"
Alan felt as if he got shot in the chest. He stood there emotionless, not knowing what to say or how to behave.  Anger filled his body. He felt betrayed and absolutely powerless. But then he remembered.
She drank the potion.
There was no turning back now. Diana was meant to be with Alan. He knew she would leave her boyfriend and come back for him. He turned to Diana and said,
"I am so sorry for asking. I should've known."
"It's ok Alan. Don't worry about it. We are still good friends." Diana said smiling.
All of a sudden Alan felt guilt rush through his veins. But it didn't matter to him. Diana was going to be him any day now. He walked home that day both upset and hopeful.
The next day he got a text from Diana. She said she had something to tell him. Alan knew what she was going to say. He couldn't hold in his excitement. He responded back saying that they should meet up at the same place as they did yesterday.
Alan went back to the park and saw Diana sitting at the exact same bench. He approached her and said, "Hey Diana, what did you want to tell me?"
"Alan, I like you. I shouldn't have said no to you yesterday. I broke up with my boyfriend today. I want to be with you." Alan had a smirk on his face. This was the moment he waited for. He finally got Diana's love. Life was going to be perfect. Or so he thought it would be. He married Diana 6 months later.
Three years later Alan divorced Diana. Diana wanted to be with him every single minute and Alan couldn't deal with the constant contact with Diana. Diana wouldn't approve of him talking to other women and would call him every hour to see what he was doing. It took Alan one year to get his divorce finalized because Diana would not approve of it. Alan ended up marrying another girl and Diana vows to never marry anyone else because of her unconditional love towards Alan.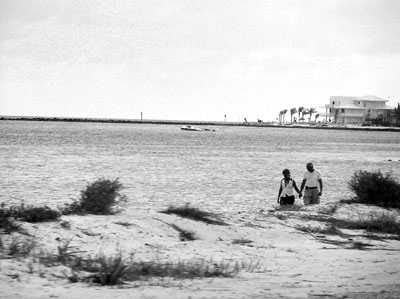 © Edgard B., Coral Springs, FL