Closer
April 9, 2009
I love how close I am to Kacie. She is like the sister I never had. I can trust her with anything and not have to worry. I trust her with my feelings about Logan, the way I prefer things done, the ways I differ from most girls, anything. I'll never have to worry about losing her because I know she's forever. I love how we have different interests and we're still friends. I love how she voted for Rayder and I voted for Jaret and we're still friends. I love how she's shier and I'm crazier and she hangs out with more girls and I hang out with more boys and we're still friends.
I love how close I am to Logan. He is like the angel I've been waiting for forever- but at the same time one little troublemaker, but I love that about him. I love how caring he is. I love how we can have conversations like friends without it feeling weird. I love the way he hangs with the boys but loves being with me, too. I love how even if we'll never have it all, we'll still have each other and we'll still be friends. I love how I know if he declines we can still talk.
I hate how un-close I am to my mother. I love her and I always will. She loves me and she always will. I wish she could take some time off Spencer. God, she can't even tell us to do our chores beacuse she's too busy lugging that baby around. I know she needs help and I'm happy to help her but it kinda seems upsetting to help and not get alone time with her in return. Ugh, and even if she didn't have Spencer, she still has Sophia. I wish that child could understand Mommy would love her a lot more if she would stay out of the way. My mother sure does have a lot on her plate. I wish she didn't so we could be closer...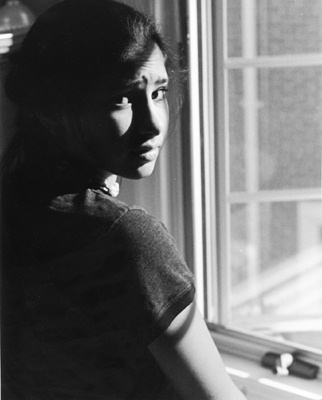 © Jennifer H., Bethesda, MD