Kasai loved that prince
March 15, 2018
There was once a tall castle in the middle of a forest. This castle was guarded by a dazzling red dragon. This dragon's name was Kasai and her job was to guard the prince that lived in the castle. The prince's name was Jacob. He was tall and had the build of a baseball player. He had gray eyes that looked like a stone; he had dark circles under his eyes from staying up late to play with the dragon and watch the stars. He was very fascinated by everything to do with the outside world but he didn't want to leave the dragon behind.
Even though the prince hated being away from people he knew that he wouldn't be able to leave the dragon for any reason. He and the dragon were best friends; they did everything together. Jacob went out once a week to get food and some other essentials. When Jacob left the dragon worried that he would never return but the prince could never leave his best friend behind. He loved that dragon more than anything.
A few years pass and the prince is starting to get older and older. This worried the Kasai because dragons live forever but humans don't. On Jacob's 18th birthday the Kasai decided they should go on a huge adventure. The prince packed some clothes and food then they were off. They went all over the world and ate all new foods and met new people. As the years passed they had seen and done everything in the world Jacob was nearly 70 and Kasia knew he was getting close to his last day. Kasia took the prince back to the castle in the forest and laid him on the soft, long grass. Jacob smiled up at Kasia who, in return, laid next to the boy wrapping her tail around them. They laid in complete silence watching the brilliant blue sky turn into a light orange. As the sky slowly turned black the prince took his final breath and Kasai sobbed as she held the prince close. Kasai fell into a depression for she loved that boy.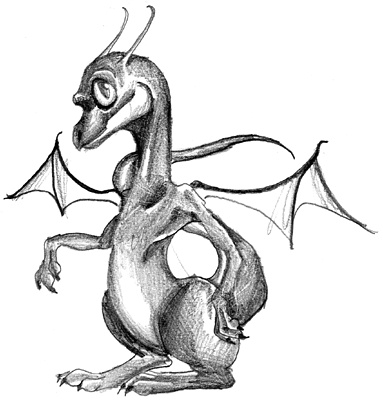 © Andrew Z., Philadelphia, PA