The Rings
February 10, 2018
My mother had me when she was much older. Having my older sisters when she was in her early twenties and me when she was in her forties. My sisters where already out the house and in college.
My mother was a kind woman though. Her heart went out to those less fortunate and she always would lend a helping hand. I remember when she filled the empty spaces in our house with lively people. Our house was never empty and our table never sat only two. It was just me and my mother cupped in the hands of the world.
My fondest memory of my mother was her cupping the rings that were held by a chain around her neck. Her mother's rings. She always said that her youngest daughter would get it and I knew it was my sister.
While my mother was nice she was also strict and harsh on those who were evil. She kept me safe though and never scared as she had a different up bringing with her family who made her panic at the sight of the outside world. Our house was neat no matter how many people walked through and the kitchen someone was always cooking even if it wasn't her.
There was a woman she visited often and would bake cookies. She would give me one and ruffle my hair before selling them and giving my mother a share. In which my mother would just by her more supplies.
When I was twenty I took over my mother's work along with going to college. My sisters would bring over their children who by then were almost my age.
It was hard to see though at already sixty my mother was starting to wither away and the beeping of machines only drove us both crazy.
"Mom they said the cancer is spreading. They said you were going to die."
"And that may happen, life is like that after all but I have had a fulfilling life. I do not mind dying."
"Everyone's going to miss you."
"I know they will." She smiles bitterly at the machines in the room. The machines keeping her alive.
"Mom I want to tell you something before I regret it."
"What is that?"
"I'm transgender."
Her smile is worn from time and her health but it's still warm. "That's it." She takes off the necklace I've never seen leave her neck and hands me it. "For my youngest daughter."
I look at her clutching the rings as I begin to cry.
"You never did leave my side. You're sisters went up and left the first chance they got. Wouldn't blame them the world is so huge. The business is yours. Your sisters will get money instead and they shall be happy with it." She looks out the window. "I am going to die. Good life is bitter anyway. Death is hopeful."
I don't leave her side that night. I clutch her hand throughout the whole night and when I wake up to rushing doctors and nurses I know. I know she is no longer with me.
To this day I still wear these rings proud around my neck because the woman before me did.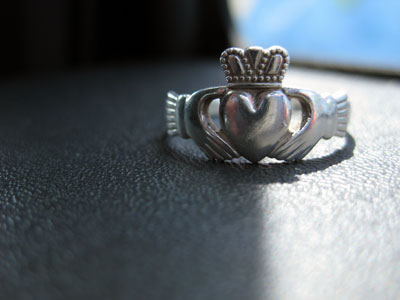 © Kaelyn L., East Northport, NY