Cheese burger
January 29, 2018
"Ow!" I screamed as I was being burned and almost charred black. He flipped me and I yelled again, only this time, a lot louder. My face was being burned off. Almost like he didn't like me anymore. But what could I say, he was a giant making his profit, and I was a lonely soul, with friends in a cold, dark place. But now I wish I was there. Back in the place with the cold, instead of having to be burned alive. Then it was gone. I couldn't feel anything. Except the lukewarm platform that I was flying on, carrying me to somewhere. It was almost like the giant cared for a second. But he had just burned me alive. But anywhere was better than that horrid hell hole of heat.
I had landed hard on another fallen friend. There was about 5 of us, all waiting for more giants to gobble us up like they have been doing for years. I've heard rumors about this place. It's heaven, but with a sick twist in the end. I looked around for a minute, trying to regain everything that had just happened and where I was at now. There were others sitting next to us. They looked like they had been through nothing, but I quickly realised they had been split from their block, sliced. A thing that the giants liked.
Some giants came over to me, but they grabbed others. They were not going to not take us because of what we are. They were adults and I was their desire. We were put on this earth for a reason, and that was to feed them; food is the key purpose of life. All of the sudden, I was picked up and thrown onto a piece of dead body, which smelled of yeast and wheat. More body parts were thrown on me; rotted cucumbers that have been salted and peppered, spiced tomato juice, and other things. Another was put between the gross condiments above me. But what could I do. I was a delicious burger, and they were normal people, who had no idea what they were doing. Then I saw it. The twisted end. It was a disgusting place; full of saliva and other foods. He took pieces of me. Then soon, I was gone.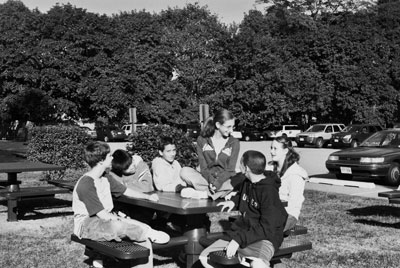 © Caitlin F., Pequannock, NJ