A Small Town Girl Reflects on the Struggles of Growing Up Deaf
January 28, 2018
Ariel Winters was born in Neptune, New Jersey on March 7th, 1989. She was a beautiful baby girl, but there was something unique about her; Ariel was deaf. Neither of her parents were hard of hearing and no one in their immediate families were deaf either. The news was a shock to her parents and it instantly changed their perspective on the world. They enrolled in American Sign Language courses, which were hard to balance between work and a newborn baby, but they would have done anything for their little girl. Instead of falling apart when things got challenging, Ariel's parents came together. It was not easy, but they did not look at their child as a curse- she was always their biggest blessing. By the time Ariel was three years old she had no trouble communicating with her parents. Holidays were always a challenge, because no one outside of her mom and dad learned how to sign. Through the years, however, Ariel became a pro at reading lips and could follow most conversations without the help of an interpreter. Ariel was an only child, and while she always wished for siblings, she grew into an incredibly independent woman. By the time Ariel was five years old, she had decided she was going to be a professional dancer. This was an enormous challenge for anyone, especially being deaf, so Ariel's parents were concerned. In the end, they decided to let Ariel follow her dreams no matter what and had her enrolled in dance classes. Her timing was surprisingly accurate because she could feel the beat better than anyone.

As Ariel continued her dance training throughout her childhood, her dedication and passion for dance only grew. At some point along the way, Ariel decided she was going to audition for Juilliard; the most esteemed institution for performance arts. With a measly 7.6% acceptance rate, Juilliard is one of the toughest schools in the nation to be accepted to. Not only was Ariel going to audition, she decided to audition without the help of an interpreter. She did not want anyone to take pity on her because of her disability. In the days leading up to her audition, Ariel grew more anxious with every passing second. Her parents had gotten a room at the best hotel in New York City for the occasion and her entire family knew this was a trip to remember. In the days leading up to her big audition, Ariel rehearsed constantly and planned out every step of her routine. Ariel was determined to be the first deaf dancer at Juilliard.

On the day of her audition, Ariel woke up promptly at six am. She spent hours on her hair and makeup, she dressed in her best dance attire, and made sure she had plenty of time to warm up. Ariel was confident in her decision to audition without an interpreter- she knew how talented she was despite her disability and was determined to prove that to everyone in the room. Ariel stepped out onto the New York City streets and she couldn't help but notice the bustling streets and the cars that flew past her. She tried to take it all in, but her mind was focused on getting to her audition. Ariel stood outside of the Juilliard building just gazed up at how beautiful it looked. She took a deep breathe, and braced herself for anything that was about to come her way. Immediately she noticed a desk with a line of students waiting to check in. She stood behind a lanky, dark haired boy who was so tall she couldn't see anything past him. Each second that passed felt like an hour, and Ariel waited patiently to sign her name in Juilliard's coveted book. Finally, she reached the front of the line and jotted down her full name Ariel Elizabeth Winter.

Ariel stepped into the biggest dance studio she had ever seen. All of the prospective students lined up, numbers stuck on their chest, and waited for the instructor to enter the room. While everyone else was worried about forgetting their dance, Ariel worried that the instructor wouldn't face her and she would miss important information. It was a fact that she hadn't thought about and, looking back, she now regrets overlooking. To Ariel that was the beauty of dance; you don't need words to understand what people are saying. Unfortunately, Ariel was not so lucky; The instructor had entered the room and had not looked in Ariel's direction once. Ariel had decided to muster up all of her courage and raise her hand to grab the attention of the instructor. Ariel began to point at her ears and mouth "I'm deaf," hoping the teacher would catch on and look her way. In a disappointing turn of events, the instructor did not respond well. "Get out of my audition." The instructor barked. Although Ariel couldn't hear the instructor, the sound was so loud she felt it in her bones. Ariel couldn't even use her voice to defend herself. Her face fell, her cheeks turning bright red, and she remembers the tears pooling in her eyes. She was frozen in place and could not get herself to move. "I'm sorry, was I speaking too quickly?" The instructor was now inches from Ariel's face. "Get. Out. Of. Here." Before Ariel could think she sprinted out of the room, falling into a puddle of tears on the floor. Her parents came rushing over-they had been waiting in the front of the building where Ariel signed in- and assumed she had been hurt. Ariel was too broken to communicate with her parents, and after a moment they realized what had happened. Ariel's parents had tried to convince her to get a translator for months, hoping to avoid this exact situation. Ariel was positive she would have had the same outcome with a translator- clearly a deaf student would not be able to study at Juilliard.

In the month that followed, Ariel locked herself in her room, and replayed that horrific moment in the Juilliard dance studio over and over again. She could not bring herself to talk about what happened with anyone, so everyone in her life was confused about what had actually occurred at the school. Ariel had given up on her dreams of being a dancer, but in a way, Ariel was relieved to receive that rejection so early on. She quickly realized she was not suited to be a professional dancer.

Now years later, Ariel has found happiness at Yale University where she is studying business. Ariel hopes to open her own dance studio in her hometown as soon as she graduates. In the months following her audition, Ariel discovered that she could not handle the pressure of being a professional dancer- with or without her deafness. She is confident in her ability to teach dance arts to as many children as possible, and vows to prepare them for all of the ups and downs of life as a dancer. After all is said and done, Ariel is grateful for her time at Juilliard, no matter how painful it was to deal with. Now she has discovered an even bigger passion, and she is living the happiest life she could possibly imagine. As Ariel herself stated, "Sometimes burned dreams turn into even brighter futures."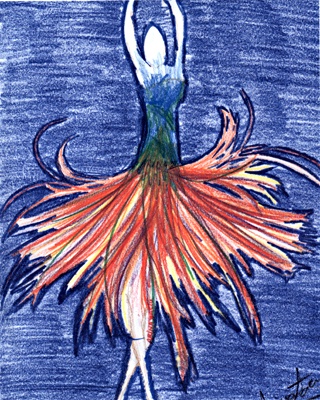 © Arina Z., Euclid, OH