soccer tryouts
January 24, 2018
It was getting to the end of freshman year, and the girls soccer was starting soon. I personally did not play soccer at the time, but my best friend did. She had been playing forever, and it definitely showed. She was ready to tryout for soccer this year, and I was ready to cheer for her. Although that was not what she had in mind for me to be doing; she wanted me to tryout and play with her. I at the time thinking I was being the smart one was like yeah that would be like saying penguins should start flying. I mean was she crazy i've never played before, and this is a high school tryout full of people who have been playing for years. Oh, but she was very serious about me playing. After I figured out she was not joking about me playing I still shot her down, quicker than your phone shuts down when you see that dreadful 1 percent left in the battery. She was not to happy about me saying no, or she just didn't know the meaning of no. Little did I know at the time that she did know the meaning she just was not accepting that answer.

My Best friend was very stubborn, im talking like a baby when it's time to give up their pacifier. You know when the baby just cries and cries, and is not having you take it away. So just so the crying ends you give in before you lose your mind. Yeah that's how my friend was trying to get me to tryout for soccer. Eventually after I realized I was not going to win this battle, and so I bowed out nicely and agreed to try out. She was ecstatic like someone walking by would have assumed she found the cure for cancer. I was like okay okay no need to get that happy I might not make the team. That's when she brought up that I was making the team and she was going train me so that would. My reaction to this was like well looks like i'll slowly start dying during the training. She seemed to know I would give in, and conveniently had a schedule already made. At that moment I hadn't realized it was really going to be training and her dad that coaches soccer was involved.
The first day of training and preparing for tryouts started on a saturday. I had stayed the night at her house so that we could get going right away. Apparently that meant getting up at 6 in the morning, I didn't even get up that early for school let alone on a weekend. So she's wide awake and so his her dad, and i'm still trying to figure what was going on. I didn't expect anybody in there right mind to be wide awake at 6am, but I was clearly wrong. After the first day of training the days began to turn to weeks which led us closer to the try out days. That's when things started to get bad. I thought things had been going well with the training and I had been feeling pretty good. Then this pick up game had to happen and ruin me feeling good about soccer. My friend and I decided to go to this pick up game to play with a bunch of people. I was told it would be fun and good practice. I was not however told that it would be all boys who I mind you played on varsity.

The pick up game with all the guys from varsity and just a couple girls was about to start. At that time I was still feeling pretty confident. That's when the game started and the world seemed to be in fast forward, but I was frozen in time. I couldn't keep up with them when I would get the ball I would lose it right away. My head was spinning and at that time I seemed to lose all confidence. The game was done, and so was I if I couldn't handle a pickup game I could not handle tryouts or playing at all. I talked to my best friend and broke the news to her, she wasn't mad like I thought shed be. Instead she gave me this look of disappointment that I was giving up. The look killed me, but I did not think I could do it, I didn't want to embarrass myself. I went home after that and couldn't get her look out of my head it was like a bad dream on repeat like a broken record.

The following day was tryouts and I received a text from my friend. The text went over all we had accomplished, and everything we had done to get to this day. She told me it was hard yes, but it would all be worth it today to show off at tryouts. Then she said at the end if I come powered through and faced my fear, and if I didn't wasn't as strong as she thought I was, and I would regret it. After that I really started thinking we had worked so hard, and planned to get through this together. She had stuck by me and I wasn't trusting or sticking by her. I knew I was not going to be as good as everyone, but I would be improving every day and with my best friend.

I showed up at the tryouts that night, and when I got there I got the look of I knew you would be here. I smiled at her and said thank you. The tryouts went well she had made varsity and me jv, which was what we had expected. The different teams didn't matter because we were all one big team. Playing soccer with them became the best years of highschool, and the team became my family. I learned that you should always take a chance on something, and not be afraid to step out if your comfort zone. If my friend hadn't pushed me to join I would never had gotten these great years, and the family that came with the team.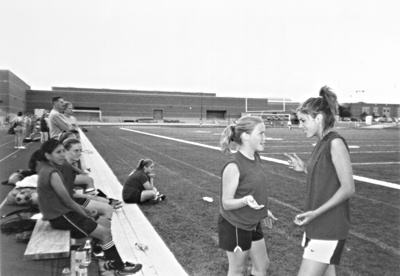 © Katlyn B., Highland Village, TX