Scarlett
January 23, 2018
When I was going through a bit of a blue time in my life I met a girl. Her name was scarlett. On the outside she was very pale and frankly scary looking. She had about five piercings, just on her face. A mohawk filled with spiky out of control blue hair and she would always wear the thrasher shirts with the flames. Scarlett intimidated me quite a bit. Her hands were always shaking just a little, barely enough to notice.
Under circumstances we were forced to live together for a week. Knowing no one at this house called love in some eyes, hate and sadness in others I felt alone, that's when Scarlett noticed.  "Hey sweetie, what's your name?" I look up to see the quiet blue haired girl staring at me. She was standing a little too close for comfort, she was probably a very affectionate person I imagine. "Hi, I'm Zarina, what's yours?" I replied. Although I had already heard people say her name. "My name is Scarlett, You seem chill Z let me show you around." Her voice was much deeper than most girls voices. Just like that, I had a nickname. I felt like a kindergartener making friends." This is the fridge it's where all the pudding and all that good s*** is kept."
I thought it was funny that the place we were staying had a no cursing policy and Scarlett talked like a sailor. Just like that we became friends. She disobeyed the rules of the house to make other people feel more at home. She was the light at the end of the tunnel.
I have to admit it wasn't all sunshine and rainbows, that would have been nice, but Scarlett was always shaking a little bit too much, withdraw they called it. She joked around a lot to me.  "Never get into heroin" she laughed as she cried to me. "It's not worth it." I took her words with great seriousness. I would sit and listen to her stories all day. Some of them were very beautiful and sweet like her freshman prom where she was happy and felt loved. Other stories were more rough, and melancholic.
"Z, there's still a part of me that wants to start over, be done with the bad things I love to do."
" I know you can do it Scarlett" I said and I believed every word.
When I first met Scarlett all I knew was the outside, the pale skin, crazy haired, scary looking girl. At the end of that week all I saw was the caring, loving, beautiful person that Scarlett was on the inside.
For the past weeks I have been sending Scarlett all of my love
For now she is watching me
From up above
You told me it's not worth it
Yet heroin took your life
At least no longer
Do you have to stand and keep up the fight

I am hoping now you're dancing with the angels
That you're no longer always shaking
As I wait for the day my heart stops aching
Rest in peace love
And please don't forget me from up above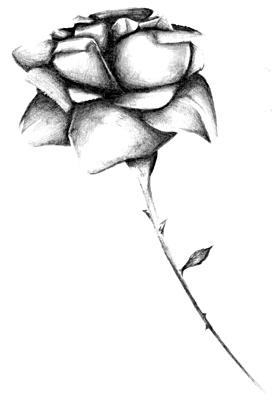 © Yisrawayl G., Philadelphia, PA