Little Pink Pastel
January 17, 2018
She sat at her little desk pushed up against the window, papers sprawled all over its surface. She wore a faded blue cloud printed dress and her favorite chipped, fuchsia colored rose hairclip to keep the soft waves of amber gold out of her face as she worked on the piece before her. She drew a honeycomb yellow filled circle in the center with rays of red, green, blue and violet escaping from behind it. Below it lay roads, hills and cars of all sizes and colors. There was one car, two cars, red cars, blue cars, black cars, more blue cars, old cars and new cars. She was so caught up in perfecting her drawing that she didn't notice the oil pastels smearing on her hands and dress. She was satisfied with her masterpiece and couldn't wait to show her mother. Before she could get up from her stool, her mother came in with a package in tow.
"Delilah, didn't I say to get ready. We will be leaving in an hour. Look at the mess you've made on yourself."
Delilah paid no attention to the incessant rambling coming from her mother's lips. She picked up the pink oil pastel, twisting it between her fingers. She stared at the drawing before her and felt there was something missing but she couldn't wrap her finger around what it was. She sat there pondering until the screeching of her mother broke her concentration.
"Have you heard a single word I've said. You're still a mess and you haven't even brushed your hair. Anyways, we don't have time for this. Where is that blush pink summer dress you wore on Easter last year, you know the one with the ruffles and cute little bow in the back?"
Delilah looked at the expecting smile on her mother's face, "I don't know what you're talking about, I've never seen such a dress."
Her mother laughed refusing to believe her ears, "Now is not the time to play games dear, where is that dress?"
Delilah answered, "You must have imagined it mother." The girl knew what was coming next yet she still dared to let that brazen little voice in her head guide her actions. She wasn't thinking. Fuming, her mother grabbed her by the arm and began to walk towards the door. She wasn't surprised at her mother's aggression, but her body betrayed her and she dropped the pink oil pastel. She watched as it rolled farther and farther away from her. She watched as her mother's sharp six-inch heeled shoe crush the little pink stick in halves, smearing some of it onto the rug. That was one more mess for her mother to clean up later.
As her mother dragged her away going on about them running late, in need of a new dress, what her punishment should be and that she would tell her father, all Delilah could think of was the unfinished drawing lying on her desk.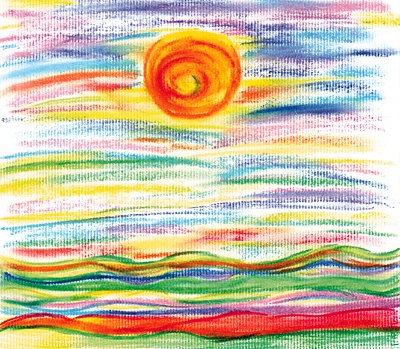 © Jennifer W., Saint Albans, WV