Time Won't Wait For
January 11, 2018
      I walked home after school. The day was warm and cozy. I looked at the beautiful yellow sunflower field around the road as I walked. I thought it was the most beautiful place in the world. Fewer things being polluted, and it was peaceful. Sunflower blew by the wind, like a steady man that was never gonna fall. There were people around the field, they were kind. I waved my hand and said "Hi". They replied with the same action and big smiling faces. We were all like a family. Everyone lived in this little place.
     After I said "Hi" to everybody and helped them clear the pests, I continued my journey. Around the road to the mountain and the grove, there was a convenience store. The store was full of different kinds of things. I bought a gift for her, she was waiting for me at home. It was a good box with many kinds of food inside. She loved to eat these.  I went to have a conversation with the storekeeper. He was one of the elder men of this little place, even though I don't know his name.
The elder said "Kid! It is a beautiful day again! Don't forget to bring her here again next time. "
I replied unconfidently, "Yes...I will tell her to come with me next time. It required time to adopt a new environment"
       The sunlight light on my face. Then it was slowly disappearing as I walked through the grove. It was a shortcut home. I saw squirrels moving back and forth between the trees, with the acorn on their hand. I crossed the little creek. The clear bluish water made my feet feel so good. Welp, both of my shoes were wet now. I stayed a little while to play with the fishes. I chased after them. It made them look as if they were panicking. That made me smile and I laughed. But I quickly stopped it, it was not good to laugh at others.
      I took a look at the darkening sky, wished the day could have continued being how it was earlier today. I can chat with my friends in school and play with the cute animals around the grove. When the school end, I can relax in the place called home. The home where she existed.
      Not surprised, I saw an elegant black color car around my house as I went out of the grove. There's an old man in a suit talking with her in front of the door. I didn't say anything, just watch them. I knew why he was here. When they stopped the conversation, she was still looking indecisive.
      I moved forward, they noticed me as soon as I began to get closer. I whispered near her right ear That was the most important turning point in my life. I said that I cannot let her stay anymore, her life shouldn't be normal as me. She cried, but I didn't regret it at that time. The old man who was her father can provide everything she desires, I cannot. My heart froze while she runs away with the tear.
     When she stopped, she was picked up by her father with my silent and riding away from my sight. I didn't say anything. Nothing can come out of my throat, as my hand turned purple with the gifts inside. I'm broken. I had broken. The one who with me so long, will never come back. Then I turned my head back, reflect on myself.
     Long memory finally falls as the gift slipped off from the hand. Everything back to normal, I witnessed she closed her eye. It was too late for the resolution.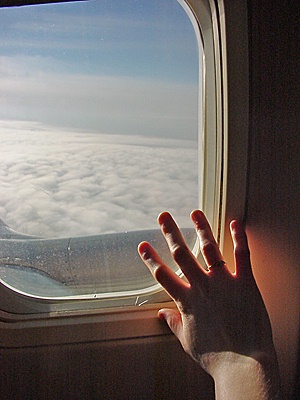 © Greg K., New Lenox, IL