A Dog's Best Friend
January 7, 2018
Hi I'm max. a brown pitbull. I am 4 years old. I was adopted when I was just 2 months old by Dan. Dan is my best friend, we do everything together. he takes me to the park, we go on hikes together and my favorite thing we go swimming. About 3 years ago Dan meet Nicole. At first I thought he wouldn't love me anymore. I was wrong, 2 years later they had a baby. Jason is the most adorable baby on this planet. I love to play with him and I love to take care of him when he's sleeping. Not everything is happiness though. When Dan and Nicole take me to the park, I want to play with everyone around me but evreyone seems to be scared of me, "Don't get too close to him" I can hear some kids say. 
"Don't touch him he can bite you" I heard an old lady telling her kid. 
It hurts my feelings and I get really sad because I'm not like that. I love to play with everyone around me, I love to play with kids. Dan and Nicole know I'm a really friendly pitbull, that's why they trust me to be close to Jason. I would never hurt anyone. 
When I was born the owner of the adoption center for animals found me in a trash can and they thought I was dead. They took me to the veterinary and healed my injuries. I didn't meet my mother and I don't even know if I have siblings. But being adopted by Dan was the most amazing thing that could ever happen to me. He treats me like I'm a huge part of the family and he doesn't let anyone talk bad about me. Sometimes Dan gets really mad with me though. I love to destroy Dan's shoes. I don't like shoes. When Dan is putting his shoes on it's a sign he's leaving the house for a long time and sometimes he doesn't take me with him.  He shakes his finger at me and asks "How could you ?" but as soon as I put my head down he kneels on his feet and hugs me. That's what I love about Dan and Nicole, they always hug me and hugs make me feel so special. That's why I like to cuddle with Jason and I like to hug him, I want him to feel as special as I feel. 
Dan is planning a trip to the beach for Nicole's birthday and he's also taking me. I am so excited! I've never been to the beach before. I can't wait to run on the beach and to swim in the ocean. I am so lucky to have an amazing family. I love them so much I wouldn't change them for anything in the world. It's true when people say a dog is a man's best friend because Dan is my best friend and I have so much fun with him. i will protect him and our family for as long as I can.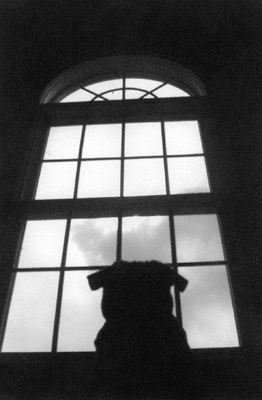 © Joe F., Milford, CT