my new adoption
December 28, 2017
I'm so excited! I'm finally going to get adopted. After a long wait of a nice loving home, I finally have one.
                                             *Two days before*
" Here we rescue many animals that have been left out, lost and mistreated."
" But why do poor animals get treated like that?"
" Well because the owners don't have time for them, or they just get their anger out on the poor animals. But anyhow, what kind of pet are you looking to adopt?
" We're looking to adopt a --"
" --Aww, daddy look at this dog! I have this dog!"
" I guess there's your answer."
" Well Mr. Rivera, this dog has a history."
" What is the story behind the dog?
" Well, she got abused. She would be left with no food or water. She would get kicked and hit. When we rescued her, she had many wounds to heal. When she came in she was shy, lonely, and terrified. But yet, being here changed her. Now she plays around with the other animals, she's good with cats. And most important she cares about the other animals."
" Oh, really?"
" Daddy, please can we get her?!"
" Well, it's up to you if you want to get her. I promise that you won't regret it"
" Well, let's start to file the adoption papers." 
*today*
I connected with the girl, automatically. Today is the day I get to go home. I know that, she is a good girl. And with her and her family, I know that I will be happy.  but right now, I wonder how my new home is.  is it big? Do I have a place to sit? Will I be able to run? Do they have a backyard? A whole bunch of questions start to run in my head. Waiting for my new "foster family" to come, I'm just laying down. 
" Hey, little one. Your new owners are here. Ready to leave home?  Said the lady, who took care of me, ever since I got here. " I'm going to miss you, so much. Behave, okay?" 
I barked, as she picked me up, and carried me to my new owners. Oh my gosh, my new owners are here. Just as how I remembered. 
" Oh, daddy! I love her! Her name is Minnie!" 
I barked loving it. In my old home I never had a name. I was just called dog. But now my name is Minnie! I'm so emotional right now that, I wiggling my tail. Is this how, a child feels when they get a new toy?  Because this is what i'm feeling right now. I can't believe it.
" Well, she's ours, now Susy."
In the car, I got to sit next to Susy. She played we my soft fur. So much, that I fell asleep. I wasn't able to see the way I got to my new home.
" Well, well, Minnie. Welcome to your new home. Here, you'll get the love you never got."
I couldn't help it. I had to run and see MY NEW HOME. My home smell like lavender, it is clean, you can actually walk. I love it. I ran up to Susy, and licked her face. If she wouldn't have chosen me, I would have still been in the Spca. I'm thankful. She could have chosen any other animal but she chose me. That makes me feel special. I love my new home. I love my new family...
All over the world, we can see that dogs are being abandoned, and mistreated. But not just the dogs, but cats, birds and well basically almost every animal alive. Animals are here to bright up our lives, why darken their lives? All together, we can change the lives of the animals. Even if you don't like animals, just treat them right and that can be a start. Lets change animals lives. If you want a pet, and you know that you can take care of them, get one for adoption.  Let a pet think about, "My New Adoption."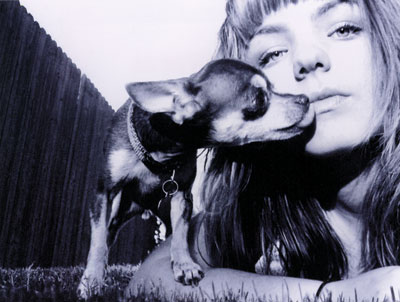 © Samantha S., Flower Mound, TX