On Christmas Day
December 18, 2017
The fire crackled softly in the background. A background noise to the main attraction; the falling snow. It left a blanket of white on the ground and a wall of silence which surrounded the girl in the bay window. Her normally platinum blonde hair glew orange in the light of the flames. She pulled the soft blue blanket up more which offered her more comfort as she watched the world become icy.
She was located in their playroom, just like every other Christmas Eve. She was determined to follow through with the tradition until she no longer could.
The year had been rough. Not only on her, but her entire family. The loss of Charlie, her baby brother had taken a big toll on the remaining three family members. Christmas would be hard this year. Audrey wouldn't be woken up at two am by Charlie's excited whispers about Santa's stop at their house. She wouldn't get to play Santa and distribute his gifts to him and watch him open them, happily. She wouldn't be able to watch his eye light up with excitement.
A tear rolled down her cheek as she climbed out of the window and set up her bed. It was weird not to make Charlie a bed too. She was headed to bed...it was Christmas Eve and Santa would be here soon…
She crawled under the blankets and pulled Charlie's favorite teddy to her chest. With a heavy heart she fell asleep.
She woke up before her parents and snuck downstairs and took in the tree and two stockings. Her stocking was full and Charlie's was, as well. She grabbed his and sat down cross legged in front of the glwoing tree. She dumped it out and took in all that was there; candy, dinosaurs and cars. Everything an eight year old boy would like...Everything Charlie would like.
Just as she put the rest of Charlie's stocking fillings away her parents rounded the corner.
"Merry Christmas, baby girl." Her mom greeted with a sad smile.
"Merry Christmas, mom, dad," she replied. Mentally she added, Charlie.
"Well, lets see what Santa brought," her dad said adn smiled. Audrey didn't move at first, she just stared at her parents. Taking in how much older they looked, how much unhappy she looked.
But finally, she nodded and turned. She grabbed the first present and started to unwrap. This would be the longest Christmas ever.
Audrey got a lot of good gifts and some even made her smile. As she opened her gifts she and her parents  made banter and somehow...just somehow it almost felt normal. Almost.
"That all?" Her dad asked, a small smile on his face. Audrey looked at him and then the tree. She scanned for more presents. She was both excited and surprised for the extra gift she found laying in the back out of immediate eyesight. She reached under the tree and pulled the square box out.
SHe lost her breath as she stared at the tag. To: sissy from: bubby. She felt frozen, she didn't understand why her parents would do this.
"Open it, Audrey," her mom encouraged. So, she nodded and did. She did ever so gently trying to remember this moment.
It was a box and right on top was "Merry Christmas, Sissy. I love you." In Charlie's messy boy handwriting. She didn't realize she was crying until there was a small puddle on the box. She sniffed and removed the lid and all of the tissue paper. 
She sobbed now as she stared at the gold chain with a small 'C' at the bottom. Her heart hurt. He knew...She knew he knew...heck, they all did...Her parents and her just ignored it.
"He...we were in Kohl's and he saw it. He said, "Mommy. If god takes me before Christmas or too soon I want sissy to have this. To remember." I asked him he meant him and I told him you'd never forget him and he said. "No, mommy. Forget she's the best sissy in the world and that I love her."
Tears fell rapidly as she clutched the chain to her chest. Through ragged breaths she said, "I won't, bubby. I'll never forget." Arms wrapped around her and she cried into her parents.
Together they spent Christmas missing him...together they said goodbye and let him go.
Later that night as Audrey laid in her own bed, Charlie's teddy in one arm and her free hand holding her necklace she looked up and took a breath.
"Merry Christmas, bubby. I love you," she whispered. A chill ran through her and she smiled. He knew. He knew she loved him and he'd never forget.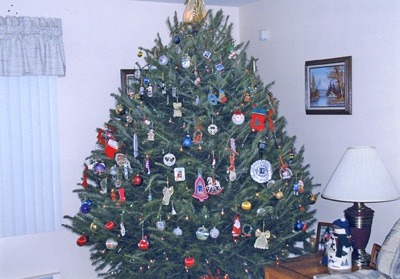 © Brian N., Mildford, CT