Excerpt of my novel
December 14, 2017
It's the weekend; I am going out to eat some brunch with my friends. I am going to try to eat healthy, even though I have this thing that I will eat very healthy in my house, but not with my friends. When I am in a restaurant, I will eat whatever crosses my eyes.  I will be not able to eat all that in my 30s, but if at this age I just cheat all day every day, then I will adjust to the junk food lifestyle, and that will ruin my eating habits. Imagine eating pizza and chips every day, and then suddenly not noticing you need to change your eating habits drastically. So, I prefer limiting myself now, as a favor to my future self. My friends think the same, although they eat whatever they want and don't get fat. I'm jealous of that.
. . . .
I ended up ordering an avocado toast, which wasn't the best. But I won't argue, the place was so cool. You came in, and there were palm trees all around, the summer vibes were good to feel because they won't be around for quite some time. All the chairs had white and yellow stripes, and the walls were decorated with a green and long leaves wallpaper, which made the place have such a unique touch. In a New York restaurant, the group of hot tourists is never absent. So, of course, when we saw them, we sat close to them. There was a strong eye contact game. Nothing to get attached to though, we are already used to just having eye contact and then leaving. Plus, we are never seeing them again, so it doesn't matter. We each ordered dessert, we figured we hadn't had a hang out altogether in a while. I ordered a chocolate volcano, it was exquisite, felt guilty afterwards, but couldn't do anything about it. The day was wonderful. Now, I just want my date with Nate to happen. I am meeting him in the best restaurant in Little Italy. It's going to be perfect. Well, I hope at least.
. . . .
At the restaurant, the time flew by so quickly. We got out of the restaurant, and the city was a little cold but thank God, nothing to worry about. One thing that I hate is cold weather. I mean, during winter, I could wear the perfect trench coat with a decorative scarf, but then stepping out from a warm place, is the most excruciating experience ever. The cold wind gets beneath my scarf, making it as if I had a pack of ice around my neck. Literally, all my winter clothing is pretty but not favorable for cold weather. It sucks.
We kept talking and then we saw a little gelato place. We got in and bought 2 scoops, I decided one of vanilla (just with the smell, I knew how tasty it would be) and he decided to get coconut, which is a fascinating flavor. This place was so VSCO; I tried to take some pictures, but, as always, I got nervous and decided to take them very quickly so no one could see me. We then finished and decided to call an Uber. He took me to his place. I was super excited, even though I didn't want him to think we were going to third base. There was no way. Our Uber arrived, and on our way, my mom called and started asking me where I was and just babbling random mom things daughters don't care about. We're really past the calling-me-everyday-saying-that-I-should-come-home phase, so her calling me right at that moment was so annoying. I tried to be shortening with my talking and just told her I would be back not very late. I put the phone down and looked at him, he took his hand and put it on my chin. Next thing I know, we were kissing in the back of the car. I felt bad for the driver, but I bet that wasn't the first time that he saw that. We got to his apartment, it's actually very close to mine (30 minutes which is not that bad), and when we entered the building, the guard looked at us with interest. He had his hands around my waist and I felt so happy. Just when we got to the elevator, I felt dizzy. I kind of moved like if I was going to fall, so he helped me stabilize, I felt so embarrassed, and he asked if I was okay, I said I was okay, but I didn't feel that way. When we got to the fifteenth floor, I still felt embarrassed. That was going to be the perfect night kissing and talking. I felt beyond bad, and I started drinking the chamomile tea he made for me. But then. Then. It was the worst part. I suddenly placed the tea on the table and went running to the room right in front of us, which luckily was the bathroom. I closed the door and immediately puked.
He heard, stood beside the door and said, "Are you okay? Do you need a towel or maybe a fresh shirt?"
I got out and looked at him with the most tragic and dead face. I didn't need to see myself to know how awful of an expression I had just made.
He then said, with a confused and worried face, "Oh god are you alright? What could've been?"
I answered, "Oh, it's just that I overate and I have been feeling a little bit sick lately I am so sorry I'm gonna leave now I am so sorry."
Yes, I said that so quickly that he didn't even have the chance to respond. I left and ran towards the elevator. My tears and sweat were combined and slowly dripping down my face. I bet my mascara was falling off. I don't understand. What had just happened? I was finally with my crush, and I puked in his freaking bathroom. Can anyone's life be that awful? I hope he doesn't tell his friends, he probably already thinks I'm a freak. I don't want his college friends to know. This is so frustrating. I had to wait like fifteen minutes in the lobby for the Uber to come. I sat down and started breathing heavily. Then, out of nowhere, someone taps my shoulder. It's him.
. . . .
It's Monday. The worst day of the week for everyone in the world. I still remember what Nate told me, what a babe. I am so relieved that he didn't care about the incident and that he wants to see me on Friday. My love life is good right now, and that's fantastic. On the other hand, I have to plan my university visits in Boston. I still can't imagine living with my sister in breath-taking Boston and having Nate as my boyfriend. Him, flying on the weekends and spending as much time as we can together. So romantic. And well, I'll try to come to New York whenever I can.
I should not think about that. Only about the present. Because then I'll jinx it and it will never happen. I am a firm believer that when you think about something or just assume it will happen, then it won't.
I am sitting in English class and suddenly the same feeling came again. I want to puke. What if... no, no. It can't be. The night at the party. I couldn't have done it. With who? I know I woke up in a weird situation, but it couldn't have happened. I completely forgot everything about that night. Why? Why did I remember? I don't even like thinking nor accepting it in my mind, but I am a virgin. There is no way that I am pregnant.
I look back on that night and I remember talking to my hot teacher, Mr. Sanders, the hottie from my dreams. Now that I am working on that project with him, we have been talking a lot. But he couldn't have, and I couldn't have agreed to that. As much as I would like more than that in my dreams. A teacher with a student. Just no.

Then I remembered Matt. I was also talking to him and with our dating past, maybe he was the one. I don't know. I wish not. Again, I am making up stuff. I need to calm down, I don't even know if I am pregnant. Agh! How are you supposed to remember something from when you were drunk? I just wish there was a magic potion or something that could make me remember. I focused on Mr. Sanders. And then…  a thought came to my mind. It clicked. It flooded. It bombarded me. I suddenly remembered, an avalanche of memories had landed on my brain. And they were all about him. He was the one. The one who... "BLAAARRGGH". Yes, that's the sound of me vomiting in front of the whole class and in front of the guy to whom I lost my virginity to.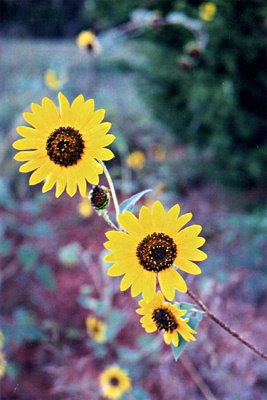 © Megan B., Luther, OK