The Happiest Time of My Life
April 1, 2009
One of the happiest times of my life was going to the beach with my family. When I was younger my parents used to take me to the beach almost every weekend during the summer. I have so many fond memories from these fun filled days. I enjoyed bonding with my parents over summer break at the beach in Spring Lake. It was a good experience to have with them. It allowed me to develop special relationships with each of them that have made us close to this very day.

Even the drive down to the beach was fun. We would get up at around 7 a.m. My dad would pack a cooler full of apples, oranges, water and coke. I would get on one of my many colorful bathing suits and help my mom bring towels, shovels, and beach chairs to the car. Then we were off!

After I spent half of the drive down begging my parents to put in my Aaron Carter Cd's they would finally give in. After I lost my voice singing to the songs, I would pull out my brain quest game. This could entertain me for a long time. I would quiz my parents on anything and everything from geography to science. I didn't realize until I grew up that this wasn't their favorite game. I loved looking in other cars and imagining what the people in side were like. Were they going to the beach with their family?

Once we got to our exit we would drive through the small town of Belmar looking for a place to eat. It was a nice town and had a beach, but their shore wasn't designed for families. So, we would eat in Belmar and then go to Spring Lake for the beach. Unfortunately a few summers ago my all time favorite restaurant chef Ed's closed. It was right on the beach and I could hear the waves crashing as I at my bagel with cream cheese and a glass of chocolate milk.

We would get to the beach nice ad early. Luckily we usually managed to get a good parking space. Then my dad would go to the ticket booth and get day passes for us. He would come back and my mom and I would put on our sun tan lotion. I always hated this since my mom put way too much on me. By the time she was done I looked like a ghost! After this was done we would lug all of our umbrellas, chairs, bags and toys down to the beach. I would usually pick a spot next to the lifeguard stand. Then I would feel nice and safe. My dad would then start to put up our umbrella and arrange our chairs.

As he did this my mom and I went on a walk down the boardwalk. Usually we walked down to the next pavilion which was about 2 miles away. As we walked we chatted about everything under the sun. We talked about camp, the houses along the beach and anything we could think of. On our way back we would take off our shoes and walk with our bare feet in the wet sand as the waves crashed to our left. This was one of my favorite parts of the day.

When we got back everything would be set up. Of course I would rearrange everything though. Then I would sit under the umbrella and reapply my sunscreen. After that my whole family would help me build a sandcastle. Well actually it was more of a sad attempt at one than anything else. My dad would bring us water for the ocean and my mom would help me pack the sand into the molds and make the castle. Like I said though, the castle looked like a few sad broken lumps of sand. At least it was our best and that's what really mattered.

After that my mom and I would go in the water for a while. We used to play a game where we would jump over the small waves and swim under the giant waves. Sometimes I would bring my beach chair down to the edge of the water and sit. When a large wave came my feet would get nice and wet. When I got older my parents bought me a boogie board. It had a picture of Betty Boop on a surfboard. I loved my boogie board.

Once we got out of the water we would all go up to the pavilion to have lunch. Usually my parents went and bought some hot dogs and my mom handed out apples from the cooler. We would go upstairs to the deck and sit on the floor as we had our lunch. My dad handed us each a coke as we watched the waves crash from the second floor of the pavilion. I will never forget that time of day. What a glorious site. Usually my dad would stay upstairs for a while reading a car magazine and my mom and I would go back down to the beach.

Some days I would make "sand pies". I would use wet sand and pile lumps onto my boogie board. Then I would open a shop. After that it was time to go. I would shower off and collect up my beach toys. We would usually get home around 5. Sometimes we would stop at Baskin Robbins for ice cream. Once we got home I would attempt to get all of the sand out of my hair. Then I would go watch TV with my parents. These days were some of the happiest times of my life.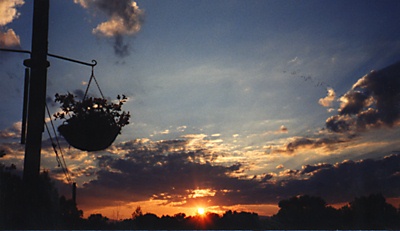 © Ana M., Marblehead, MA