The Free throw
October 27, 2017
I hear my alarm go off and then all of a sudden my dad comes rushing in my room and says," Wake up it's Gameday………….. It's the day we've all been waiting for and it has finally came, your sophomore year of high school and you're starting on varsity!" I get up and go eat breakfast. As I'm sitting at the kitchen table eating breakfast, my mom comes and sits by me and starts talking. " It's not how big you are, It's how big you play - said by John Wooden. Remember that when you're out there playing." she tells me. I get done eating and go back to my room to get ready to head to the school.
As my dad takes me up to the school, he pulls out brand new shoes for me to play in and tells me," This is for all the hardwork and dedication that you have put in, I love you son.". He drops me off at the school and I head into the locker room. Josh comes up to me all hyped up and excited.
      We go to the bench by our lockers to sit down and get dressed, Coach J comes in to give us an Inspirational speech and get us pumped up for the game. We load the bus and head to Austin, Texas which is 2 hours away from the school. We arrived at the gym and got off the bus to head inside. The gym is humongous and beautiful, the most wonderful thing  you would ever see. We start to warm up and stretch before it's time. 5 minutes left until we make history and take home a State Championship ring.
It is time, I have butterflies in my stomach and my heart is pounding. The horn blows to start the game, we huddle up and break it out. "Win on 3, 1..2..3..WIN," we say and then go to the court. 1st quarter we are up 28-22, it's going to be a close game at the end. As we start the 2nd quarter we get the ball first and Jeff goes down and score's.
We are still winning with 3:00 minutes left in the 2nd quarter. The other team has the ball and they score, after that they steal the ball and scores again. Coach J calls a timeout so we can regroup. We go out and Josh has the ball, he passes it to me and I shoot the 3. The ball goes in and we hustle back to get on defense. At the end of the second quarter we are losing 56-61.
           Halftime, we go in the locker room and listen to Coach J talk. He draws some new plays on the board and tells us how to run them. The horn blows to start the 3rd quarter.
We are down still but now the score is 67-66. With 1:00 minute left, we have the ball and Jeff makes a 3 pointer, now the score is 70-66. We are on defense and there is 30 seconds left, the other team shoots and 3 and gets fouled. He made the 3 and the free throw so know the score is 70-70 tie game. 3 seconds in the 3rd quarter it's our ball and I shoot a halfcourt shot and make it. 73-70.
Start of the 4th quarter, both teams played great defense and no one scored. 13 seconds left in the 4th quarter and my team is down 73-70, we rebound the ball and they pass it to me. I rush down the court as fast as I can to score before the clock runs out. My sweat is dripping hard like rain drops and my legs are all bruised up from the other team. I pass it to my teammate, Josh, and set a screen on his man, 9 seconds left. No one is open, so I roll back up to the top of the key and Josh passes the ball back to me. 7 seconds left, the guy that's guarding me is playing up close, so I hit a crossover on him to get past him. 5 seconds I move to the side 3 point line and hit a step-back move, the defender stumbles and the crowd goes "oooooooooooooooooooo'' 3 seconds left  my heart is racing really fast, 2 seconds, I shoot the ball, 1 second, the ball goes around the rim, HORN BLOWS, it was so quiet and it felt like the world paused for a minute and it finally goes in and the crowd goes wild, the score is now 73-73.
My teammates rush to me and pile on me. Everyone is happy and yelling, " Tyler, Tyler, Tyler" We go to the bench listening to our coach talking to us, but i'm so tired that the gym started spinning and I started feeling light headed from the loudness of the crowd. "Tyler……….. Ayyy……. Focus up" the coach yells at me to get my attention. "We have waited 24 years for this moment to happen, so let's go out there and when this game," Coach J told us. The horn goes off and the referees blow their whistles to start overtime. 2:00 minutes of hard work and dedication to win the game and take home that nice State Championship ring. 
       Troy and the other person from the other team jump for the ball and we get it. Josh has the ball and we set up to run a play, "UCLA……. UCLA," Josh yells out. I run up to Josh's man and set a pick, so he can roll off of it and set up on the three. He pump fakes and I roll to backside of the court, he passes it to me and I shoot the ball down low and make it. 75-73 we're up now and we rush back to set our defence 2-3 which is a zone. The other team comes down the court and runs their play. They scored and it was a 3 pointer, now they're up 76-75. It's our ball and they surprise us with a press and steal the ball.
     When they stole the ball, they make a layup and now it's 78-75. We run our press break and it works, Jeff is wide open on the three point line and he misses it. They rebound the ball and dribble down the court. I'm so tired I can barely move, but I want to win this game because the team needs me. A sub goes in for me while I'm on the bench. We have the ball and we go down and score. Now the score is 80-77 with 35 seconds left. I finally catch my breath to go back in. I go to the score table to go back in. The other team is smart and they milk the clock, stalling the ball, until Josh fouls with 23 seconds left of the game. I go back in and we're on defense. They pass the ball in and they shot it, but they missed and we rebounded it. 13 seconds left and I'm rushing down the court to score. A 3 will tie the game and we'll go into another overtime. 9 seconds left, I pass it to Kevin and he shoots it and misses, but Josh rebounds it and passes it out to me on the 3 point line. 4 seconds left, I shoot it and it goes in. 80-80, but the referee blows his whistle and calls a foul on the opposing team. I get one shot to win the game or if I miss we go into overtime. My heart is pounding and I'm nervous, I look up into the crowd and see my dad. He looks at me with the most exciting facial expressing and yells out to me, " You got it son!!!" I line up to shoot the free throw and all of my nerves go away. I take my time and shot it just like my dad taught me. The ball goes in and My team and the crowd goes wild. My teammates come and hug me and dog pile on me. We were so excited even the fans ran down on the court and cheered with us. The rings we got were big and beautiful.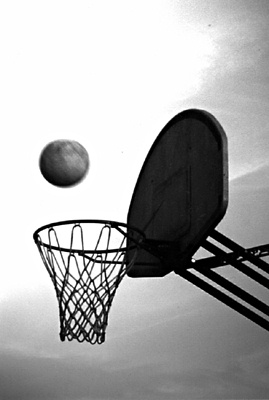 © Cassie H., Carmi, IL