Endless Road
March 7, 2009
I grabbed my necklace as I walked into the dark empty hallways of the high school at night. ?It?s alright, just stay with me. I?m not going home. Not with my father back now.? Ella looked at me with her deep blue eyes. They were pink from all the crying earlier. ?He?s back?? I asked, with a deep shock cutting into my heart. Ella nodded. I sincerely cared, Ella was my best friend back in 2nd grade, and she still is in 11th grade. Her father was sent to jail for 9 years, for abuse and was now back apparently.

Ella crept through the dark hallways and headed for the locker rooms with the comfy benches and curtained windows. She clutched my arms and opened the door. I couldn?t bear the silence that was cursed upon the night. ?Ella, I don?t know. Couldn?t you just stay with me?? I whispered with a begging tone. ?You know your Mom would call mine and ask for permission. It?s impossible.? She stubbornly refused to stop the plan she had already made.

I laid my head down on a light blue bench and hoped-no prayed- that Ella?s father changed, that he loved his daughter now and learned a lesson, a lesson no father would ever know but him. But I knew that would never happen. I looked over at Ella one more time before I got up and locked the door shut and closed the small curtains. I laid back down and fell asleep on the cold, hard bench.

?Ella, you have to go back. Maybe he changed. But we can?t hide out at school forever.? I pointed out. I pushed her through the door to outside where the cold winds were whipping at us. We were now exposed back outside into the sunshine of July in our tank tops. But instead of laughing and dancing in the summer, this time we were hiding, crying, and avoiding Ella?s father.

I walked Ella home as she dealt with the fact that she was going to see her father for the first time since 2nd grade. She put her key in the door and turned it slowly, avoiding going inside. She finally opened the door, slipped inside, and then closed it once more. I closed my eyes and breathed in the silence, until I heard yells and slaps from the house, and the yells were from a man and a woman trying to stop him. But I was on my bike racing toward my house full of fear.

?Where have you been?? Mom asked gently setting down my brother?s corduroy pants. ?Ella and I went to a party last night. I was really awesome.? I lied. I faked smiled to convince Mom I was telling the truth. ?That?s nice.? She said continuing to fold the laundry. ?Why don?t you get some rest?? Mom suggested. I slowly walked up the stairs and into my bedroom, with the faded posters of Ella and me and the dull light blue walls. I sat on my spotless white sheet on my bed and curled up in a ball before falling asleep once again.

When I woke up I turned on the TV to the news where there was a report about a girl who?s father killed her this very morning at 3:00am. ?We have not got the names of this teenage girl but she was killed by her father last night at 3 in the morning here in Mendota, Illinois. Hold on, I?m getting some news on that horrible scene. Ahh, yes the names. The names were Ella Grove and Steve Grove.? Reed Sterv, the reporter said. My jaw was hanging open and my mouth was wide. Ella was killed by her father. My best friend was killed by her father. I walked outside into the backyard and collapsed once into the meadow past our house. I looked up at all the flowers and thought, ?My life is an endless road that no one else is on. When one things stops, another thing starts. And I?m alone in it.?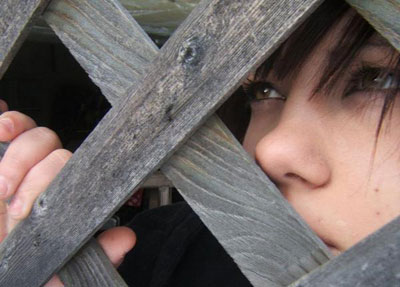 © Krystal B., Bloomingdale , IL