My Traumatic Experience in Seattle
October 23, 2017
A couple summers ago I went to Seattle, and had a big family reunion. I had cousins coming from Australia, as well as my cousins that lived in Seattle. Once I had landed in Seattle, everything was amusing and entertaining. Seattle isn't the best place to visit, weather wise, but for once, it wasn't gloomy. Since the weather was amazing, my cousins and I were able to play outside and do fun activities. Unfortunately just like everything else in life, that excitement didn't last forever.
Laughter was in the air, and there was a high energy level. It was incredibly loud and I felt like my ears were going to fall off, but that was nothing unusual when staying in a house with eight people. Not to mention that there were two toddlers. Everything aside, we were still having a great time.
All of a sudden, everything changed. The pain was unbearable, and then a sudden realization popped into my head. My life might be changed forever.
What happened was that my cousins and I were playing monkey in the middle. My youngest cousin from Australia was in the middle, and was very enthusiastic about it. Just like his brother, he was very athletic, and strong. When the ball came to him, his hand flung back, due to his cricket experience, and scratched my eye.
" Open your eye and let me see, or at least tell me what happened! " My mom said trying to figure out what happened.
" I can't do it!" I said trying to talk in between my sobs.In life, I have many weaknesses, and one of them happens to be suspense. Not knowing whether I was okay, or not was extremely difficult. My parents quickly took me to the emergency room. Lucky for me, I have the worst luck. In Seattle, the closest emergency room to my uncle's house was 30 minutes away.
The ride to the emergency room was like pin drop silence. Although my parents didn't look worried, I could tell that they were. It is very unlike my dad to be quiet for a long time, and for once he was. Normally my mom doesn't show much emotion, due to the fact that my dad shows too much. But even in this situation, you could see the look of anguish on her face.
When we reached the emergency room, it was completely empty, so we were able to go straight inside. At this point I was able to open my eye, given that I keep numbing it with ice. Although my eye was able to open, I couldn't see anything. Whatever I could see using my " vision", was pixelated and extremely blurry.
The ophthalmology room was filled with a bunch of machined, that looked like medieval torture devices to me. After thoroughly examining my eye, the doctor said, " Your eye will be okay, " The doctor said.
When the optomologist said those few words, I felt like I could breathe again. The doctor said that I would have the scar for a couple months, but I was very lucky that there was no long term damage.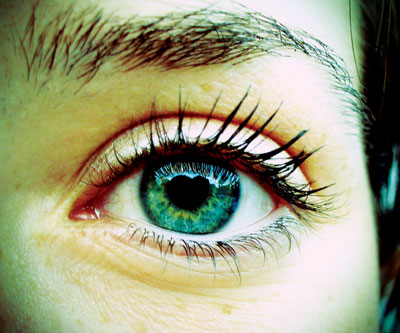 © Michelle K., Vancouver, WA