You're One Of Them Now
October 16, 2017
Ailee removed the cold finger pressed against her lips in disgust.
"what do you mean?" she questioned, voice starting to get a little shaky. Her friend, Maize, held onto her hand as if it was her lifeline, even interlacing their fingers. They watched as the girl fell onto her back and began to seizure, reaching out her hand as if she was begging for help. She lay in a pile of a black, murky, slimy substance. Her eyes rolled to the back of her head and choked noises were coming from her mouth, before her body went still. She foamed at the mouth and her face went pale. The girl's limp body barely moved from her tiny breath.
The sound of someone clearing their throat from behind made the girls jump. Slowly they turned around to see the headmaster. An odd squelching noise came from where the girl lay, but when they turned to look, the girl was no longer. With a single hand on Ailee's shoulder, the headmaster ushered them to their dorm room, locking the door.
Later on in the day, an announcement was made to all the girls in the room that they would not be having dinner, as someone has misbehaved. Whines came from all over the room, but due to their strict self discipline, all of the other girls climbed into their beds and went to sleep. Everyone except Ailee and Maize. They couldn't believe what they had seen earlier. Maybe one of the girls had gotten sick, i mean this was a sanitorium, girls got sick all of the time.
Ever since that day, the two girls were unable to sleep, and one day, they were both called to the headmasters office. They didn't hesitate as they were supposed to obey their headmaster no matter what. Other girls in the sanitorium always wondered what happened to the two girls, who went to the headmaster's office and never came back. Although they could only wonder what happened, the two girls quickly left their thoughts once they were told that  they had been sent home, as their treatment was done. They were healthy, they were told.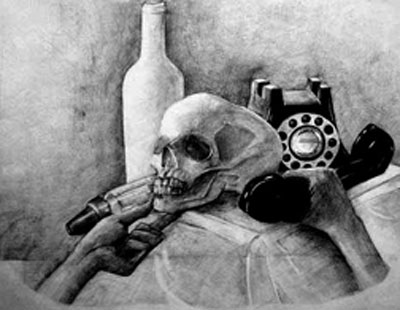 © Xiao H., Naperville, IL