Colorblind
October 11, 2017
The colors have gone away. It's been said that maybe someday they'll come back, but no one seems to believe that anymore.
Grandma Jenna used to tell me stories - stories of when the world was alive. She used to try to explain colors to me, even though she'd never seen them before. She told me stories of before the world went gray.
Her grandmother had seen them - one of them, at least - she could see blues. She used to tell my grandmother that the reason why blue lasted the longest was because blue was the color of sadness. The world was sad that its beauty was being lost to us. Grandma Jenna says that anytime her grandmother talked about colors, she got sad, and she cast this sort of pitiful look upon Jenna. Jenna asked her about it one day. "Why do you always look at me like that when I ask you about colors?" she'd said.
Her grandmother smiled at her. "Aren't you jealous, Jenna? I can see so much more than you."
Grandma Jenna gave her a puzzled expression. Her grandmother chuckled. "Well, I suppose you couldn't be," she gave my grandma that same pitiful look.
Then she said softly, "You have no idea what you're missing."
That stuck with Grandma Jenna.
When Grandma Jenna talks about colors, she talks about them like they were this great thing, something that made this huge difference in the way people saw the world. I think that was her grandmother's influence. Green, she said, that was the color of nature, of the plants and the trees and the grass. Blue, she said, that was the color of the sky, and the ocean. Yellow was the color of the sun and other tiny little parts of things in nature. It was always a surprise when you found yellow naturally, she said. Grandma Jenna said practically everything was made of those three colors.
The funny thing was, for all the stories and things Grandma Jenna had to say about the colors, she never had much to say about red. I asked her about it one day, and she had looked at me with an odd face. "That color," she'd said, "was the first to disappear."
I never asked about red again. Sometimes, I wonder why Grandma Jenna didn't talk about red.
Other times, I wonder what it would be like to see in color. There used to be festivals to celebrate the wonder of color, when they first started to disappear. Nowadays, most people have forgotten about them. I doubt they were ever celebrated, when people could see them all.
There weren't color festivals when everyone could see them. Color Blindness tests weren't that big. It makes sense, though.
No one ever appreciates what they have until it's gone. And when it's been gone for a while, there's no one left to remember how great having that thing was. Grandma Jenna's too old to tell the stories of the colors anymore. I don't remember them that well.
The colors have gone away. They probably won't ever come back.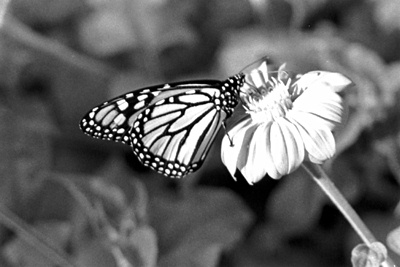 © Lindsey Dennis, Marblehead, MA