Blue City Lights
August 29, 2017
"You would not believe your eyes,
If ten million fireflies
Lit up the world as I fell asleep."

The city is asleep, like a small child sleeping under a white cashmere duvet. Softly snoring, like the hustle of leaves at midnight, whispering in languages known only to them. The imperturbability and the presence of wind concocts a city of glass, a city of numerous broken dreams and meaningless, endless, helpless, lovelorn sighs. I haven't returned home yet, for I feel no warmth, no peace there. My home lacks a heartbeat. I am strolling around, hoping hopelessly to take a sudden chance and cast a secret glance, at you. I pass by your house, and I am suddenly all numb, anaesthetized, paralysed. How do you do it? Hold me close, close enough to let me breathe in your perfume, and let me go, in the very next moment. I remember you taking me by my hand to a secluded corner just so that you could tell me about his first kiss. I remember every insignificant, every infinitesimal, teeny detail about you. As if, it has been carved in my memory lanes and as if I have spent days retrospecting my moments with you. But, it is a bit hazy, a bit blurry now, like nebula. I cross that lane, waving past the nostalgia washing over me. I look at the blue city lights and all I can feel is my shadow, with the scars of emptiness. If only the lights were a mirror, and I would have seen the blue bruises on my neck and on the backside of my right palm. I don't know when the last time I was calm. That makes me brood and cogitate about the first time I had decided to smother myself to death, how I had strangled myself. I was just sixteen back then. I was naive and unsure of myself. I was home, but still reeking of homelessness. I had found love, but was still breathing in lovesickness. There is a lump in my throat now, as I ponder about these. I look around at the corner of the lane, just to find a healer for my scars and freckles. But all I see, when I look up, is million gleaming abodeless stars. As the watch on my left wrist turns 2 AM, I trace back my steps to my place. See, I don't call it home. My eyes still look out for you, maybe you will peep out the window like any other another insomniac and spot me gazing at the silhouette my mind forms of you. All I am stuck at is "Maybe" and "What if" and "Almost". The wait never ceases.

Forlorn nights consolidate to sequestered mornings as I wake up to the smell of freshly brewed coffee.Ma is home. I can sense it. I feel a bit tired, as if there is no sensitivity in my arms and legs. There is a hollowness in my chest, but yet, it feels heavy. Mind is wandering off to places I have never been. I come out of the bed, to much repugnance, and dress up in haste. I hit the streets and it is not even nine o' clock. I make my way to the central park, and try to feel a little less distant, unresponsive and austere admist the crowd of children and old people. Each and every nook and corner reeks of childhood memories. Everything somehow, blends into my sub conscious mind and all I am left with is questions I never asked. There are faces, which just fills the space between my fingers, but not my soul. Even you didn't. Did you? There are murmurs and cheers and squeals and clamour, but it still appears to noisily noiseless in that fraction of the brain where your voice plays in loop. I see my father running behind me as I cycle away. He fails to keep up the pace. Maybe that's why he is categorized into 'senior citizen'. Maybe he has really become old, well, people change, they grow up. I sit on the bench with green color, the paint has faded out a bit. And I close my eyes, and inhale. Inhale all the particles of the sun's rays and see diamonds in them and slowly exhale with the heart feeling a bit lighter. Every breath pours an echo of my past years. I look up at the blue city lights, but it is daytime and they aren't glowing. Somewhere, I miss how the lights flickered only to guide a lost soul home. Well, the wait has just begun.

I drag my feet to my favorite cafe, the open house one, at Connought Place. Sitting down there on our favorite table at about five feet away from the dias, with a mug of soda, with a book in hand, Hosseini in my case, I let time flow by and I let my heart saunter and roam away, too. I remember the anticipation I had of meeting you in eleventh grade back here. Do you? Did you notice how my hands were shaking when I tried to put sugar over the icing? Had you even noticed how I was trying to make a conversation that filled you with the enigma of loving me as I was? All the time, I was on the seat's edge and on tenterhooks. It became our 'already chosen' spot for hanging out, and yes, we had a favorite table where we could sit and talk about how the moon chases the sun, and how we gape at their union, the eclipse. But.You were there but just by body. You were there but, never mine. I turn around and look at the blue city lights and wonder when tiny fireflies will surround you and you will shine, as if set on fire, as if playing with fire and ending up in ashes. The wait is making me impatient.

I walk on the streets and I count the number of red cars passing by and I think of how I count bedsheet creases at night when sleep doesn't pay a visit to my bloodshot eyes. I stumble a little as the heel breaks and a guy of about thirty holds me by my arm to stop me from falling. For a second, our eyes lock and it is as if time has chosen to become frozen. Some faces remind us of people we love, or loved, once. Remind us of phases and phrases and faces. So did he. I had lived an eternity stargazing at your eyes. And, when you left, you took away a part of me. You took away what was left of my soul and never bothered to turn it back in. Well, I have always waited.

Buses are passing me by, some vacant while some heavily packed. I connect buses with the time when an old man touched between my thighs and how I had panicked but didn't scream, which I should have. I was just thirteen back then. None of the bus seems the right one for me. Somewhere, at the back of my mind, in deeper crevices, I am still scared. Maybe of the reoccurence of the incident. Again, stuck at maybe. What if I get on the bus and I meet that man? Again, what if. These thoughts almost make me paranoid. Again, almost. The wait has just stretched a bit more.

Memories. That's what the city of glass holds at stake. They make me quiver, and sweat and make me lose my breath and make my lungs feel heavy with teardrops as water. It is an embodiment of my psyche. No matter how hard I try to run away from it, it just keeps getting closer, as if one step ahead of me always. And yet, I fall for this place, a thousand times over.

City lights.

Blue city lights.

They transcend me to times that haunt me, creeps from underneath and put shackles around my throat and make me want to die, the very same second, thaws my vulnerabilities, liquifies the trapdoor which leads straight to my inner demons. The city has always cast a psychic effect on me. Soothing yet haunting. As if my buried secrets are now inside his/her pocket.

"You would not believe your eyes,
If ten million fireflies
Lit up the world as I fell asleep."
The city is asleep, like a small child sleeping under a white cashmere duvet.
All in my head.
All in my mind.
All in front of me.
But not for my eyes.
Just for the blue,
Blue city lights.
Does it matter? Whether I, am, dead or alive?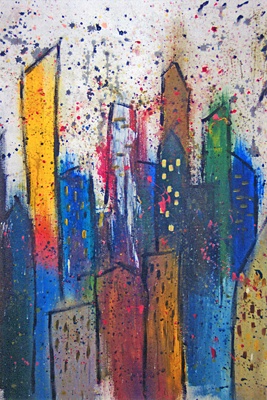 © Chase C., Centerville, OH