Soaring: An Inspirational Tale
August 5, 2017
The gods of the skies. That's what they are. The most beautiful and elegant creatures on this earth. I would give anything to be like them. To have their beautiful colors, soft feathers, and the ability of flight, but sadly, I am fat, green, and squishy.

I look nothing like them. I have no soft feathers vibrating radiant colors that shine in the bright sunlight. I have no flight capabilities. Trust me, I once fell off of a leaf I was snacking on, and when I flapped my arms like the winged beauties I long to become, all I did was plummet to the hard ground. The other caterpillars think I'm crazy for wanting to be like the birds because "Why would you ever want anything else than what you already have?"

"Maybe because I want to see my garden," I would mumble under my breath. I love my peach tree, but when I climb far enough out onto the branches, I can just make out small splashes of color. My favorite is the patch that looks like a bunch of tiny suns shining against the soft blanket of greenery.

Every day I see birds of all sizes and colors visit my beautiful home, and I wish for nothing more than to be just like them. However, my journey upon this tree is coming to an end. It is time for me to prepare my final resting place. As I weave the last of my silken tomb, I wish one last time to become like the winged beauties that I have envied all of my life, but my wish falls upon empty ears as I shut my eyes and dream of a better life. One where I explore my floral nirvana, and spend my days as a queen of the skies.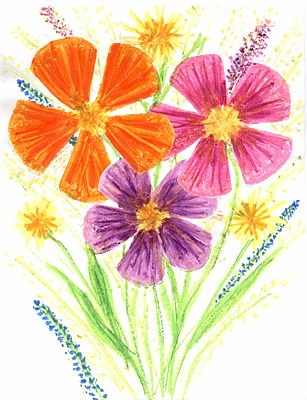 © Marissa M., Rockford, MI