Let Them In-A Social Short Story
June 26, 2017
William sat gloomily on the short staircase that ascended to the large marble-tiled stage which stood glimmering with a white backdrop emblazoned with the words: World Cancer Day Festival. He wondered as to why he was really there? Ever since Emma, his wife, had succumbed to cancer, he had avoided seeing anything related to the disease. The television set had become a scarce destination of his time owing to his meticulous escapes from advertisements and news related to disease and death. Then why had he, he wondered deeply, ended up right now in this colossal carpeted hall before a flood of young cancer patients and the families of those who had lost their loved ones to the disease were to flood it. It was John, his friend, who had called him the day before to request him to visit the aforementioned festival and "make the children's day," by standing before them as an epitome of hope and strength against the sadness of having lost a loved one to cancer. It was a decision coerced upon him and he was regretting it with every deep sigh he took. A rigid claw tightened its grip across his throat and the taste of his mouth turned sour and he felt deeply nauseated as his impending doom overwhelmed him. His heart had gone frigid and was percolating glacial blood and thereby paralyzed his limbs deeper and harder with every passing moment. Each pulse felt like a lithe, sharp agony that pierced his brain like a knife only that there was no death after it…there was only the pain growing stronger with each passing slash. His mind scrambled in the torment and his soul contorted as he viewed the image of rambunctious children running around with innocent smiles in the name of joy. Tears of agony burned his eyes and two searing streams cascaded down his numb face.

"The people have arrived, Will," exclaimed a soft voice amidst the delirium. The claw's grip became unyielding and before William could make the effort to utter an excuse John continued, "If you're ready should we let them in?"

He tried to say no but his senses betrayed him. He sat tongue-tied by the hesitation and closed his blistering eyes, pushing out another jet of tears in the suffocating, oppressive sting of misery.

"I am not away from you, love. I am but a part of you left unvisited ever since I went," echoed a reminiscent voice. The words resounded across his soul like a cool, comforting breeze. Every deep echo of the overwhelming voice was a wistful breeze that took away his pain and gave him the irresistible tranquility that is love.

"Disease may have separated us but forever shall love remain. You must embrace me with all my disease, misery and despair. Embrace me in the name of love. Remember me in your heart not as among the sick but as among the ones that are your own. Shed not tears on my going away, but cherish the strength with which we fought my battle, my disease together. So beloved, let me in with all my reality to smile gleefully in happiness and stand together, full of love, in sadness. Let me in…let them in.

"Are you alright, William?" bellowed John, as the former opened his eyes to the sight of the long stretch of white that colored the high roof of the hall.

"Yes…just a slight trance...how long has it been?" asked William as he pulled his eyelids open and felt surprised at the truth the intended lie he spoke possessed for his heart was beating normally and his soul felt serene.
"Just a couple of seconds…" had John replied that William was on to his feet in a dynamic fashion.

"I was scared that you were gone…should we let them in William?" he pointed towards the large entrance door in earnest. William, who was strangely energized, answered amidst the surprise:

"Yes, John. Let them in," he spoke determinedly and deep inside his heart exclaimed Let her in.
The doors opened and so did William's heart. The children ran in and the elders followed. They ran rambunctiously towards the colorful balloons which William realized had been there all along but hadn't attracted his notice until now. His heart beat fast like before but this pulse was different: it was soothing and felt reminiscent to Emma's aura of generosity and love. It felt like tirelessly running towards the horizon of a molten sky streaked with pink clouds with an unassailable desire to dissolve into the resplendence of this majestic moment of transcendence. She was there and so was he…it was infiniteness. And then he jerked back to reality when he felt the pull of multitudes of children, who eagerly wanted him to play cricket with them. Each innocent smile reminded him of Emma as he had feared before, and tears did descend, but they were moderate tears of nostalgia and not the bitter ones of agony. They proceeded into the open expanse of greenery outside and played tirelessly for the decided hour and then another: the energy of love knew no limits.

This is the story of humanity's beautiful reality that the able and the disabled and that the sick and the healthy are but the two wings of the same bird. In order for humanity to flourish, we must let love break the barriers that divide humanity into us and them. We must make our world the abode of harmony and not the breeding ground of hate. We must let them in.
"Yesterday is gone and its tale told. Today new seeds are growing." – Rumi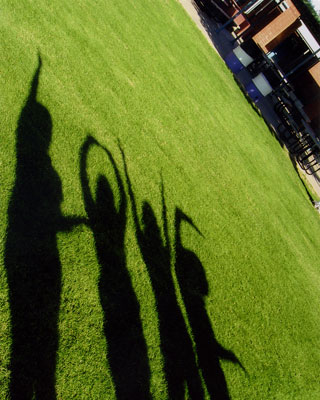 © Lindsay - Elese G., Phoenix, AZ