Runaway
March 24, 2009
Walking down the desolate road the chill of the wind feels forboding. Despite the fact I am wearing all grey sweats,the cold whip of the wind makes going forward almost impossible, but I go on because there is no going back for me.

The night sky is the only light avalible for my journey most of the time. Occasionally, there might be a flickering lamp post every now and then.

I lost track of the time I spent walking down this single road. My last steps echo and blend into the next. every so often I look over my shoulder if I hear a sudden noise in the shadows or a rustling in the brush.

When would they notice I'm gone or better yet, would they care? I guess all that is left is to wait.

To pass the time I finger what is left of my savings in my pocket. I figure that I only have enough to last a couple hours. Sighing, I figure out that I have no idea where I am. There is a sign up the road, but then I think maybe it's better not knowing.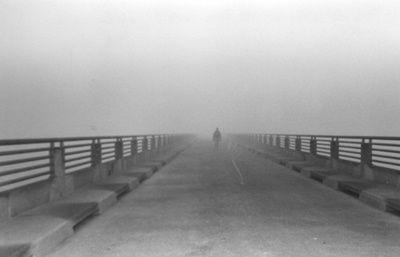 © Becky G., Westerville, OH