Why the Earth Has No Rings
May 30, 2017
Behind universal truth and beauty is the Spirit of Creation. She is the force responsible for interplanetary features, gifting Jupiter his fine red spot. It was she who cratered the many planets of our galaxy. And long before man existed, Spirit of Creation bestowed rings to all the planets.
Earth's fine rings sparkled when she flew past the Sun. She believed her rings to be the prettiest as did her sisters, Mercury and Mars, who wore spectacular golden ringlets. The three planets flaunted these possessions and derided Saturn, whose rings were cluttered with icy debris. This infuriated the gas giant as he dashed around the Sun. When the other planets advised against bragging, the sisters only ignored them.
Though the vacuum of space kept the ill will from the Sun, the heckling increased and reached the star. On learning of the hatred that Earth and her sisters were spreading, the Sun devised a vicious plan. On the winter equinox, Earth's longest night of the year, the planets gathered around the Sun.
He explained to the planets that orbited around him, "We are all bothered by how Earth and her sisters, Mercury and Mars, nag and torment us. They upset our orbit and cause us to eclipse. These planets say that they are superior because of their rings."
"We must do something about this," the Sun continued, "because this problem affects our Solar System. Let us end the chaos by removing their rings."
The planets voiced their booming approval. They agreed to destroy Earth and her sisters' rings with the Sun's fireball during the next eclipse.

Time passed quickly in the Solar System. As Earth's eclipse fast approached, shading the planet from the star's light, the Sun crossed paths with Earth's Moon. But just as Earth escaped the dark quarters of the Moon, the Sun released a fireball striking the planet and her splendid rings. In seconds her rings along with those of Mercury and of Mars vaporized and quickly disintegrated.
The other planets jeered and laughed. In response, the Sun released another shocking blast, removing the rings of the remaining planets. Those orbiting the Sun from great distances, Saturn and his brothers Jupiter, Uranus, and Neptune, were saved this devastation.
This is why today Saturn wears his icy rings while his brothers continue to wear rings of rock and dust.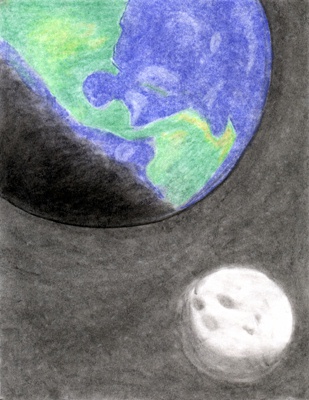 © Bianca C., Phoenix, AZ