Interpretation of Song of Solomon by Toni Morison: Robert Smith's Flight
May 9, 2017
My day is here! This is my day. I looked down at the white page covered in black ink. It was ready. I was ready. I stared down at my watch. The seconds passed by slower and slower. It was almost 3 o'clock. 3 o'clock was when it would all change. I raced past Not Doctor Street, straight to No Mercy Hospital's roof, until it caught up to me. It slowly snaked around my body, until it lunged at my throat. The blackness that surrounded me, overwhelmed me, consumed me. I am trapped, suffocated by my transgressions. Red. Red was all I ever saw when I looked deep into myself. There has and always will be blood on my hands. Innocent white blood. I hear a low hum, it's getting louder and louder. The hums have grown into words,
"O Sugarman done fly away,
Sugarman done gone,
Sugarman cut across the sky,
Sugarman gone home…" (6).
I can smell a sweet yet deadly scent. Roses. I am back there. It is 3 o'clock on a Wednesday. I am sitting shotgun in that rusted gray Oldsmobile. Porter is driving while I pull out my shotgun to clean the barrel. I see an elderly white man. I load the gun. Justice must be done. I know what I have to do. His day has come. Porter is telling me to shoot. He is screaming at me, "F***ing shoot already, Smith!" I pull the trigger. I close my eyes. I shoot. His eyes roll back. His wooden cane falls onto the ground and shatters the silence. He falls backward onto the sidewalk. His blue silk shirt is stained with red. I am running towards the man, with Porter shouting at me from the car. I stand over the body. His body. I feel the adrenaline pumping through my veins, and my heart is pounding through my chest. I avenged my brothers and sisters. I avenged the elderly black man who was shot and then lynched only a week before. That man was my grandfather. He cared for me after my father died and my drug addict of a mother decided to leave me on his doorstep three days after I was born. How did the world repay him for what he had done for me? The f***ing universe took a rope and lynched him outside of his house. He didn't deserve that.
One white death is nothing in comparison to the thousands of blacks who have been raped, beaten, tortured, and killed. I am no vigilante;, my purpose is to make sure that black people feel like they are not victims. This was my victory. Our victory. I am running back to the car and Porter is driving us away. I keep finding myself thinking about that man. My mind keeps replaying his eyes rolling back into his head. Did I really avenge my brothers and my sisters? Did I take this man from his family?  Was he a father? A brother? A husband? A son?
I hear a loud uproar, and I am back… on top of No Mercy Hospital. I am looking down at my hands, yet there is no blood. No blood on my hands… but blood on my blue silk wings. I wrap the black wire attached to the silk wings around my arms. I raise them up. These wings might carry me over No Mercy Hospital, past Not Doctor Street, and take me home. Or these feeble wings will fail me and send me to the red abyss which is what I truly deserve. At least if I go to hell, I will pay for my sins. I will be seen for what I truly am. A sinner. A murderer. The red flames from the inferno will consume me. I will pay the price for what I have done, either now or in that fiery red abyss. I must surrender to my fate to atone for my sins. Before I meet my fate I must condemn myself for seeing only hate in the world. What man who kills innocent people deserves to go to heaven? But were those people really innocent? I tried to avenge the deaths of my brothers and sisters but I killed people doing so.
Maybe my fate has been sealed and the dark angel is coming for me. I feel a cold hand on my shoulder. I gasp. The hand is tightening around my arm. I feel a dark presence overwhelming me. I struggle to free myself. I will succumb to the dark angel. I hear a voice whispering into my ear, "Come to me." Now I stand against the light blue sky. Wednesday is my day. I am going to fly. I will spread my blue silk wings. I will leap. I will surrender. I will fly. And maybe, just maybe… the wind will carry me.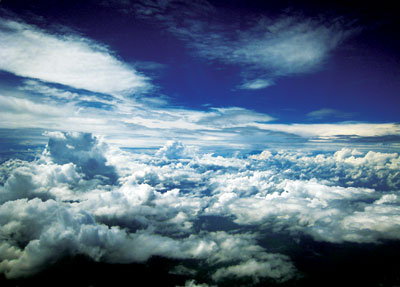 © Jacob W., Oklahoma City, OK