At the beach
May 5, 2017
The sun hid behind the long wispy clouds, and the horizon was painted a light blue. Summer had just arrived with the sound of laughter coming from little children that ran around. The adults were slowly sipping on their drinks that had long lost their cool taste. Windows had dew forming from the body of water pouring out of the water sprinkler. Streams of people, aligned like toy soldiers, trailed at the ticket booths.
I stood at the entrance, holding on to the handle of my sister's stroller that my mother was pushing. My mother shoved towards this vacant boardwalk that showed the direction to a ramp that leads to this beach where there was nothing more than a trash bin. Empty bottles, tissues, lost items, and stray towels flew all around. In the sand, I could see little bits of glass that shined like crystal. I caressed one in my hand before Mom took it out of my hand, but I didn't question why.
After a long time of looking, my mother stopped and took out a towel, placing it down on the sand. I ran towards it and jumped in excitement. My little sister's eyes followed me as I did this. I smiled at her as she mimicked me with her toothless grin.
The sand stuck to my feet as I ventured to the edge of the ocean. My flip flops were beginning to soak all the water like a sponge, as I cupped some of the water in my hands. I was thirsty, and the heat made it a little hard to breathe.  I took a slip of the water and gagged as the overwhelming taste of salt mixed with grainy mud overpowered my taste buds. This didn't stop me from splashing in the water, though.
In front of me was a line of dancing kites with long colorful tails flying behind them. In the far distance music was reverberating through the whole area. I saw other kids playing with bubbles, making sandcastles, burying each other in the sand, and squirting one another with water guns. Joy was painted on each one of their faces. Rather, than joining them, I grimaced and kept running towards my mom.
I buried my face into my mom's coarse beach towel that was wrapped around her waist, as she hugged me gently and rubbed my back. It didn't take long before I started playing in the sand, avoiding every little trash and shards of glass.  I filled my pail with sand, copying what other children were doing
"Come on, Zaquira!" my mom called, as I  grabbed my bucket and shovel,  running towards her..
We left the beach and went back into the park. There were rides that stood taller than the buildings that surrounded them. With excitement bubbling inside me, I ran out in front of them as I laughed. I heard the stroller wheels rolling across the wooden boards as my mother tried to catch me.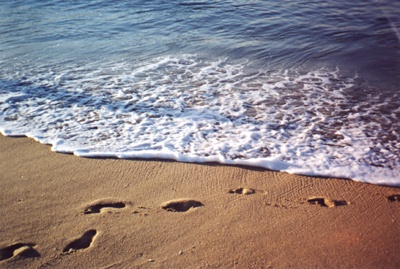 © Daniel M., Phoenix, AZ