What would it see if it wore alive?
May 2, 2017
I am constantly being thrown place. In and out of backpacks, slid across desks, tossed quickly out of boats and then falling out of them while they are being picked up. Knocked over by a foot unaware of my presence, careening out of a backpack pocket that was not closed as expected, spiraling out of control down a staircase till a bounce off the wall at the end, sliding down a golden grass hill while being chased. Consequently I am covered in scratches. Numbers cannot be read off the side of me as well as the could when I was first purchased. I was put in the carbon fiber under shell of a boat one day, and when I came out ,y side was marred with scratches, duct tape was added to me. Whether it was to cover those scratches or to protect me from more I am not quite sure. I also have a sticker of a moose on me. I like that sticker, the moose is my friend. His name is Alfred and we talk sometimes. He was bought from a highway rest stop off of i-95. However when the person who bought him was carrying him out of the store, he was dropped into the cold white powder that will freeze my insides if I am left in it too long. Anyway it was during that cold freezing time that I was chilling in a warm car. The person who owns me found the sticker on the side of the rest stop and applied Alfred to my side. We have good talks sometimes in the depths of the red backpack we inhabit almost constantly. I think I have been successful in my world travelings. I have visited California specifically, San Diego, Cambria, Fresno, the top of Mount Reinstein, and the grapevine. Fresno was one of the hardest times for me. Because I am made out of plastic, and hold water, if I am left in warm temperatures I may melt, and my contents will get hot. Well in Fresno I was left in the seat of a black interior Jetta that had been baking in the 110 degree heat in the refraction of the car. I got a little softer and my contents were extremely hot. I have been to many rivers; the Charles river, the Upper Fork of the Kings River, Rio Blanco, Rio Mulate, and some Antisana glacier run off. I have been to many summits as well, Mount Reinstien, the Pinnacle, Imbabura, plaza de armas, Antisana southern col. That one was not a summit actually, but a mere turn around due to an impending ice storm the staruck less than 50 feet away from the summit. That was a rough day for me. I was filled up with silt filled water at 9pm at night, and by 4am the next morning the contents were nearly frozen due to the -30 degree weather 18,450 feet above the sea. I have transported in every way thinkable as well. I have traveled by bikes, planes, trains, boat (all types), cars, foot, and I even had the chance to zipline from a tree down to a water source.

I wish I was cared for a bit better. My rim has turned green ish and there is weird white dots covering my lid. Maybe a run through the dishwasher could be helpful. Either way I am happy to serve my purpose. Not matter the circumstance I help her by giving her the replenishment they need when she feels her worst or best I help her push on.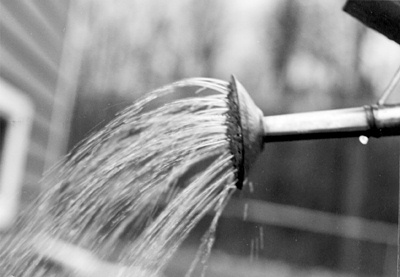 © Jared S., Pompton Plains, NJ